IFB is one of the market leaders in the front load washing machine segment. One of their trademarked wash programs is the cradle wash, which is dedicated to washing delicate clothes like lingerie and knitwear and fabrics like satin, silk etc. Let us take a look at how it functions and its speciality and also compare it with the delicate wash programs other brands offer.
What is Cradle Wash?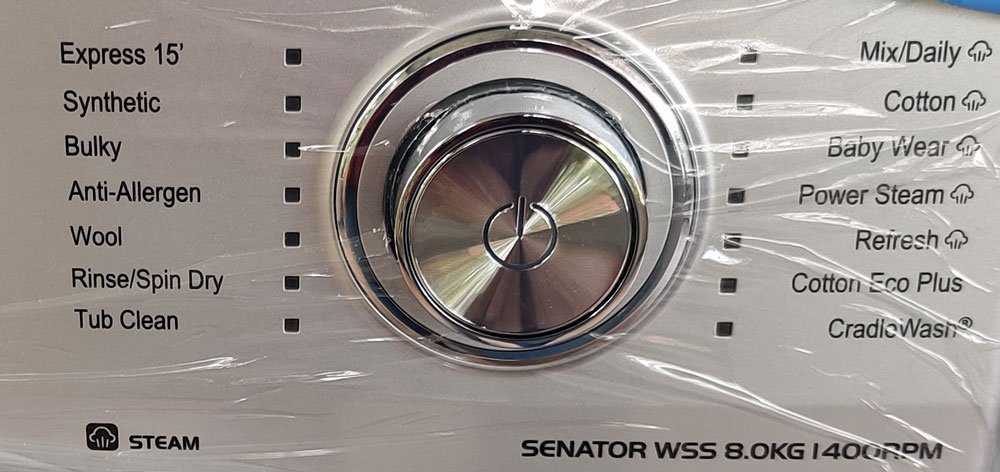 Cradle wash is a program available in IFB front load washing machines. As the name suggests, it treats your clothes gently like how a cradle rocks a baby. Unlike other wash programs, in cradle wash, you are not supposed to load your washing machine completely. Rather, just 3-4 small pieces or a single large-sized piece of clothing should be washed at a time, depending on your washing machine's total capacity. For example, in a 6.5Kg washing machine, you should add less than 2 Kg of clothes for cradle wash.
The clothes are completely immersed in water to prevent excessive abrasion. Water is pushed through the fabric to gently dislodge any dirt and stain. Also, the clothes are spun at a low speed of 35 RPM so that it doesn't get wrinkled or stretched. The wash program runs at a temperature of 30 C and it takes about 45 minutes to complete.
To extract the water after washing, clothes are spun at a slow speed of 400 rpm. This gets rid of the water without damaging the delicate clothes. Obviously, you shouldn't expect the clothes to be as dry as regular washing. It would be wetter than usual and may need to be air-dried for a longer period.
Ideally, use gentle liquid detergent for your clothes as they are milder.
Related reading: How To Clean Your Front Load Washing Machine?
Delicate Wash Programs In Other Brands
Bosch
Bosch comes with a delicate/silk wash program in most of its models. The wash program takes about 40 minutes and the final spin speed can be set from 400 to 800 rpm depending on the clothes you have loaded.
The wash program is gentle with clothes being slowly tumbled to get rid of the dirt. However, in the default setting, the clothes are not fully submerged in water. Rather, it is just completely wet. You could opt for water plus function ( available in selected models) along with delicate to increase the quantity of water used for washing.
LG
LG's delicate wash program has a wider range of settings options. The delicate wash program can be set at a temperature from cold to 40 degrees Celsius and the RPM can be set from 0 to 600 depending on the clothes. It takes about 47 minutes to finish the program.
In addition, you can incorporate functions like soak, extra rinse and water plus (available in select models) to increase the soak time and add more water to reduce abrasion. But even in LG, clothes are not completely immersed in the water allowing them to float.
Related reading: Ultimate Washing Machine Glossary To Know All The Jargons
Samsung
Samsung washing machine's delicate wash program has a duration of around 35 minutes. Its temperature too like LG can be cranked up to 40 degrees Celsius and its spin speed can be set at up to 400 rpm. Additional rinse cycles too can be added to completely get rid of any detergent residues.
Conclusion
Almost all washing machines come with a wash program for delicates. They are all gentle on clothes and spin at a low speed to avoid damage to clothes. The only noticeable difference in IFB is that the water level is higher. Otherwise, it is just like any other washing machine.
Top-Selling Front Load Washing Machines
Was this post helpful?
Let us know if you liked the post. That's the only way we can improve.