When Lays said, " No one can eat just one!", they were not lying. Lays is one of the favourite snacks among Indians. Though its Western competitor, "Pringles" comes without added air in the packet, Lays still remains the undisputed leader because they have customized and introduced a number of flavours to suit Indian taste buds.
Lays is generally available in packs starting from 23 gms costing Rs.10 to 115 gm costing around Rs.50. Sometimes, you do find Rs. 5 pack weighing just 12 gm too.
Nutritional Information of Lays
Lays, as you know is a junk food, which means it has a high percentage of fat, salt and sugar and generally lacks fibre, minerals and vitamins.
100 gm of Lays provides 555 KCal of energy. It contains around 52 gm of carbohydrates and 35 gm of fat, out of which 14.1 gm is saturated fat and 0.1gm is trans fat. Further, it has 510-815 mg sodium. These values may have some changes depending on the flavour.
Comparatively, Pringles has lesser Sodium of 642mg and fat of 30.9 gm. But the saturated and transfat are slightly higher at 15gm and 0.3gm respectively.
Lays Flavours Available In India
India's Magic Masala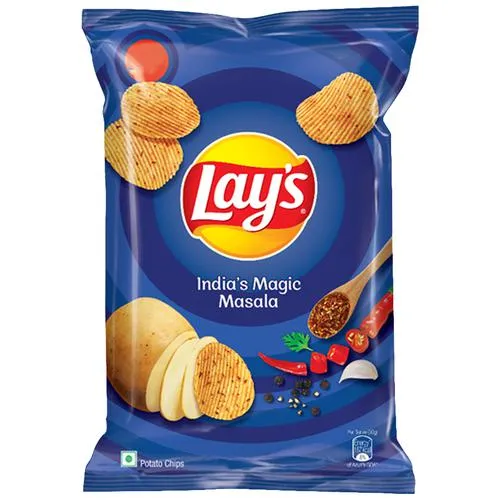 Indian Magic Masala is one of the top flavours in India. The ingredients that impart the unique masala flavour are onion powder, chilli powder, dried mango powder, coriander, ginger, garlic, black pepper, turmeric powder, black salt, tomato powder and spice extract. It also has citric acid as an additive.
Classic Salted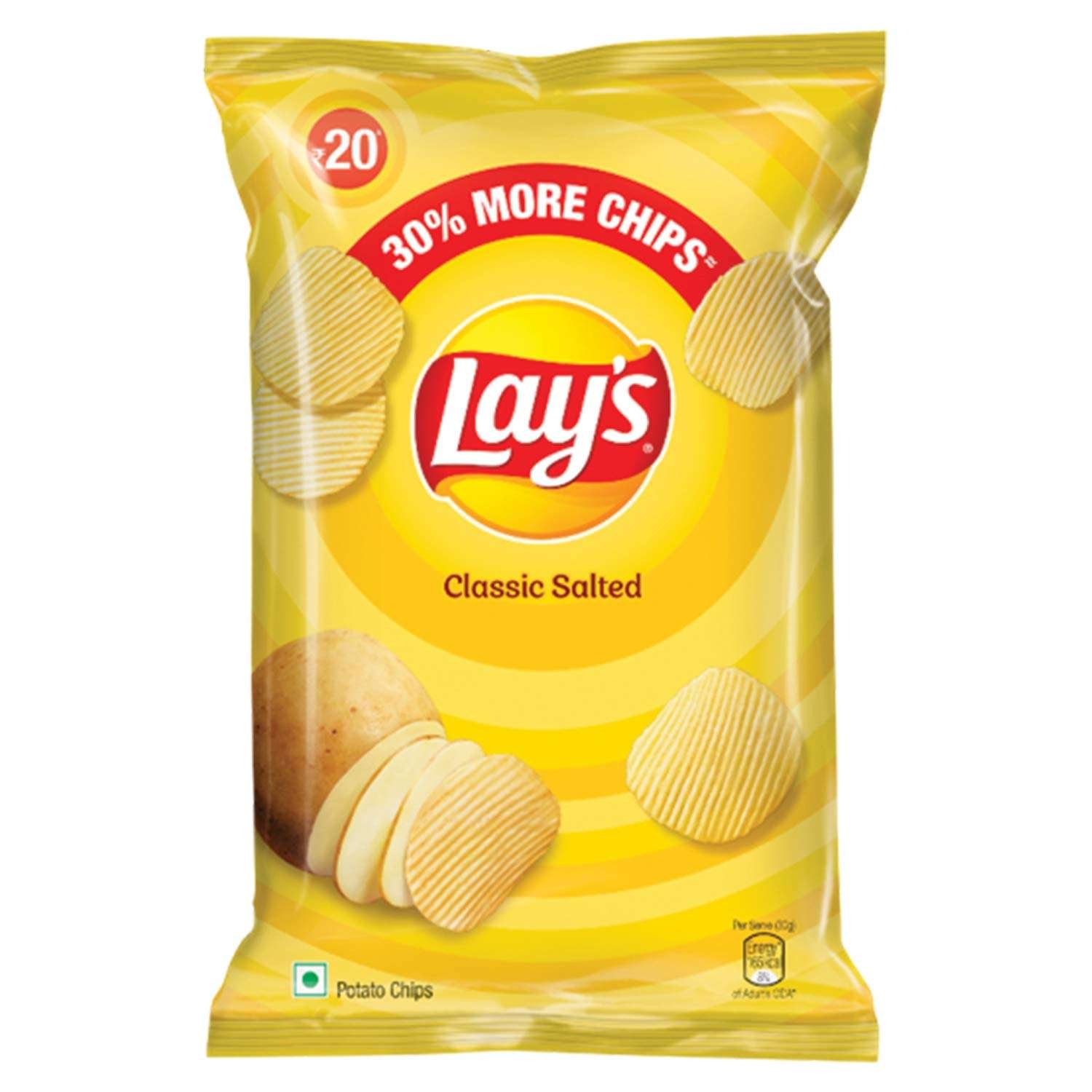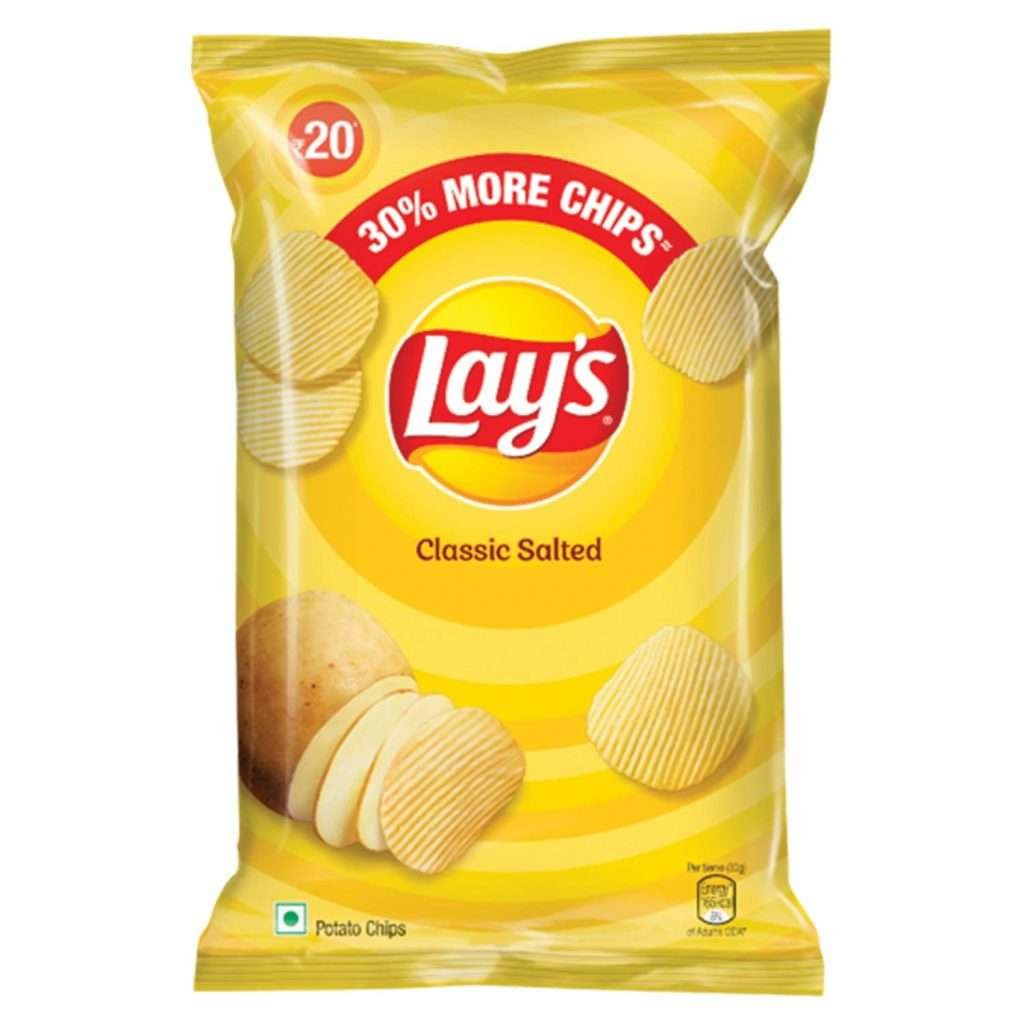 Contrary to expectations, Classic salted has lower sodium content compared to India's Magic Masala. While Magic Masala has 815 mg salt per 100 gm, Classic Salted has just 510 mg. The ingredients used are also just a few in number. They are- potato, palm oil and rice bran oil and iodised salt. Salt seems to act as a preservative too here as the label doesn't show any other additives.
American Style Cream And Onion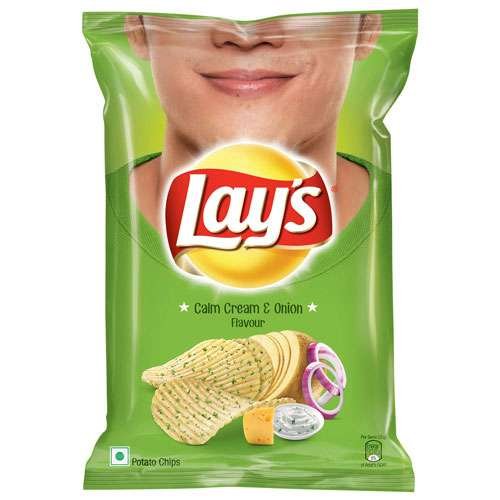 A personal favourite, American Style Cream and Onion gets its unique taste using milk solids, cheese powder and a variety of spice powders of onion, parsley, pepper and edible starch. Its sodium content is 742 mg per 100 gm of lays.
Spanish Tomato Tango
As the name suggests, Spanish Tomato Tango has a tangy flavour from tomato powder. The spices used for the flavour are red pepper powder, black pepper powder, garlic powder, ginger powder, clove and cinnamon powder. It also has added dextrose ( simple sugar made from corn or wheat) and wheat fibre.
Chile Limon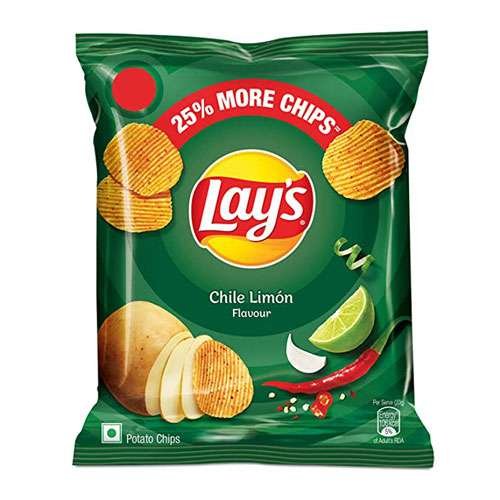 Chile Limon has the highest sodium content of 999 mg per 100 gm serving. The ingredients that give it that spicy and tangy flavours are red chilli powder, garlic powder, onion powder and lime juice powder.
West Indies Hot n Sweet Chili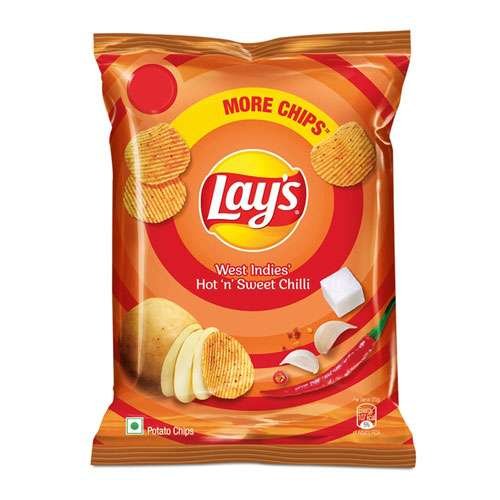 Hot n Sweet Chili is a relatively new flavour that has a wide variety of spices and additives. They include natural and nature identical flavouring substances, flavour enhancers 627 and 631 which is Disodium Guanylate and sodium salt of inosinic acid respectively. INS631 is prepared commercially from meat or fish or by bacterial fermentation of sugar.
While most other flavours are made with rice bran and palm oil, Hot n Sweet Chilli uses Palm, Sunflower and peanut oil. Further, it contains hydrolysed vegetable protein, anticaking agent 551 which is Silica, Coco solids and lactose. The label also indicates that it may contain Sulphite, which is a preservative that can aggravate asthma.
Wafer Style Tangy Treat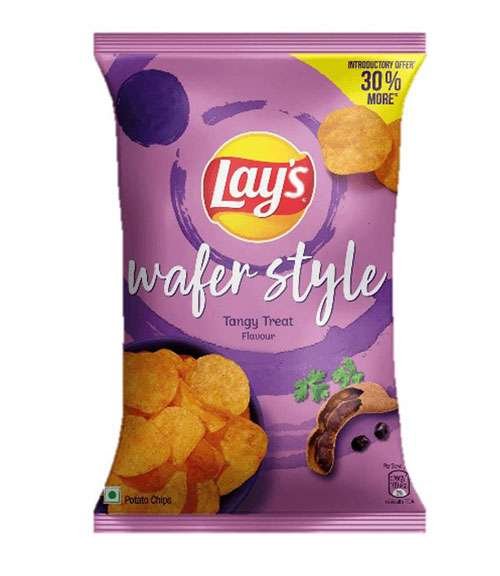 While all the flavours mentioned above are lays in chips form, they sell a few varieties in wafer style, which is similar to the local style potato chips bought from small bakeries.
The list of seasonings used is not completely disclosed in the labelling. Rather it says it contains spices and condiments and natural and nature identical flavouring substances. Other additives include acidity regulators INS330 and INS334 which is citric acid and tartaric acid respectively. It also contains milk additives and anticaking agent 551 which is Silica.
Wafer Style Sundried Chilli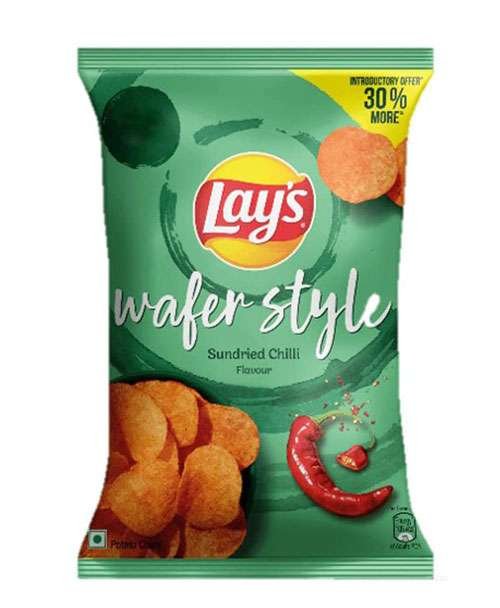 The sundried chilli flavour is got using ingredients like chilli, onion powder, garlic powder, sugar and black pepper. The additives in it are citric acid and potassium chloride, which is probably added to increase the salt taste keeping sodium low.
Wafer Style Salt With Pepper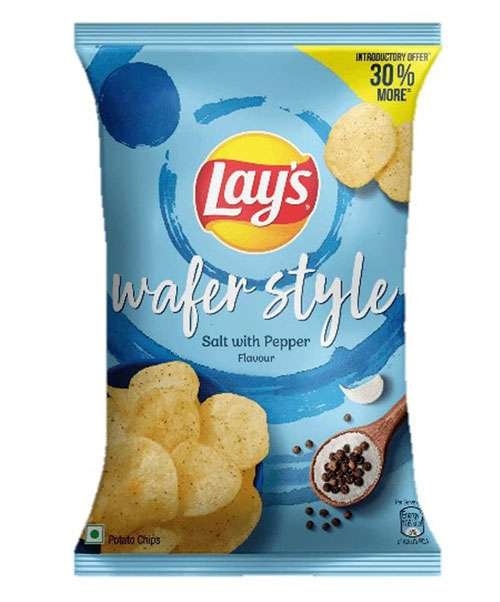 The seasonings used in wafer-style salt with pepper include maltodextrin, which is a highly processed form of carbohydrate, onion, garlic powder and other spices and condiments. Further, the label also says it contains natural and nature-like flavouring substances. The additives are mainly anticaking agent INS 551 which is silica and flavour enhancers 627 and 631 are Disodium Guanylate and sodium salt of inosinic acid respectively.
Lays has recently launched a new series called Maxx which is thicker in size. It too comes in a variety of flavours. They are-
Maxx Sizzling Barbeque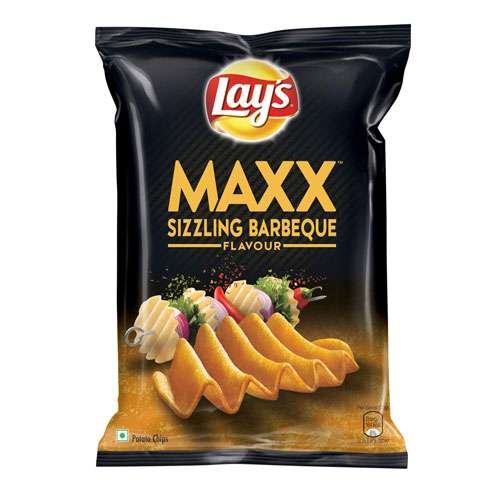 As mentioned, Maxx range of Lays are thicker in size. Dextrose, a simple sugar from corn or wheat is used in the manufacturing process. The spices used are powders of chilli, black pepper, onion, coriander, garlic, turmeric, dried mango and fenugreek. It has a high sodium content of 875mg per 100 gm of lays.
Maxx Macho Chilli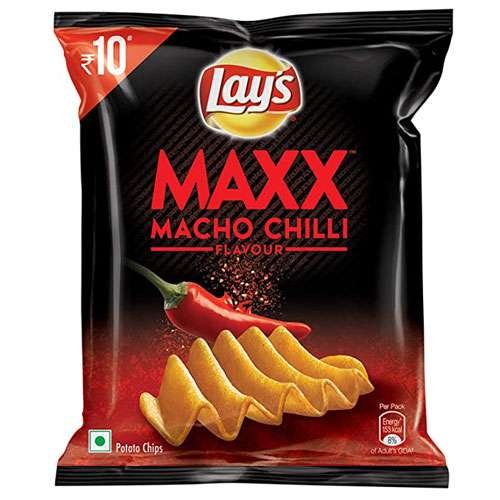 Though spicy, Maxx Macho Chilli used tomato powder for imparting colour to the chips. The spices used are powders of chilli, onion, garlic ginger and other extracts. Citric acid too is added as an additive.
Peppery Cheddar
Peppery Cheddar uses milk solids and cheese powder for that 'cheddar' effect. In addition, it contains spices like onion, garlic, black pepper and turmeric. The additives used are INS414, INS627 and 631. Dextrose too is added to it. INS414 is gum arabic that acts as an emulsifier and has no known side effects. INS 627 is Disodium Guanylate which is a natural sodium salt and INS631 is sodium salt of inosinic acid.
Was this post helpful?
Let us know if you liked the post. That's the only way we can improve.