Electric kettles are a common sight in any kitchen. As we already know, its main purpose is to heat water for drinking and cooking purposes. However, we would be doing a world of injustice to this nifty little home appliance if boiling water is all we are using it for. With a little creativity and initiative, electric kettles can be used for several things that will take you by surprise or make you question the meaning of life.
Yes, there are enough appliances in the market you can opt for when it comes to getting the work done in the kitchen. You have the microwave, mixer, blender, juicer and so forth. Each of these appliances is meant to accomplish a set of tasks based on their functions. However, many of these appliances can double up for tasks not mentioned by the manufacturers.
Electric kettles in particular are a versatile home appliance that can be used to do several tasks we probably never thought of earlier. Eager to know what we have in store for you? We will start with the easy ones and then move on to the more uncommon ones just to get you all settled in. Sit back, relax, and get ready to be amazed.
Boil milk
Yes, we can safely boil milk in an electric kettle. It's a question many of us have asked ourselves at some point without any reliable source to get an answer. So here it is, you can boil milk in an electric kettle. 
While boiling milk, keep the lid open and stir continuously so that milk doesn't get stuck to the bottom. Then, once it starts boiling, switch it off immediately so that it doesn't spill over.
Making tea, coffee or hot chocolate
If you love to start your day with a good cup of tea/coffee/hot chocolate, having an electric kettle will be a blessing. It heats water 2x faster than a regular stovetop saving you time and fuel. Heat the water. Pour it in the cup and mix it with your tea/coffee/hot chocolate powder.
Boil eggs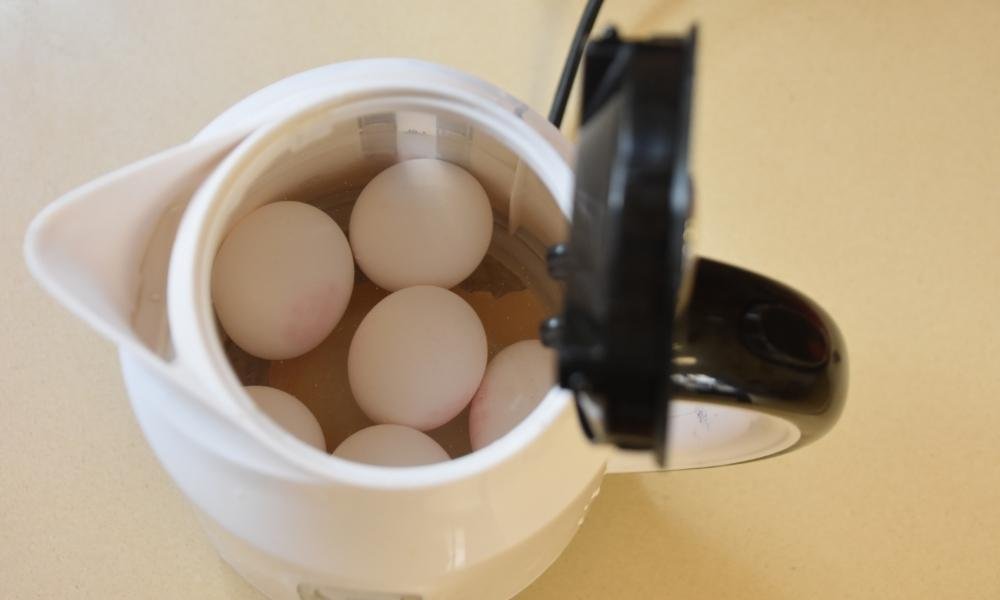 Yes, you can boil eggs in a kettle. It's not exactly a common sight but you can definitely do it. We suggest you use this method only as a last resort since it's not exactly very convenient. Here's why – the kettle will shut down once the water is boiled which takes anything up to 5-7 minutes. You will have to switch the kettle on again and keep doing it for at least up to 15 minutes. Not exactly the most effective way of boiling an egg as we mentioned earlier. But a good way for hostellers.
Related reading: How To Clean Electric Kettle?
Instant noodles or ready-to-eat meals
To kill the hunger pangs, just boil some water in the electric kettle and pour it into your bowl of instant noodles. You can repeat the same process with macaroni and pasta too. And that's how college days are spent!
Making Soup
Craving for a soup but too lazy to go through the lengthy process of using a cooktop? No problem! All you have to do is put all the ingredients into the kettle and boil it until everything is mixed well. Pour it. Sip it. Enjoy it.
Cooking rice
Not exactly a regular practice but it can be done with white rice that cooks quickly. Just soak some rice in the electric kettle for an hour. After that, just boil it as usual for another 20 minutes maximum. Your piping hot rice should be ready to eat now.
Making corn flakes or oatmeal
Oats and corn flakes are a power pack of nutrients that is easy to make and must when you start the day. All you have to do is boil some water in an electric kettle pour it over the cornflake or oats and mix it well.
Face steam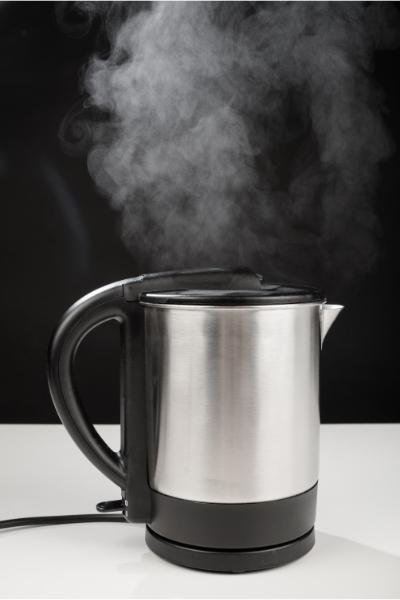 You can have refreshing face steam right at home without ever having to go to a beauty salon or invest in a steam inhaler. Just boil the water, pour it into a bowl, and place your face on top of the steam. Just make sure the temperature of the water is suitable for steaming your face to avoid burns.
Washing vessels
If you need to get rid of the stubborn stains off your utensils, boil some water pour it into the vessel and cover the lid for up to 30 minutes. Now washing the utensil will be a piece of cake!
Sterilizing baby feeding bottle
If you need to wash your baby's feeding bottle, just place them inside the kettle for 10-15 minutes in the boiled water. Remove it and it's ready to be used again.
This is not an exhaustive list of all the exciting things you can do if you own a simple electric kettle. While many of the tasks mentioned here may not be used by a family simply because it sounds silly and they probably have all the utensils necessary at their disposal. However, this would be a blessing in its full glory if we are talking about hostellers, young professionals, and people who are just plain lazy. So, spread the word and let it be known to everyone who is looking for a way to escape the drudgery of cooking a lengthy meal in their kitchen.
POINTS TO KEEP IN MIND
There are a number of electric kettles available in the market manufactured by various companies. These products don't cost much either; so you don't have to worry about breaking your bank balance. However, if you are purchasing an electric kettle for doing everything else other than boiling water, there are a few things you should keep in mind before making the purchase:
Get a kettle with a bigger capacity so you can cook the rice or noodles directly in the kettle.
Make sure your kettle has a bigger mouth so you can easily put food items into it.
Use an electric kettle with hidden heating element to protect your device and the food from getting spoiled.
Make sure its metallic surface is non-reactive and safe to cook any food items.
Check if the kettle has an option for boiling water without any breaks.
The more boiling/cooking options available in your electric kettle the better.
Based on these aspects and more, we have tested and made our list of best electric kettles. Do check them out!
Was this post helpful?
Let us know if you liked the post. That's the only way we can improve.