Bengalis to some, Bangaalis to most; the region and its people remain intertwined in the golden era of Tagore, their boundless love for football, and the rat race of modern times. West Bengal, now recently rechristened to Poschim Bongo, is home to many wonderous things such as its world-famous art and culture, its colonial-era and pre-colonial architecture, Rabindra sangeet, and its food. While the Bengalis are known across the country for their love for literature and intellectual discourse, what takes the cake is their food – and more particularly their sweets!
Other than being the former capital of India during the colonial period and also the epicentre of the great freedom movement, Poschim Bongo has also made a mark for itself as THE place to get the most delectable and delicious sweets in the country no questions asked.
Don't get us wrong, most of North India is also known for a wide variety of sweet items. However, if we are to choose just one place, it just has to be Poschim Bongo and we don't even have to think about it.
Not convinced?
Just tell a family member or a friend you are going to Kolkata and see what they ask for first! – That is all the convincing you need!
In this article, we will attempt to create a list of some of the best sweets the CITY OF JOY has to offer so you know what to look for on your next trip besides Roshogulla.
Famous Bengali Sweets
Roshogulla
The most famous and highly demanded sweet item of the lot, Roshogulla has a special place in the heart of every person with a sweet tooth. It is made of cottage cheese (locally known as chhena) and dipped into a sugary syrup. Depending on the preference of the user, there can be variations in the process such as the use of low-fat milk and usage of sugar substitutes. Some are even sugar-free.
Mishti Doi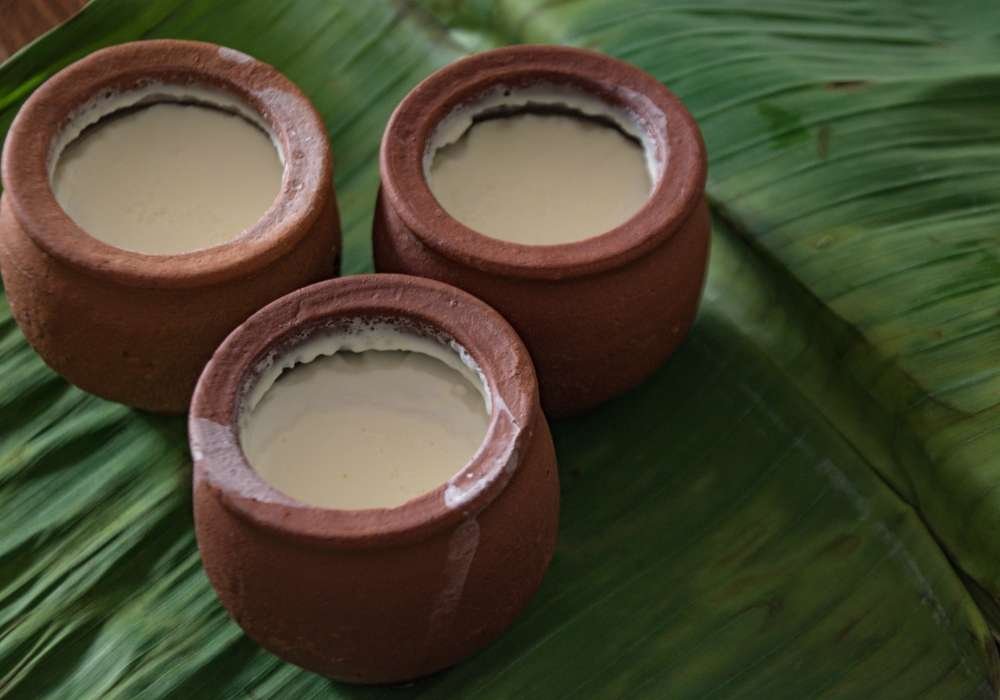 Another classic Bengali sweet, a simple yet one of the most popular sweets out there. It is made by mixing curd and jaggery; then it is left overnight to form a lightly sweetened curd. While it is eaten by most on any occasion or otherwise, it is believed to bring good luck if you eat it before you go for an exam or perform any important task.
Shondesh
A dry sweetmeat, it comes in many variants. Usually made from condensed milk and sugar/jaggery, this sweetmeat can be made in various shapes and designs. It is also fused with various ingredients such as chocolate, vanilla and other flavours.
Rasmalai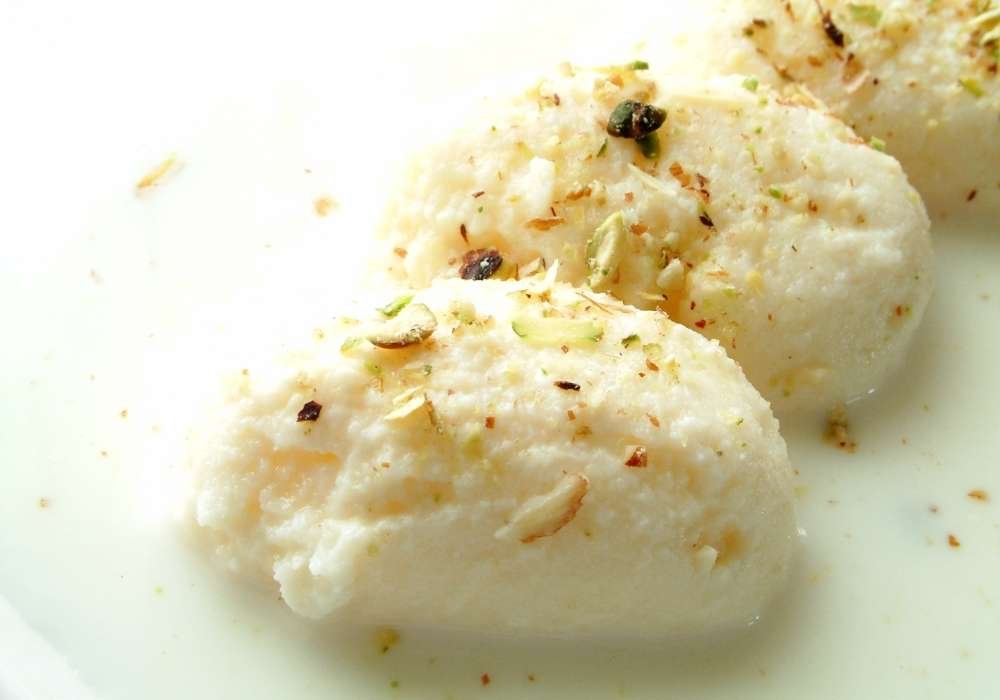 Also known as cham cham, this sweet dish is another famous export of the state that rivals Roshogulla. It is rolled into small balls made of cottage cheese and soaked in malai or milk with a bit of cardamom. Having this is one heavenly trip!
Naru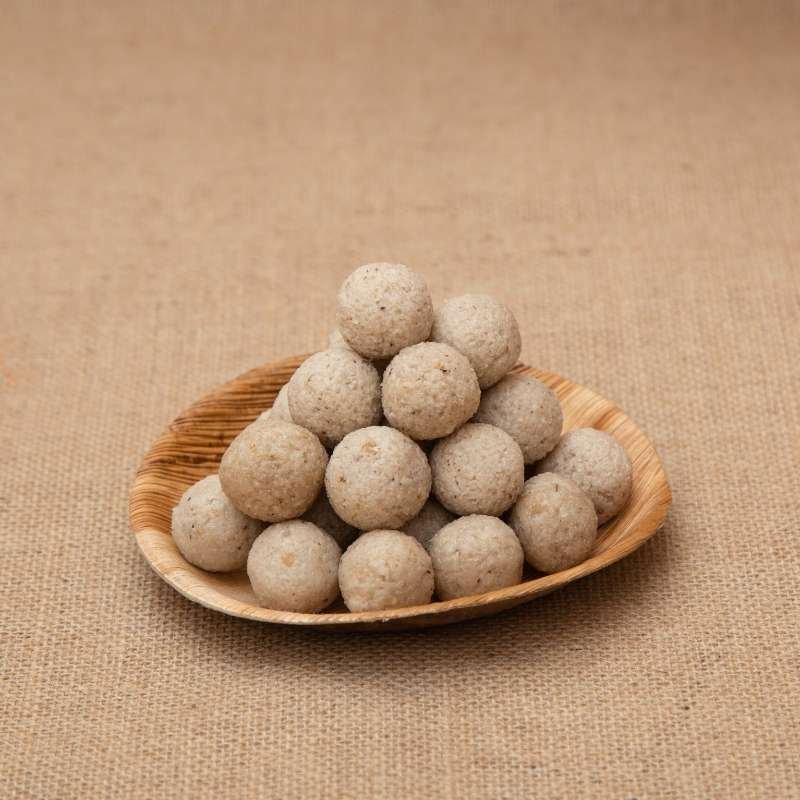 Made from shredded coconut pieces, it is rolled into small balls with sugar and elaichi or jaggery powder. This is a classic favourite among children who crave something sweet between meals.
You may also like: 51 Refreshing Summer Drinks To Cool You This Summer
Rabri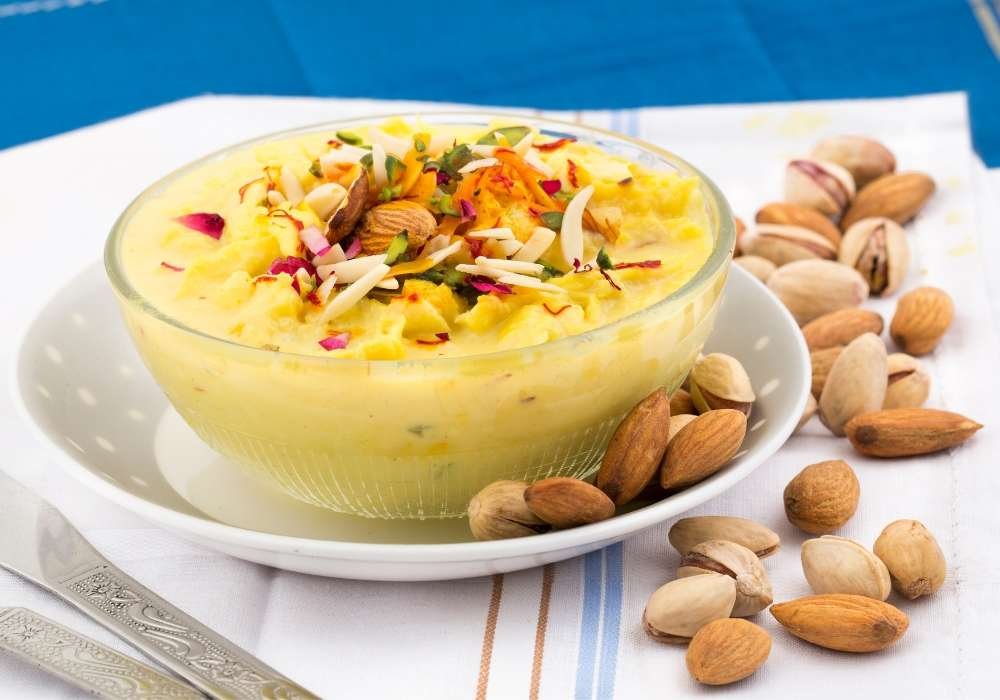 Rabri is made from thickened milk mixed with condensed milk, dry fruits and nuts. It can also be mixed with a variety of spices to give it varying tastes ranging from sweet to mild spicy that goes along with the rich taste of milk.
Patishapta
Similar to crepes, it comes with a filling of coconut and jaggery. The crepe is made from maida, suji or rice floor. It is a popular evening snack which can be served both hot and cold.
Lobongo Latika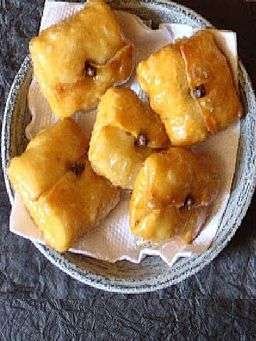 Made from maida, nutmeg powder, coconut, and various assortments of nuts and spices. What's striking about this sweet dish is how well it is blended and exhibits an intriguing taste ranging from sweet to mild spiciness. It is intricately folded and topped with a clove to give it the finishing touch.
Goja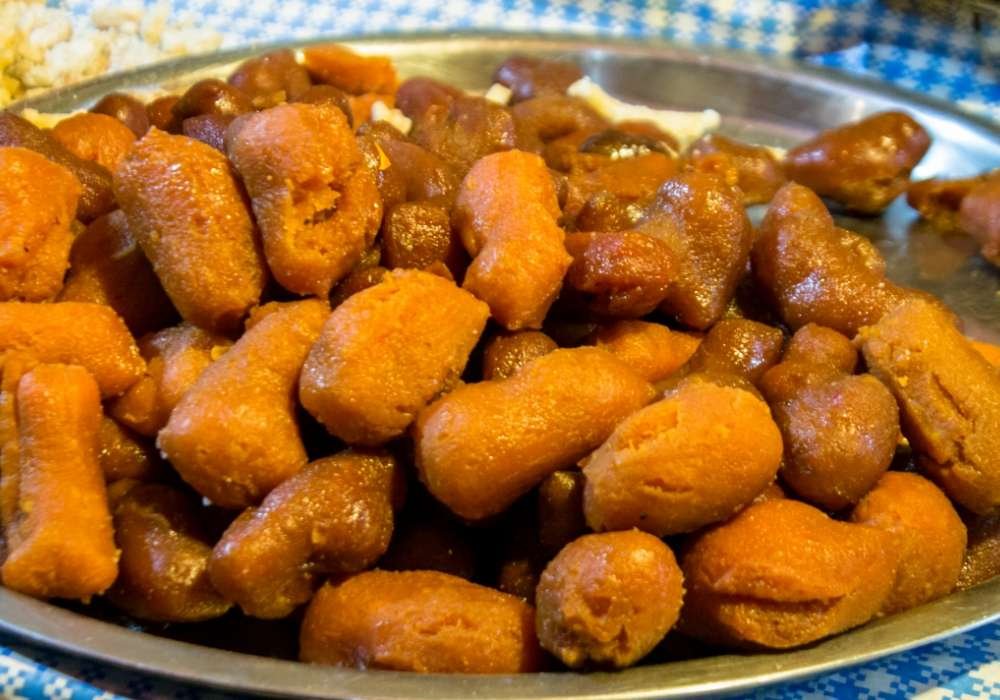 Crispy on the outside and soft inside, small cubes of maida are deep-fried in ghee until their outer layer turns crispy. The cube is dipped in sugar syrup to give it a sweet taste while giving it a crispy texture.
Malpua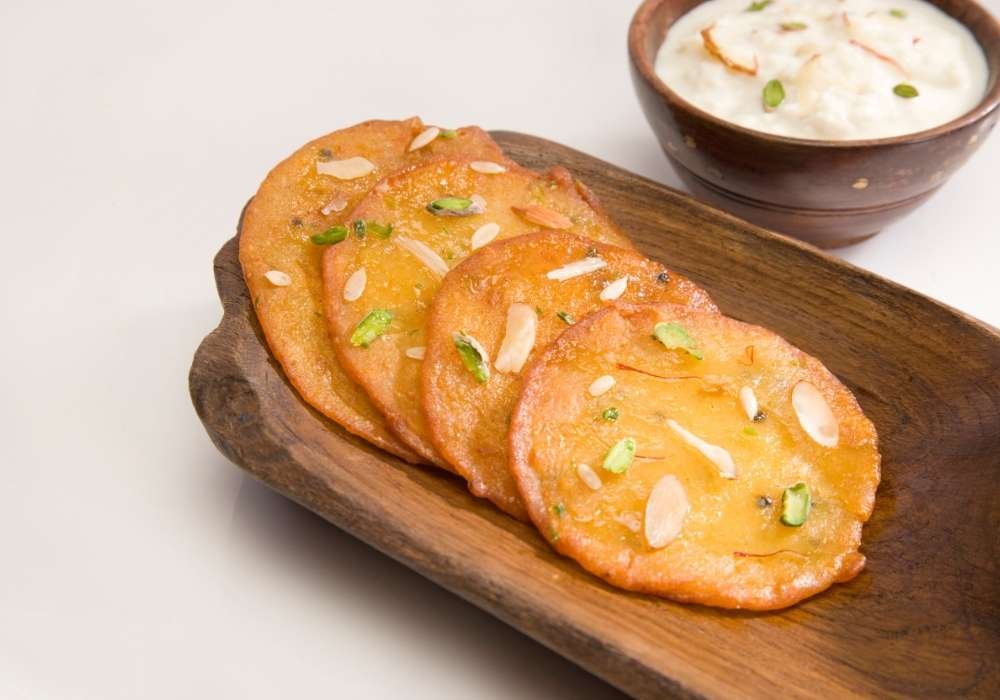 Similar to pancakes, this sweet dish is made from flour and dipped in sugar syrup along with an assortment of other ingredients which also include grated coconut. Once the miniature pancakes are made, it is dipped in the syrup before serving. It can be served both hot and cold.
Chhanar Jilipi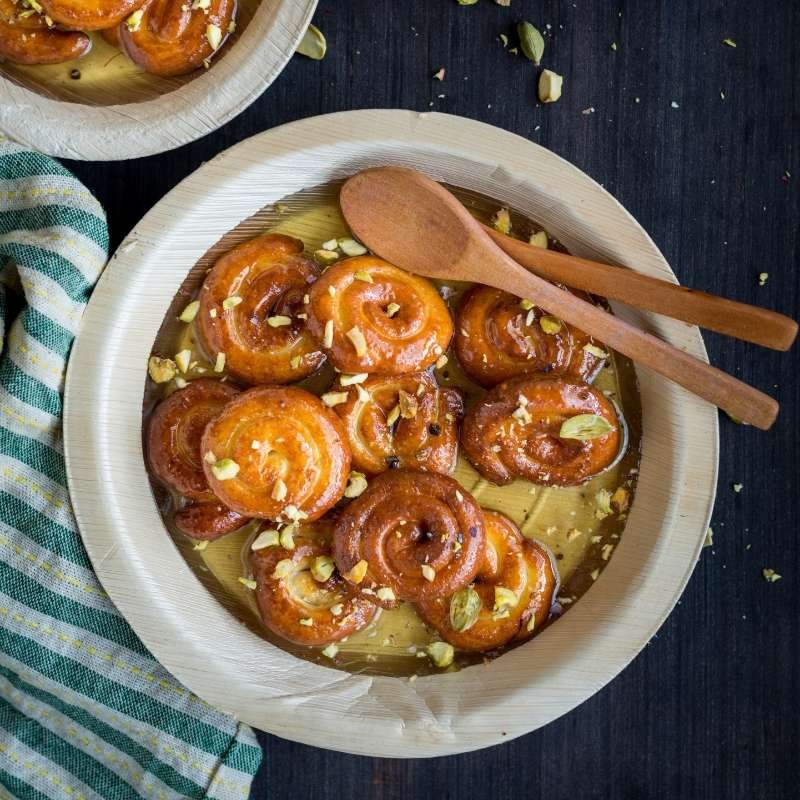 Made from cottage cheese, khoya, and maida, the mixture is deep-fried and soaked in sugar syrup. It is similar to the shape of a jalebi except it's thicker, softer, and juicier with every bite.
Payesh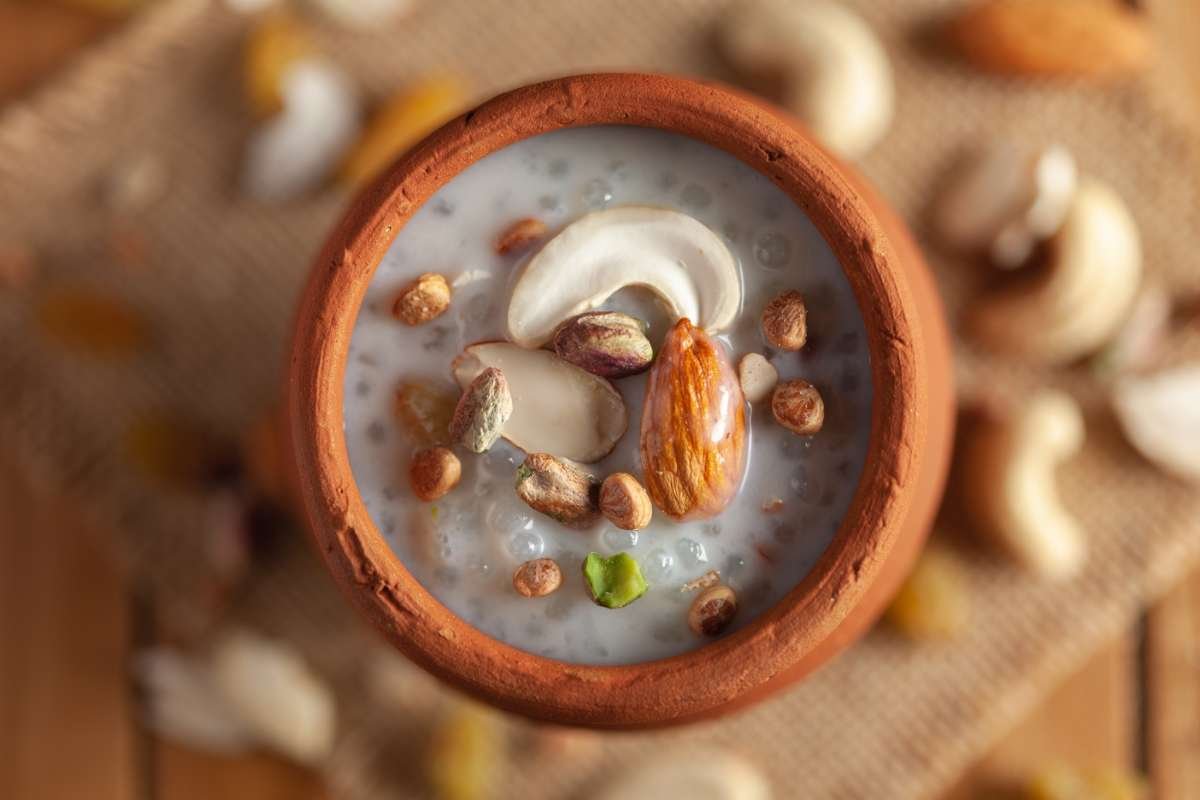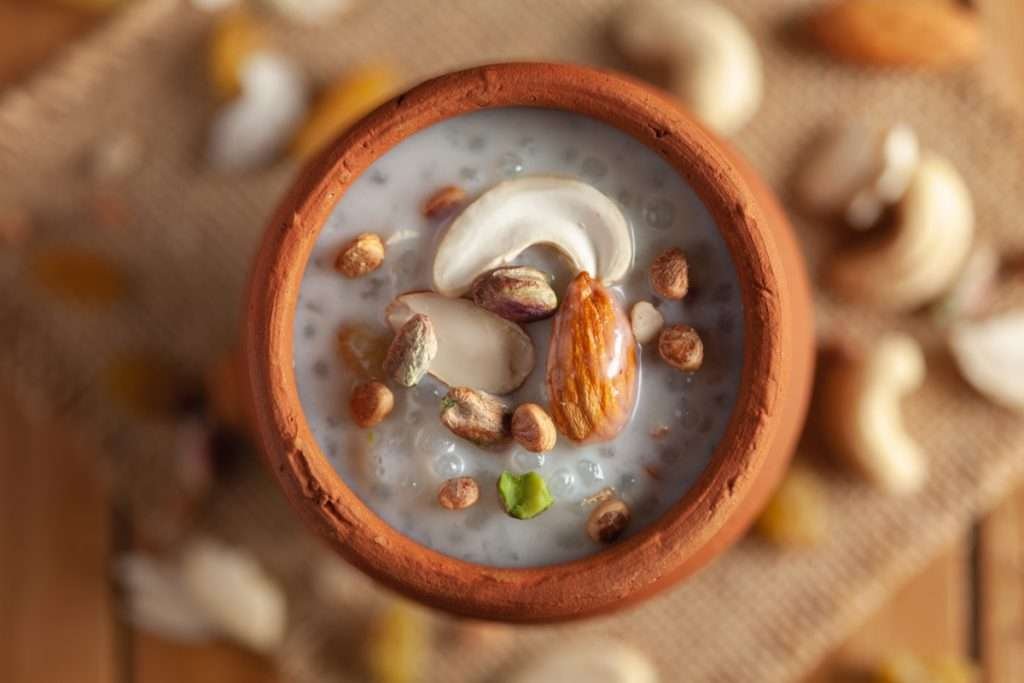 A classic Bengali sweet dish which is mainly had as a dessert, it is made from rice, milk, sugar, and ghee along with an assortment of spices and nuts such as cardamom, cinnamon, clove, and cashews. It is similar to a regular kheer except that it has thick creamy layer consistency which makes it quite distinct from the regular affair of kheers.
Mihi dana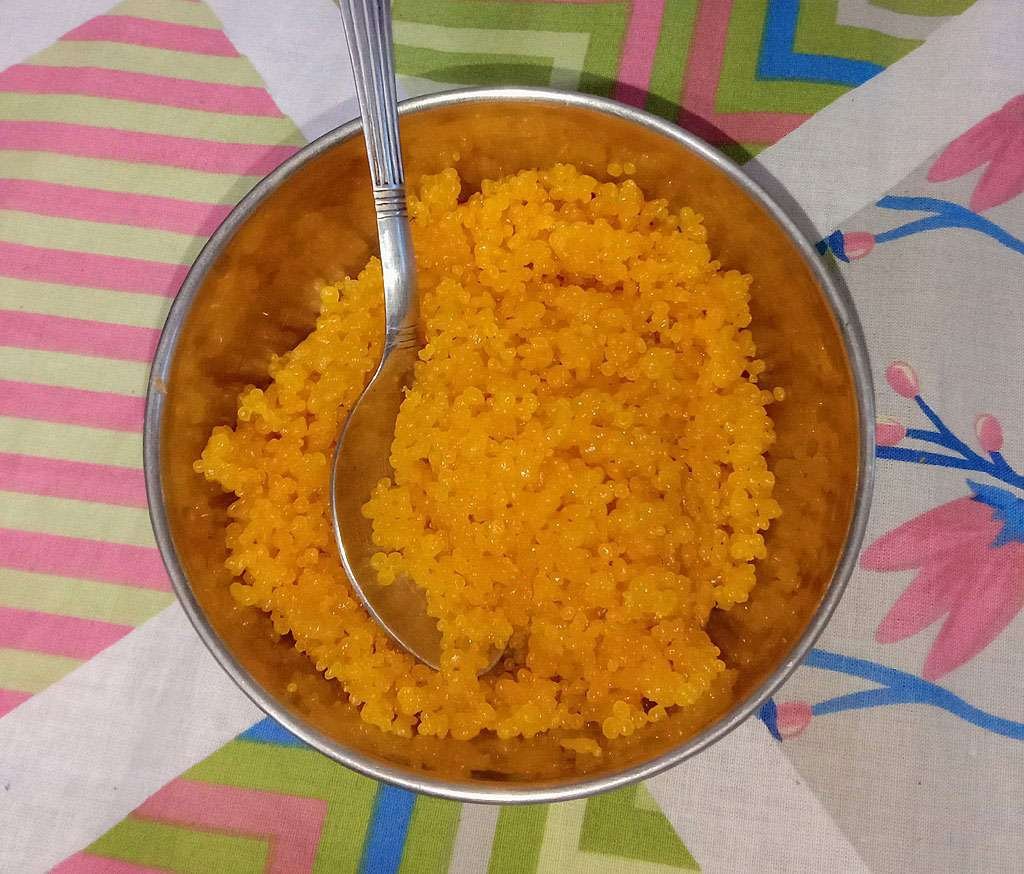 Quite similar to boondi, the dish is made from powdered rice, flour and saffron. The mixture is fried in ghee on low flame and then dipped into a sugary syrup.
Bhapa Doi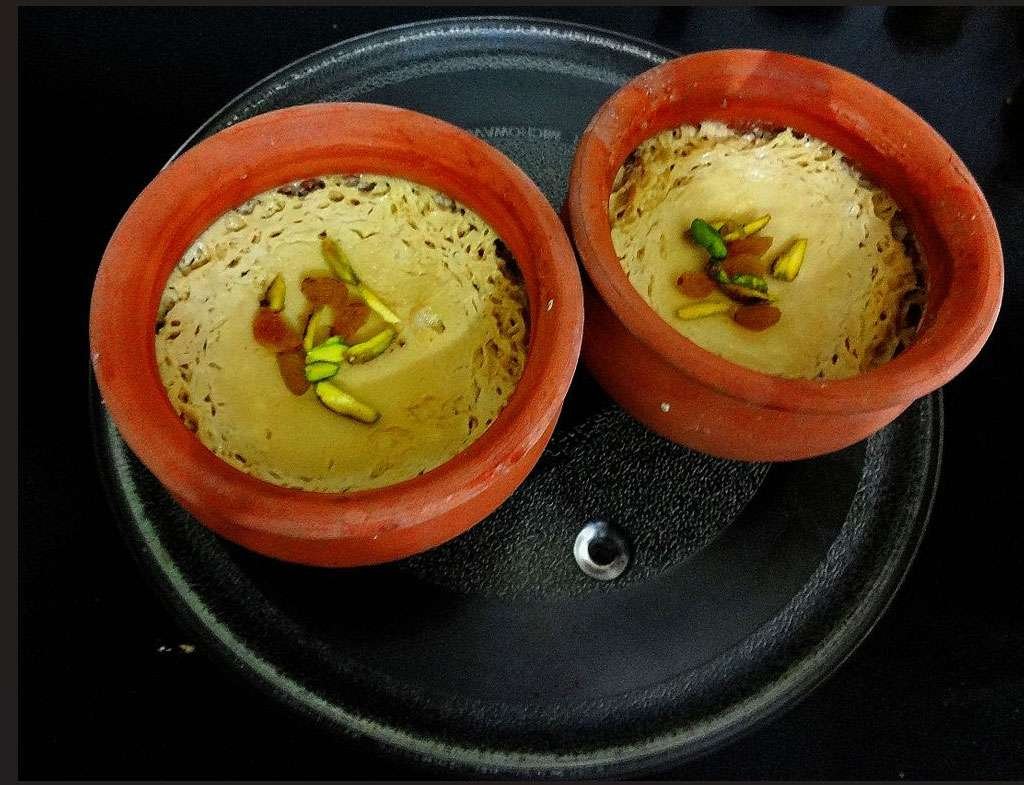 As the name suggests, the curd is steamed along with condensed milk before it is served. It is usually served plain but some add nuts and spices to add more texture to the item. Though similar to Mishti Doi, they are both different in taste and making process.
Ledikeni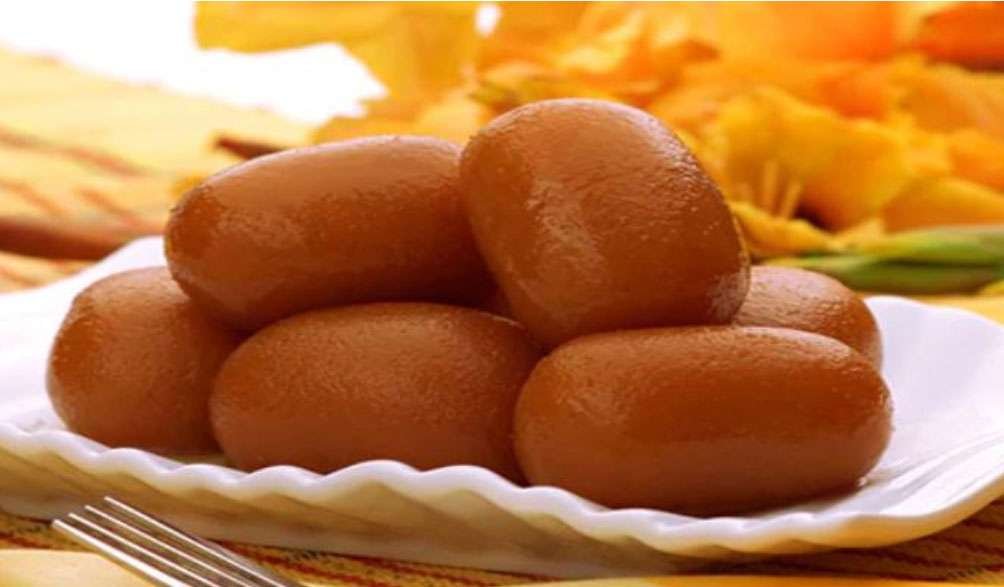 Named after Lady Charlotte Canning, the sweet resembles gulab jamun in appearance. However, it is made from cottage cheese and stuffed with raisins, elaichi and other nuts. It is coated with castor sugar from the outside and deep-fried. Once this is done, the sweet is dipped in sugar syrup before it is served.
Now that we have made an exhaustive list of some of the most popular Bengalis sweets there, we strongly suggest you get yourself in shape with a rigorous workout regimen to burn the calories in the coming days once you are done binging on these delectable sweets during your next trip to Kolkata. Make sure to be dressed appropriately; loose clothes and no belts. After all, you will not be able to keep your hands to yourself once you lay your eyes on these wonderful spreads of Bengali sweet dishes.