Priced at little over Rs. 2000, Inalsa Dura Clean Plus appears to be one of the cheapest vacuum cleaners for home. According to the product description, it is a versatile option that can be an upright and a handheld vacuum cleaner suitable for a variety of floors and surfaces. And its extremely budget-friendly too. Let us explore through this hands-on review whether the Inalsa Dura Clean Plus 2-in-1 Vacuum cleaner is really a wonder vacuum!
Pros
Excellent cleaning performance on different floorings.
Versatile accessories for improved user-friendliness.
Cons
Can be used for just 10-12 minutes at a stretch.
Dust bowl is rather small.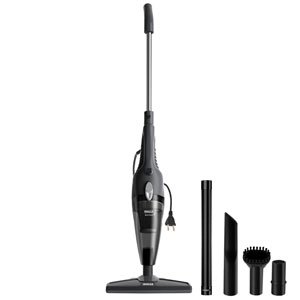 Inalsa Dura Clean Plus 2-in-1 Vacuum Cleaner
Design
When you take a look at the Inalsa Dura Plus vacuum cleaner, you see that it is essentially a hand held vacuum cleaner with a long extension tube with handle and a floor brush to convert it to a so-called upright vacuum cleaner. As an upright vacuum cleaner it measures just around 97cm in height. So, if you are taller than 6 feet, you may find it slightly inconvenient to use it.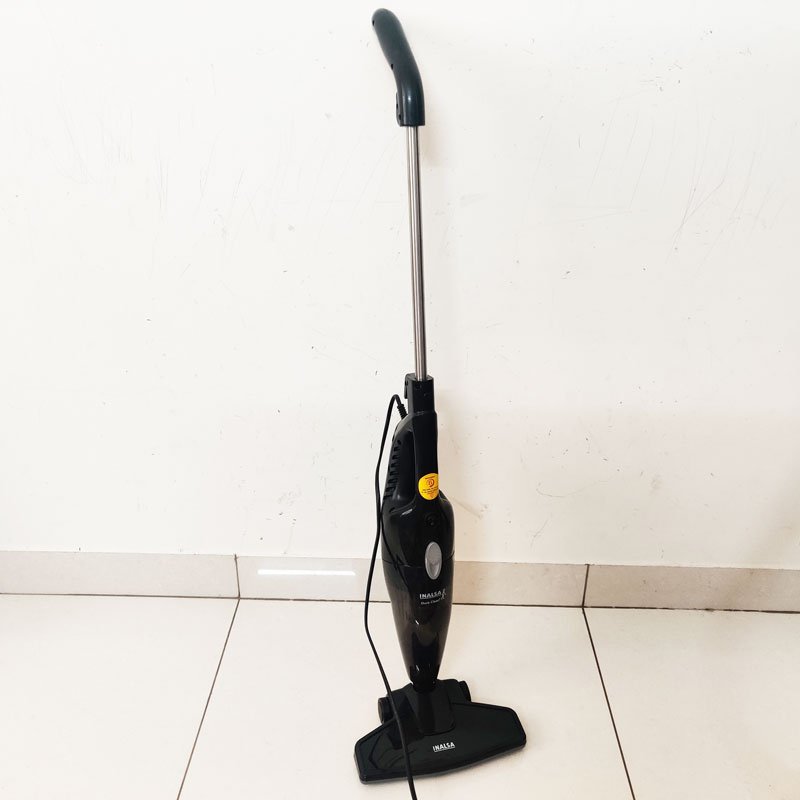 One of the standout advantages of this design is its exceptional ease of use. Unlike most cordless vacuum cleaners where the weight is concentrated at the top, causing strain on your arms during extended use, the Inalsa Dura Clean Plus concentrates the weight at the bottom, resulting in a more comfortable cleaning experience. However, it's important to note that it is not suitable for cleaning ceilings.
The power cord measures around 5 metre, which is usually enough that you won't have to keep changing the sockets frequently while cleaning up.
In comparison to other options, the floor brush of the Inalsa Dura Clean Plus is approximately 20% narrower, requiring more frequent movements to cover larger areas. However, it appears that the manufacturers did not intend for it to be used as a regular vacuum cleaner, but rather as a convenient choice for quick clean-ups in spaces like studios, small office rooms, stairs, upholstery, curtains, or even cars (as long as a power plug is accessible nearby).
One drawback worth mentioning is the relatively small dust bowl of the vacuum cleaner. It is necessary to empty the debris after each use to prevent it from becoming too full, which could negatively impact suction performance.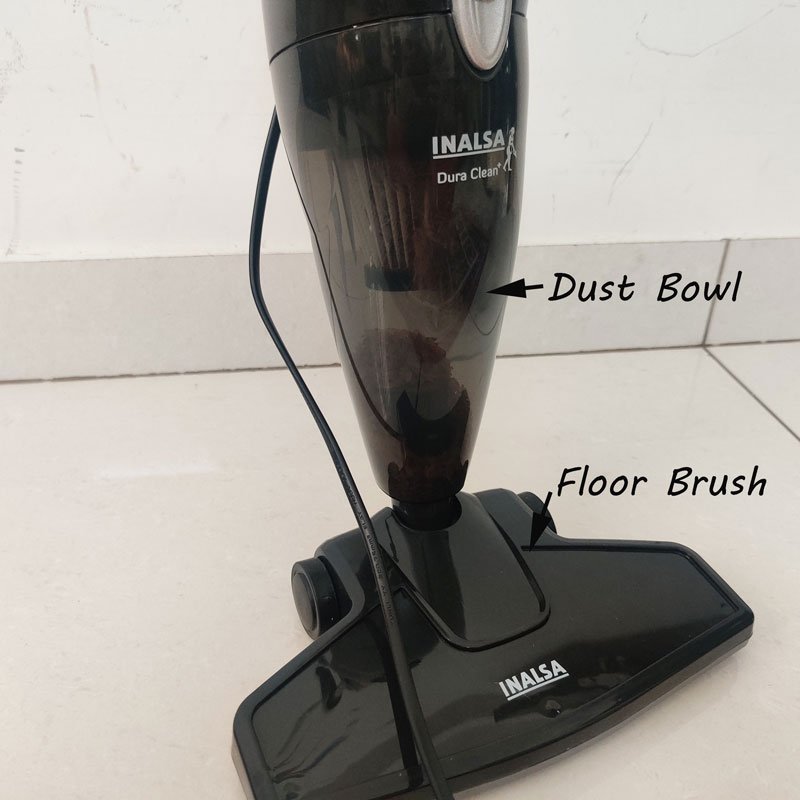 Included with the vacuum cleaner are three attachments: a crevice tool, a round brush, and a flexible hose, enhancing its versatility for different cleaning tasks.
Performance
The Inalsa Dura Clean Plus vacuum cleaner is equipped with an 800-watt motor and offers a suction capacity of 16 KPA. However, one notable drawback of this vacuum cleaner is its limited continuous usage time. It can be operated for approximately 10-12 minutes before requiring a cooling-off period of 3-5 minutes. Failure to allow for this cool-down period may result in motor overheating, leading to either a temporary shutdown or potential long-term damage to the motor's durability.
Now, let's delve into how effectively the vacuum cleaner performs on different surfaces.
Hard Flooring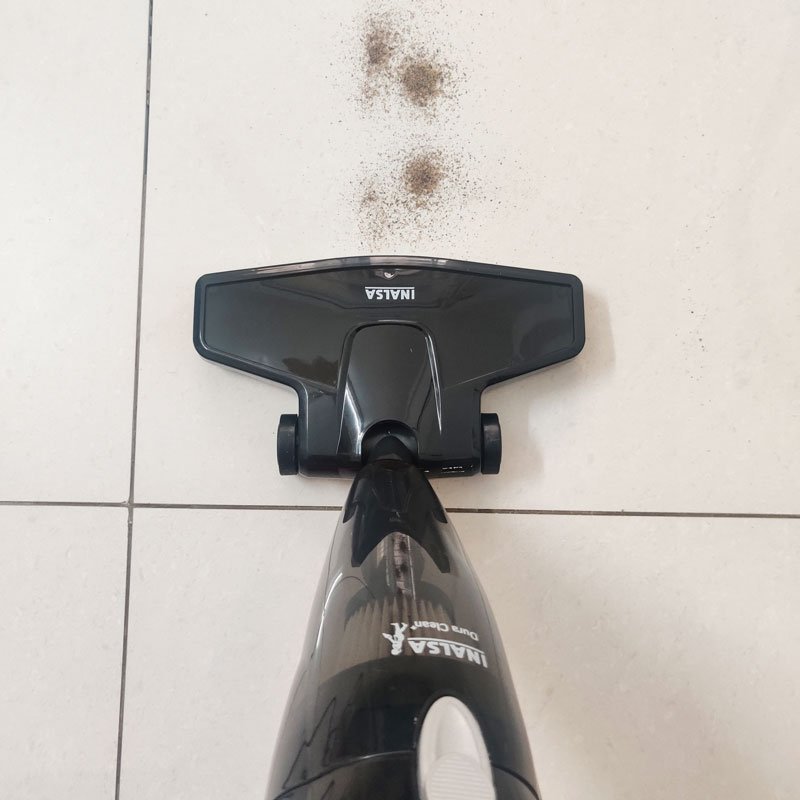 Despite its affordable price, the Inalsa Dura Clean Plus vacuum cleaner offers impressive suction performance. It excels at cleaning various types of debris from hard surfaces such as tiles and wooden floors. Whether it's pet hair, sand, or even larger debris like rice, this vacuum cleaner effectively removes them all. Unlike some other models we tested, we didn't encounter the issue of larger debris being pushed away. This may be attributed to the vacuum cleaner's floor brush, which is equipped with a squeegee that efficiently captures all debris it comes across. However, a drawback is that the floor brush isn't very effective at cleaning edges and corners of the room. A crevice tool serves you better in this aspect.
Carpets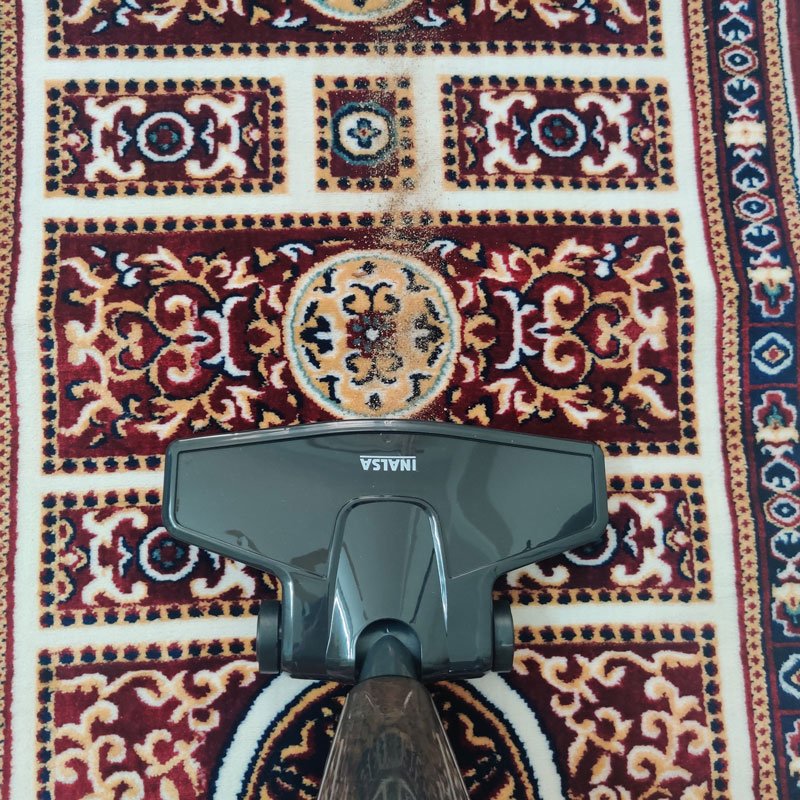 The Inalsa Dura Clean Plus vacuum cleaner proves to be quite effective on carpets as well. On the first pass, it successfully cleans approximately 80% of pet hair, and with 2-3 additional passes, it manages to remove almost all of it. Even larger debris is easily captured by this vacuum cleaner. When it comes to finer debris like sand, it demonstrates an impressive 90% efficiency on the first pass.
One notable aspect we appreciated about this vacuum cleaner is its user-friendly experience on carpets. Often, pushing the floor brush on carpets can be challenging due to the suction created. In the case of rugs, some vacuum cleaners tend to pull them in. However, we found that the Inalsa Dura Clean Plus offered a smoother and more effective cleaning experience on carpets, making it easier to maneuver.
Other Surfaces
As previously mentioned, the Inalsa Dura Clean Plus vacuum cleaner can be converted into a hand-held vacuum cleaner, providing added versatility. The flexible hose that comes along enhances the user-friendliness of the appliance.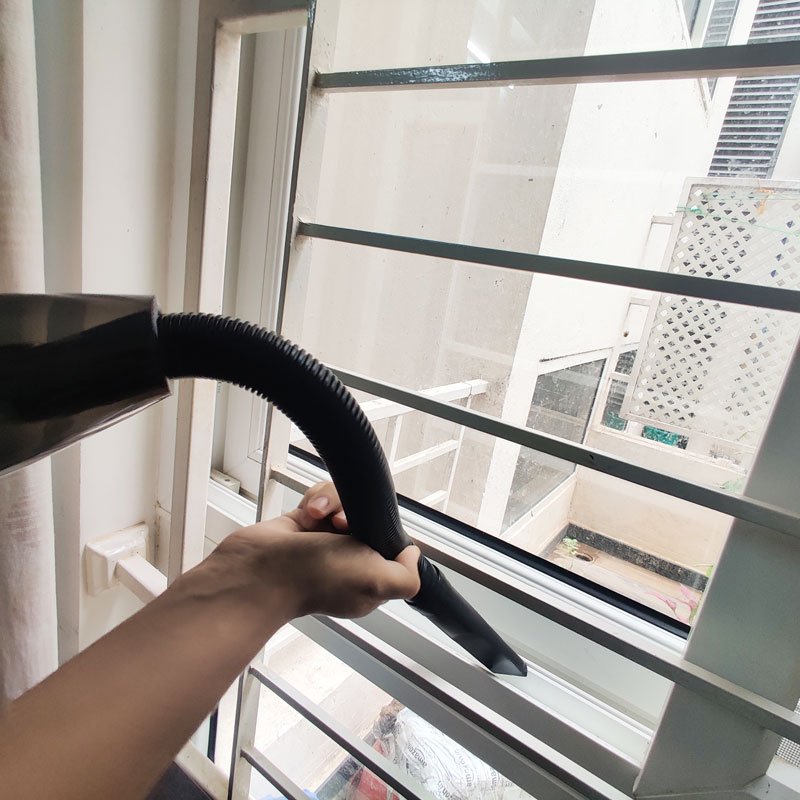 You can easily fix the round brush or crevice tool on the hose to reach hard-to-reach corners and nooks. This is especially useful when you need to clean window sills behind grills. Even canister vacuum cleaners aren't this user-friendly.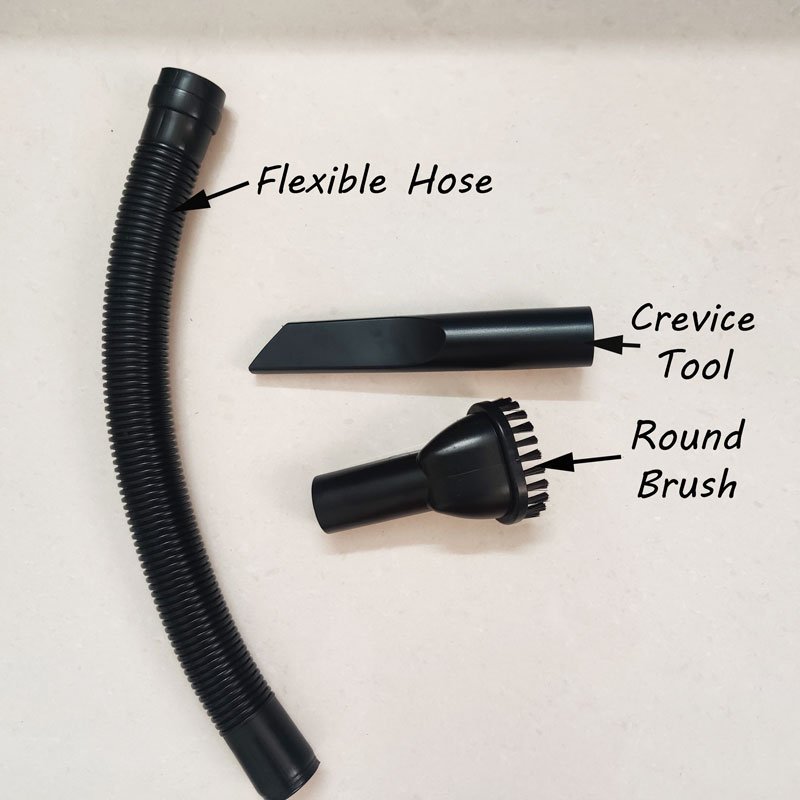 Using the crevice tool, you can clean corners and window sills. The round brush is helpful for cleaning upholstery, shelves and other flat surfaces. It is helpful even for cleaning car floor and upholstery.
Overall, it is a versatile option for different types of surfaces.
Noise
The Inalsa Dura Clean Plus vacuum cleaner emits a moderate level of noise during operation. The noise produced is relatively dull and measures approximately 88-90dB when heard from a close distance. However, from a distance of 10 feet, the noise level reduces to around 75-77dB. This means that while using the vacuum cleaner, you may experience a mild disturbance, but it is unlikely to be overpowering or excessively disruptive. It should still allow you to comfortably engage in activities such as watching TV or talking on the phone without significant inconvenience if the vacuum cleaner is used in the house.
Ease of Cleaning Dust Bowl
As mentioned earlier, the vacuum cleaner has a rather small dust bowl. So, you need to discard the debris after every use. The locking of the dust bowl is made of average quality plastic. Unless you are careful, there is a chance that it may break with use.
Unlike other vacuum cleaners, you shouldn't remove the floor brush when discarding the waste. If you do so, the debris may come out through the gap where you fix it. Instead, along with the floor brush or the attachment, remove the HEPA filter and discard the debris. Take care to clean the HEPA filter with a dry toothbrush. Then, fix it back on the vacuum cleaner body.
Ease of Storage
The vacuum cleaner can be laid against a wall and kept in the corner. There is no cord winder in the vacuum cleaner. Instead, it can be wound on the hooks on the vacuum cleaner's body.
Built Quality
The built quality of the vacuum cleaner is just about average. The dust bowl and the locking system is made of mediocre quality plastic. The extension hose is made of stainless steel. But, it is thin and prone to breakage if handled roughly.
Observation From Daily Use
Being lightweight, the vacuum cleaner is quite easy to maneuver. It is easy to use the vacuum cleaner on carpets as well. But, when cleaning edges of rooms, you need to be pass several times for proper results. The main drawback of the vacuum cleaner is that it can be run for just 10-12 minutes at a stretch. This limits its functionality heavily. So, it can be used for just small cleanups and not for deep cleaning.
Is It Apt For Those With Allergy?
The vacuum cleaner comes with a HEPA filter that filters the air from the vacuum cleaner. As a result, it can be used even when people with dust allergy are around. However if the person suffering from allergy tries cleaning up the dust bowl, it may trigger an attack as dust escapes from the bowl easily when discarding the debris.
Conclusion
With excellent cleaning performance and versatile attachments, Inalsa Dura Clean Plus is a budget-friendly option suitable for small spaces, stairs and quick clean ups in office rooms or studio. It is fairly easy to maneuver as well. However, the short usage duration and small dust bowl limits its functionality to an extend.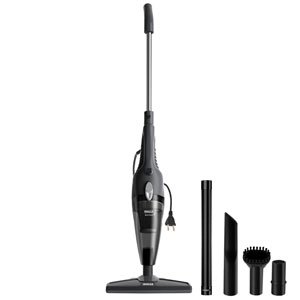 Inalsa Dura Clean Plus 2-in-1 Vacuum Cleaner
Was this post helpful?
Let us know if you liked the post. That's the only way we can improve.