Ever wondered what makes your ceiling fans so cool? No, not just in terms of the cool air but the ultra-smart technology that makes them so efficient. Modern-day fans are equipped with smart technology and an appealing aesthetic design. They deck up your homes as masterpieces and not just a cooling appliance.
Talking about technology, the BLDC fans are creating a buzz in the fan industry. Here, we bring you a close comparison between the BLDC fans and their traditional counterpart i.e normal fans on various aspects. Finally, we share with you some of the best brands that offer BLDC fans in the market to help you make a perfect choice for your homes.
What are BLDC Fans? Unwinding the Technology Behind Better Efficiency
Ceiling fans run on two types of motors-Brushed Motors and Brushless Motors. While the former has been around in the industry for several decades, the latter is a relatively new entrant.
The term BLDC stands for Brushless Direct Current Motors. It essentially comprises a synchronous motor clubbed with a DC electric source. A comprehensive power supply produces an electric signal to drive the motor.
Today, BLDC motors are a safe bet and much sought-after technology. They promise a longer lifespan and increased reliability.
The windings in the BLDC motor are supported by the housing. This feature allows the motor to cool by conduction. So, no external airflow is required for internal cooling, thus protecting the motor from dirt and foreign substances. Some of the prime benefits of BLDC motor fans can be listed as:
Lower Electricity Consumption with estimated 65% savings
Better and longer back-up on inverters
Increased reliability
Considerable reduction in noise
Better durability and longer lifespan
BLDC Fans Vs Normal Fans: A Battle of Better Performance
Why do BLDC motor fans score well over normal fans? Well, because in terms of technology, electricity consumption, noise reduction, efficiency, lifespan, and various other parameters it has an edge over conventional fans. In this detailed comparison below you get to see the differences between the two quite vividly.
Unmatched Technologies
BLDC motor fans comprise a permanent magnet that steers the motor unlike electromagnets found in the conventional induction motor.
The permanent magnet technology uses significantly less power with virtually no loss of heat. On the other hand, conventional induction motors use a lot of power and are subject to heating loss and poor efficiency.
BLDC Motor fans use no commutators and brushes therefore the occurrence of mechanical wear and tear is minuscule. Moreover, the chances of winding failure in BLDC fans are extremely low. This is because they use high-quality copper wires against the low-quality aluminium wires used in conventional fans.
Air Delivery
In terms of air delivery, both BLDC and normal fans are more or less the same. They both have air delivery rate in the range of 230-260 CMM. BLDC fans from Atomberg have an airflow rate of around 230 CMM, while Usha's new premium BLDC model USHA Heleous has an airflow rate of 260 CMM.
Power Consumption: Defining Efficiency
Power consumption perhaps is the most direct advantage of BLDC fans,
With an average consumption of 70-80 Watts, normal fans do not support your energy-saving efforts. On the flip side, BLDC fans consume just 28-40 Watts on average and remarkably contribute to low electricity bills. A 28 Watt BLDC Motor fan can contribute or translate to Rs.1500-2000 savings a year which is significant savings for Indian households.
For example, if you run the fan for 10 hours a day, a normal fan would consume 75 x 10=750 watts, while a BLDC fan will consume just 28 x 10=280 watts, resulting in a saving of 470 watts or 0.47 units per day. If you consider the average electricity charge as Rs. 9 per unit, this means a saving of 4.23 Rs per day. This means a saving of Rs. 1543 per year. Fans in bedrooms are likely to be used for such a time frame.
Out of the brands, Atomberg offers the best energy efficiency, with most of their models consuming just 28 Watts of electricity, while Superfans and Crompton consume around 35 Watts and Usha to the north of 40 watts.
The following chart gives you a better understanding of how power consumption differs widely between an Atomberg BDLC Motor fan and a traditional ceiling fan.
Speed of the Fan
BLDC Motor Fans Power Consumption
( Atomberg)
Normal Ceiling Fan Power Consumption
1
6 Watts
16 Watts
2
10 Watts
27 Watts
3
14 Watts
45 Watts
4
19 Watts
55 Watts
5
28 Watts
75 Watts
Inverter Operations: Back-Up Sustainability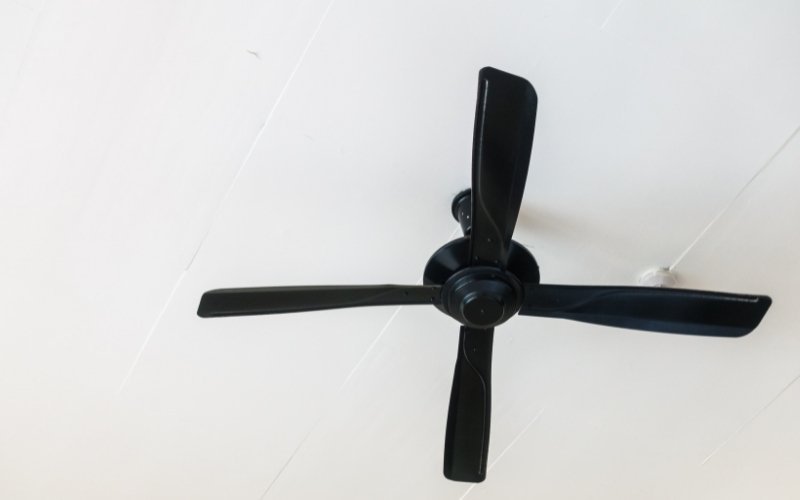 When working in inverter mode conventional fans, as they consume higher energy, puts an unnecessary burden on the inverter, thus draining its battery faster.
BLDC fans, on the other hand, consume very little power when running on inverters. So, you can run multiple BLDC fans simultaneously throughout the house.
This makes BLDC fans a preferable choice for those living in places with scorching summers.
Noise Control: Redefining Silence
Normal fans no doubt make a distinct humming sound and more so when they run on low-budget inverters. On the other hand, BLDC fans make very nominal noise. No wonder they are often categorized as silent motor fans.
Speed Control: Regulating Air Flow
Normal fans that run on induction motors use regulators to control speed. The regulators work on the principle of capacitive resistance to control the flow of current in the induction motors thereby increasing or decreasing the speed of the fan.
Speed in BLDC motor fans is controlled by digitally regulating the flow of current into the motor. Generally, BLDC motor fans run on the remote control for regulating speed rather than the conventional regulators. Atomberg offers a model- Atomberg Renessa Alpha, which can be controlled using a regulator.
Pricing
Normal fans start from a reasonable price range of Rs.1200 whereas BLDC fans are initially priced in the higher bracket of Rs.3000 and more. However, considering the annual savings of Rs.1500-2000 that one can achieve by using BLDC fans the higher price is well justified. In the long run, the higher upfront cost of the BLDC fans can be recovered through energy savings in less than a year.
Brands Making a Mark in the BLDC Domain
Here are some of the big leaders who have made a mark by introducing technology-driven BLDC fans in India and thus revolutionizing the ceiling fan industry.
Versa Drives marked a foray into the world of BLDC fans by introducing the first of its kind called Superfan in the year 2012. They offer a wide variety of energy-efficient BLDC fans in a varied color palette and blade sizes ranging from 90mm to 1400mm.

Atomberg Technologies is perhaps the most successful brand selling BLDC fans. With a 4+ star rating, Atomberg sells BLDC Ceiling fans, table fans, pedestal fans, and wall fans.

Jupiter a well-known manufacturer of BLDC fans is renowned in the market for its technologically advanced BLDC motor fans. Four popular models of the brand include- Tricopter, Quadcopter, Kaira, and Maharaja. However, they are yet to reach a significant reach like Atomberg.

Orient Fans one of the market leader in conventional ceiling fans have ventured into the BLDC Fan domain with its two famous models the ECO series and the Aeroquite.

Crompton's Energion BLDC fans launched in 2019 are robust and energy-efficient fans with advanced technology and come with a 5-year warranty.

Havells entered the BLDC fan market segment with the launch of the Efficiencia Neo in the year 2019. They now sell numerous other models too with BLDC technology

Panasonic, another trusted brand name in the electrical appliance industry introduced the Anchor F-12XDA BLDC Fans. These fans can operate on a wide range of voltage from 100-300 Volts. With a reputation for superior quality and performance, they come with a warranty of 2 years.
Undoubtedly BLDC Fans are the next generation of ceiling fans in India. They don't just promise power savings and energy efficiency but performance and better air delivery that marks a revolutionary change in the fan industry for years to come.
BLDC Fans We Recommend
Was this post helpful?
Let us know if you liked the post. That's the only way we can improve.