A fan is one of the appliances that is always ON at your home. In fact, they contribute around 25% of your household energy bills. So, it is important that you have an understanding of how much power your fan consumes and how to reduce its impact on your energy bills.
Through this article, we attempt to help you understand the average energy consumption of different types of fans ranging from ceiling fans to exhaust fans.
| Type | Ceiling Fan | Table Fan | Pedestal Fan | Wall Fan | Exhaust Fan |
| --- | --- | --- | --- | --- | --- |
| Normal | 70-75 Watts | 55 Watts | 55 Watts | 45-55 Watts | 30-40 Watts |
| BLDC | 28 -30 Watts | 32 Watts | 32 Watts | 32 Watts | – |
*Power consumption at maximum speed. The figures mentioned are approximate.
Average Power Consumption of Ceiling Fans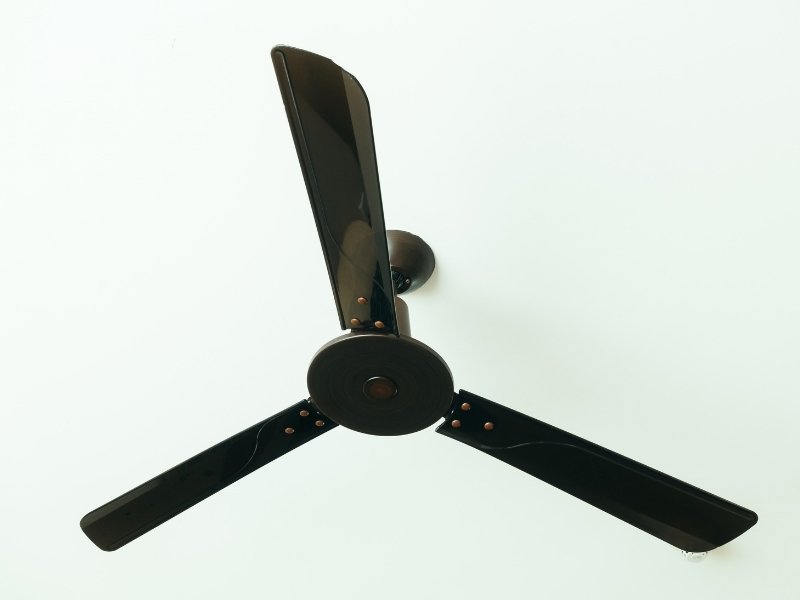 Ceiling fans, as you may know, come with different sweep sizes ranging from 600 mm to 1400 mm. Usually, the higher the sweep size, the higher the energy consumption.
The common size you find in most homes is 1200mm. And the majority of them consume anywhere from 70-75 watts of electricity. Even fans with 900 and 1400mm sizes consume power somewhat in the same range.
However, note that this is the energy consumed when the fan runs at its maximum speed. At the lowest speed, it uses about 16 Watts and at the third speed, which is the most commonly used, it consumes about 45 Watts.
If you switch one fan at moderate speed for about 16 hours a day, it will consume .0.72 units per day( 16*45/1000). This in turn will cost you around 130-195 rupees per month, considering the per unit electricity to cost Rs. 6 to 9.
Fans with a smaller blade size of 600mm consume just around 50-60 watts of electricity.
Note that all the above figures are for normal fans with conventional motor technology. BLDC fans are extremely energy-efficient options. We will talk in detail about them towards the end of the article.
Fans are nowadays available with 4 blades instead of three. They have a comparatively lower airflow rate. But are more silent, making them an ideal option for bedrooms. The number of blades however doesn't have much effect on energy consumption.
Related reading: How Much Power Does Your Refrigerator Consume?
Ceiling Fans With Light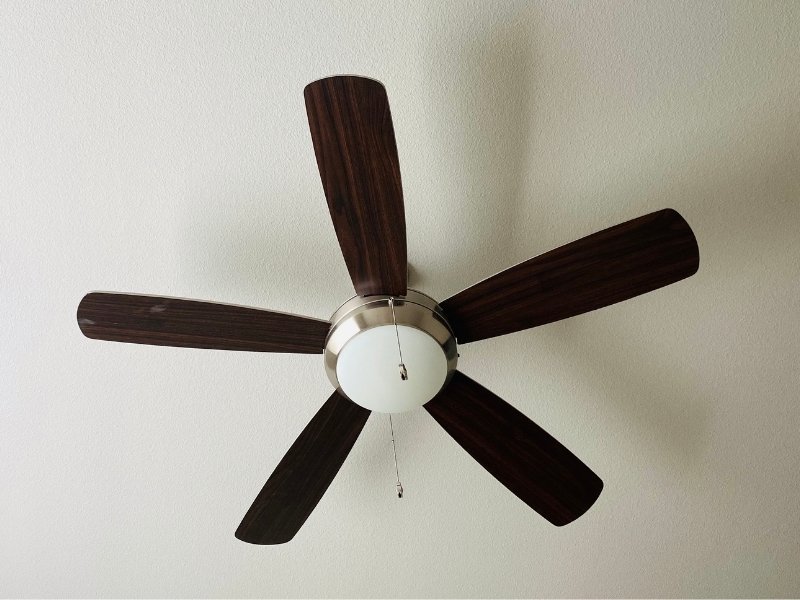 Ceiling fans with LED lights are pretty common in the market. The lights consume just about 5 watts. So, their power consumption also falls in the range of 70-80 watts.
But, keeping the energy consumption aside, they are not quite a practical option. First of all, they are way more expensive. Secondly, cleaning is a major headache. Moreover, the light in most fans is so dim that it can only replace a zero bulb.
Average Power Consumption of Table Fan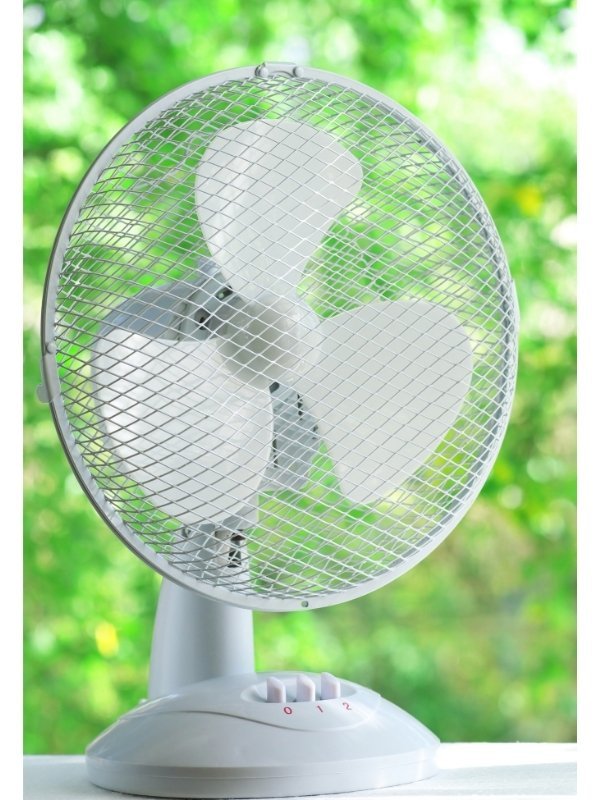 As the airflow is more concentrated, table fans are better options for students and employees who are always at the table.
Most of the options have a power consumption of 55 watts. So, if you switch it on for about 6 hours a day, it consumes 0.33 units per day. So, your monthly expense will be Rs. 60 to 90 per month.
Average Power Consumption of Pedestal Fan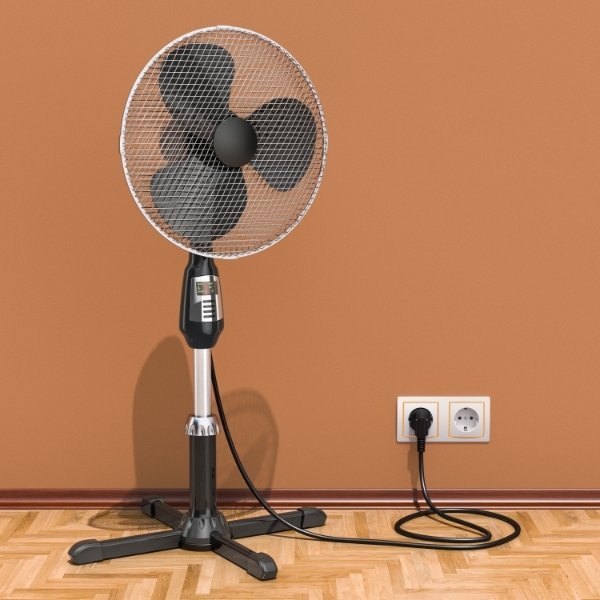 If you take a closer look, you will find that other than the height, a pedestal fan is pretty much similar to a table fan. Its energy consumption also falls in the range of around 55 watts. So, power consumption shouldn't really be a factor to consider when deciding whether to buy a pedestal fan or a table fan.
Average Power Consumption of Wall Fan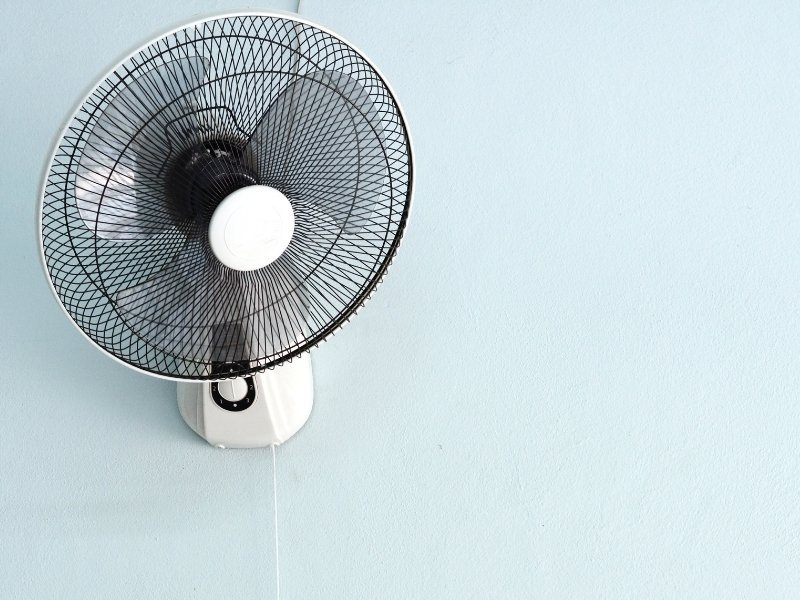 Wall fans help circulate air throughout the room, making it an ideal choice for rooms with Air Conditioners. They consume around 45-55watts of electricity. So, if you use it for 6 hours a day, your monthly expense will be around Rs. 50 to Rs. 90 depending on the tariff rates.
Average Power Consumption of Exhaust Fan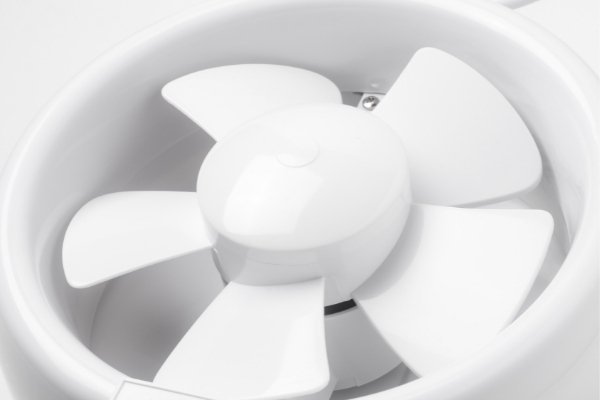 Even if you have a kitchen chimney, it would be a good idea to have an exhaust fan in the kitchen to push out the hot air and make the room cooler. They are essential in bathrooms too, not only to keep it odour-free but also to dry it quickly to reduce the chances of mold and mildew formation.
They consume about 30-40 watts of power. Experts are of the opinion that exhaust fans should be switched on for around 20 minutes after a bath. So overall if you switch it on for about 6 hours a day, it will cost you around Rs. 35 to 65 per month.
Average Power Consumption of BLDC Fans
BLDC fans are really wonderful options that drastically reduce energy consumption. While an average ceiling fan consumes 75 watts of electricity, a BLDC fan consumes just around 28 watts at the maximum speed. While Atomberg fans are far more energy-efficient consuming 28 watts, the ones from Orient, SuperFan and Crompton consume around 35-40 watts. At a moderate speed, they consume just 14 watts.
So, if you run a BLDC fan at moderate speed for 16 hours a day, you will be spending just Rs. 46 to 70 as compared to Rs. 130-195 that you would spend on a normal fan.
BLDC fans are available in different formats. But the difference in energy consumption isn't that drastic. Table fans, wall fans and pedestal fans with BLDC motors consume about 32 units of electricity.
You can read more about the differences between BLDC and normal fans in other aspects here.
Tips To Reduce Energy Consumption of Fan
First, a common sense tip, switch off the fan whenever not in use. Every time you leave a room empty, make it a habit to switch it off.
If you are replacing an old fan, opt for BLDC fans. They are more expensive upfront. But, you make back the money in just a year.
Whenever possible, try using pedestal or table fans instead of ceiling fans.
When using AC in a large room, use a wall fan instead of a ceiling fan.
Keep the house well-ventilated throughout the day so that the fan can be put on at a moderate speed.
BLDC Fans We Recommend
Was this post helpful?
Let us know if you liked the post. That's the only way we can improve.