Most of us who have been using wooden and plastic cutting boards know that it can be a pain. Wooden cutting boards if not babied develop mold easily. And plastic generally is not considered ideal as microplastics could contaminate your food. Moreover, it isn't that hygienic either. Realizing the need for a maintenance-free and hygienic alternative, companies started introducing stainless steel chopping boards.
After using them for almost a year, here is our in-depth review on whether it is worth it.
Hygiene and Maintenance
Stainless steel chopping boards get full points for hygiene. They have a non-porous surface, which means unlike wood and bamboo, you needn't worry about the chopping board absorbing the juices from vegetables and meat. They don't get moldy even if you keep them in the sink for hours. It doesn't develop any odour and you needn't worry about cross-contamination either. Further, they can be cleaned in the dishwasher too. You can use and clean stainless steel chopping boards just like any other stainless steel cookware, which is a major positive.
Over a period of time, the board develops a lot of evident scratches and knife marks. But then, so does plastic and wooden boards. So, that shouldn't really be a point of concern.
Related reading: How To Clean Wooden Cutting Board?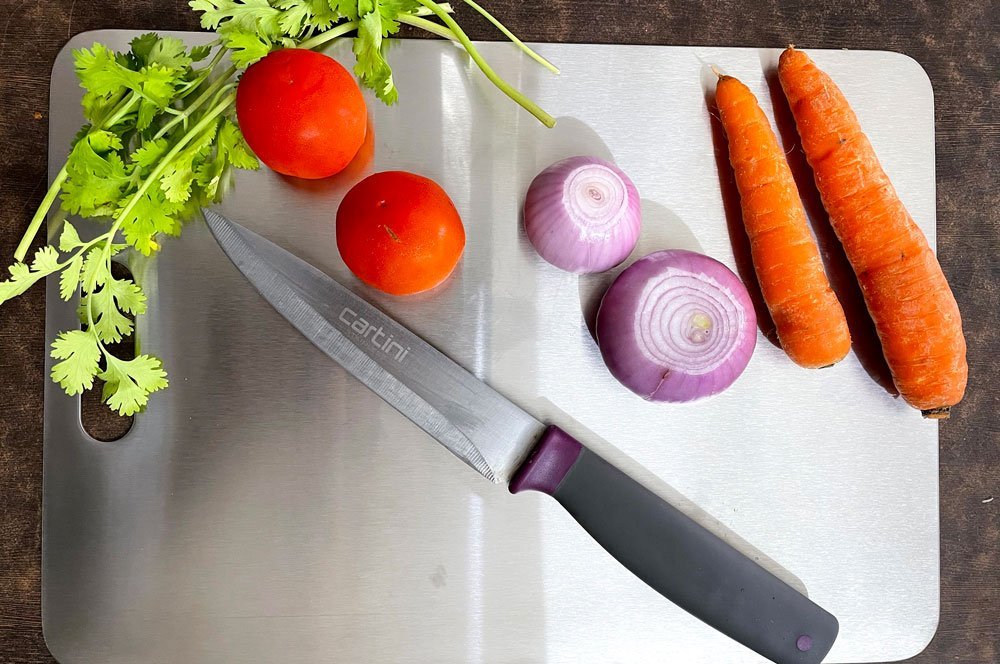 Ease of Use
One of the biggest advantages of wood and plastic cutting boards is that they are easy to use and skid-free. Unfortunately, you can't really say that about a stainless steel cutting board.
If you keep it on a smooth and polished kitchen countertop, these cutting boards have a tendency to skid, especially if it's over water. You can overcome that by keeping the board over a mat.
However, another problem we found is that food too has a tendency to slip when you are chopping. When you reach the last quarter of an onion or when chopping tomatoes, fish or meat, the food tends to slip and if you are not careful enough, you may hurt yourself.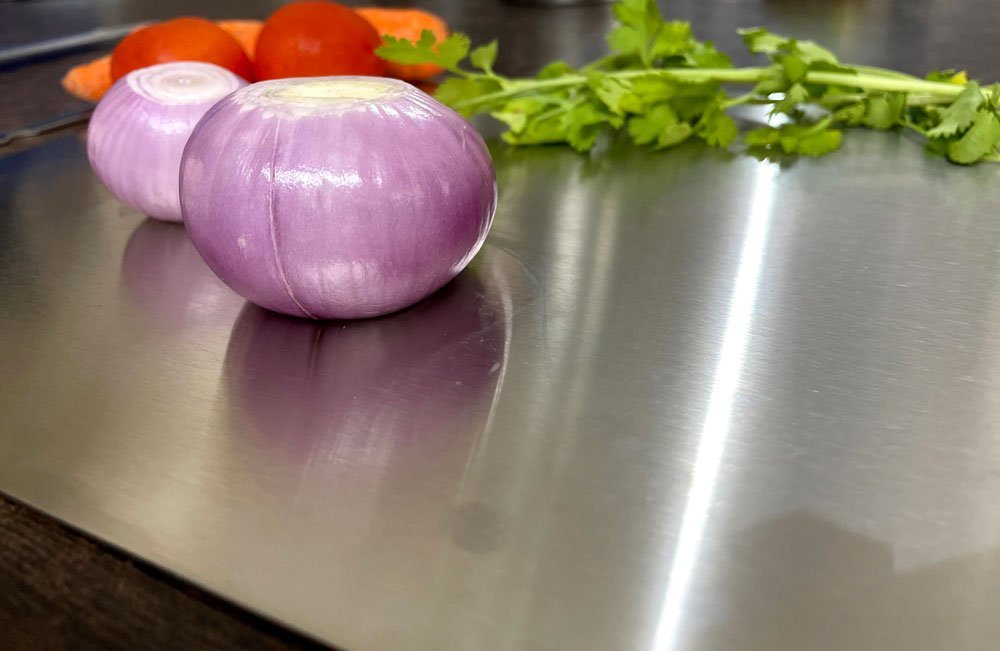 Love Thy Knife
Out of all the options, your knives will love plastic cutting boards the most. They are softer and hence don't affect your knives sharpness. Wood and bamboo cutting boards come next.
And as you would have guessed by now, your knives will hate your stainless cutting boards. Your knives constantly hit the hard stainless steel and as a result, they get blunt in no time.
When using a wooden chopping board, I sharpen my kitchen knife once every 2-3 weeks. But with stainless steel board, I have to often sharpen them twice a week- and that is definitely a huge turn-off. Of late, chopping boards made of toughened glass are also available in the market. They too have the same problem and dull your knife in no time.
Multi Functionality
Honestly, I am not quite impressed with stainless steel cutting boards as food slips and they damage your knives. And I was surprised to see that most of these cutting boards had 4+ star reviews on major e-commerce portals. Could it be review manipulation? I checked the reviews and I was able to figure out they were genuine.
So how does such an impractical chopping board get such positive reviews? Simply because Indians are masters of jugaad. We are truly a resourceful lot.
Most of the users who rated it 4-star and above use it not for chopping, but get the medium-large platform sized board for kneading dough and rolling chapati and Puri. In many households, the homemaker kneads dough and roll chapati directly on the kitchen countertop. Though convenient, many are hesitant to do this due to hygiene concerns. Stainless steel chopping boards solve it for once can all. You can knead dough and roll chapati on them and once done, they are pretty easy to clean in a dishwasher or the conventional way.
Overall, we are not quite impressed with this product as a chopping board. But, it is definitely a great alternative as a chakla and even for lining countertop when taking care of messy chores!
So, what material is the best for chopping boards? The best way would be to keep two separate chopping boards for veg and non-vegetarian food. Single block wood chopping boards are the best options as they are more hygienic, fairly easy on your knives, eco-friendly and safe.