Prestige and Hawkins are the market leaders in the pressure cooker category. They both sell high-quality pressure cookers that are durable and superior in terms of quality and performance. So, with such close competition, it is natural that you get confused about which one to choose. Let us do an in-depth analysis to help you decide.
Design
When you compare the offerings from Prestige and Hawkins, you will find that Hawkins more or less has a single design of pressure cooker which they sell in a variety of materials like aluminium, stainless steel and hard anodized aluminium. Probably, they are of the ideology. " if it ain't broke, don't fix it." And that works for them!
Prestige on the other hand tries to innovate and sell pressure cookers in a variety of designs and functionalities. They have recently introduced the Svachh models with an indented lid that can contain spills. Their previous innovation was clip-on pressure cookers.
Do these innovations do what they claim? Well, the reviews are rather mixed. Pressure cookers don't spill unless you overfill or add more water than what is needed. And the indent on the Prestige Svachh pressure cooker lids is sufficient provided you don't overfill the pressure cooker over 2/3rd its capacity.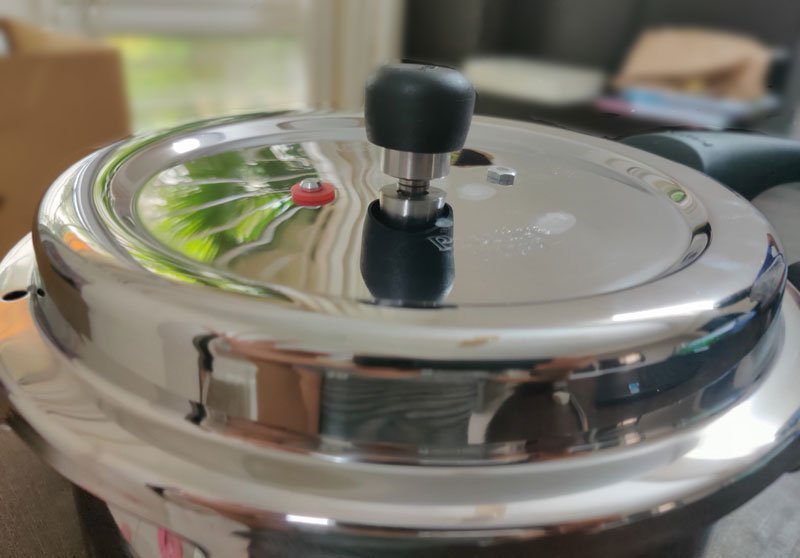 If you are cooking rice in them, most probably it will spill if you add a lot of water. On the other hand, if you make curries, the possibility is lesser as you add just sufficient water. We have tried making 250 gm rice adding 1-litre water to a 3-litre Svachh pressure cooker and it was able to contain the spill.
The clip-on pressure cooker is aesthetically pleasing with two lids- one for pressure cooking and one normal lid. The best aspect is that it is incredibly easy to open and close the lid. Here again, you should fill the cooker only to 2/3rd its capacity. Many users claim that it leaks from the gasket. However, in our experience using it for over a month, we haven't had any such problem.
Related reading: Best Pressure Cookers In India
Durability
The body of both Hawkins and Prestige are sturdily built. The stainless steel models measure 0.8mm in thickness. When it comes to the handles, regulator vent and valve, Hawkins is far better than Prestige.
Having used Hawkins and Prestige for the past 9 years, I have personally felt that Hawkins is better in terms of durability. Even my parents and in-laws are of the same opinion. We have had to replace the valve and handles of the Prestige cookers a few times in the past years. But with Hawkins- Never!
Prestige is the market leader in the pressure cooker segment with 45% share and Hawkins second with around 32%. But to pull in the 45% Prestige spends considerably on ads. But Hawkins- not so much! We can infer that Hawkins benefits from word of mouth publicity of satisfied customers, which says a lot about its product quality and durability.
Functionality and User Friendliness
The main complaint we have seen users report about Hawkins is that it leaks from the gasket. Their design honestly is not as easy and intuitive as Prestige. In fact, I do remember when I bought our first Hawkins pressure cooker, I toyed around with it for quite some time before being able to grasp how to fix the lid. This was pre-Youtube era! And even now, I sometimes adjust the lid after closing to ensure that it doesn't leak.
Prestige has a much more intuitive design. An advantage I have seen with Prestige's design is that when cooking rice, you can remove the gasket and turn the cooker to the side to drain the excess water/starch. This is something you can't do with Hawkins.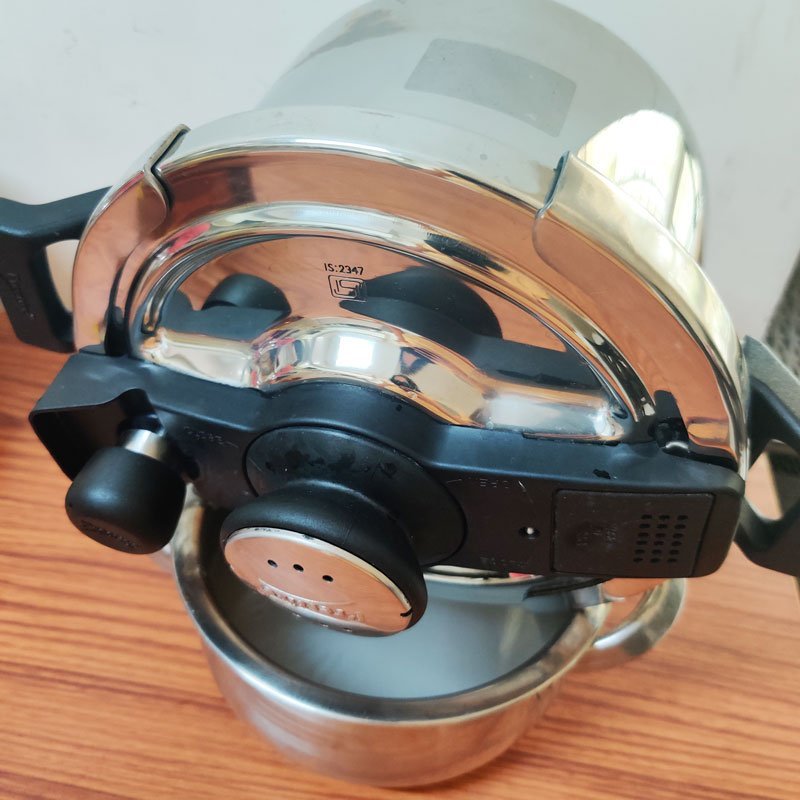 Safety
Prestige and Hawkins sell pressure cookers that adhere to BIS regulations. They are both considered safe. However, when you look at the user reviews, you do find a few occasions where people have had safety hazards like the lid popping open due to excess pressure or the glass lid of their clip-on pressure cooker breaking. But there are hardly any such complaints about Hawkins.
This is probably because of their unique inside-fitting lids that have a twist and open mechanism. That being said, Prestige has also introduced the same design as that of Hawkins and sells it under the Nakshatra range.
You may also like: Best Air Fryers In India
Aftersales Service
Prestige has a wide range network of franchise stores and dealers that makes it incredibly easy to find its spares. But when it comes to service centres, Prestige has just 464 centres, while Hawkins has a network of 700 centres.
Price
Being a highly aggressive market, Prestige and Hawkins sell their products at a highly competitive price. It is difficult to compare and find one brand to be consistently cheaper or more expensive than the other.
Considering they are very close in pricing and being a once in a decade purchase, it is better to review the other aspects rather than solely focussing on the price difference between the two.
Related reading: Best Stainless Steel Frying Pans In India
Product Ranges
Prestige has comparatively a wider range of products. They sell a variety of cookware like pressure cookers, Tawas, Kadai, pans and also kitchen appliances like mixer grinders, blenders, induction stoves and so on.
Hawkins on the other hand is more or less confined to cookware, with the majority of their sales driven by pressure cookers.
They both sell pressure cookers made of aluminium, anodized aluminium and stainless steel. As mentioned earlier, Hawkins has the same lid lock mechanism in all its pressure cookers. They sell over 85 models of pressure cookers in different sizes and shapes.
Prestige has 102 models of pressure cookers with different lid lock mechanisms and in different sizes and shapes.
Out of their models, here are some of the highly recommended options-
Prestige
Check the latest price ( Amazon)
Available in sizes ranging from 2 to 20 litres, Prestige Popular Aluminium Pressure cooker is one of their top sellers. Being made of aluminium, they are comparatively inexpensive than other options. Compared to their other options, its base is thinner at 4.25 mm and has a tendency to bulge over a period of time.
Check the latest price ( Amazon)
Prestige Svachh is yet another successful model available in sizes ranging from 1.5 to 10 litres. It is available in 3 shapes- Handi, Pan ( with a wider base and short in height) and the regular variety with a narrow base and taller in height. It comes with an anti bulge base that is 5mm thick to ensure even heating. Comparatively, they are more expensive than their regular models.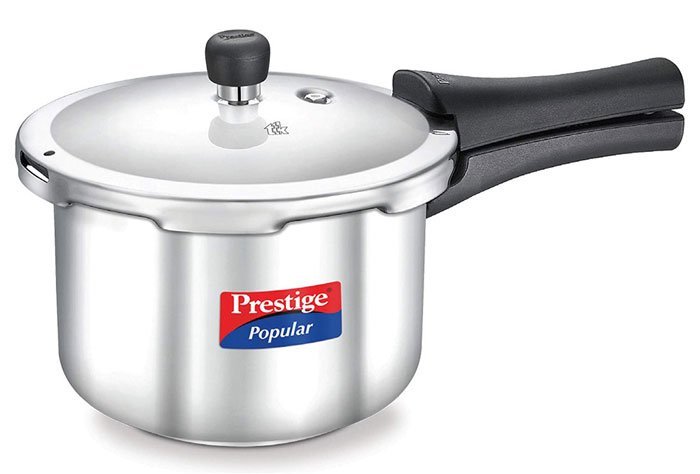 Check the latest price ( Amazon)
Available in sizes ranging from 2 to 7.5 litres, the Popular Stainless Steel range is comparatively inexpensive to the Svachh range. With a 4.5mm thick base, it ensures even cooking and excellent performance.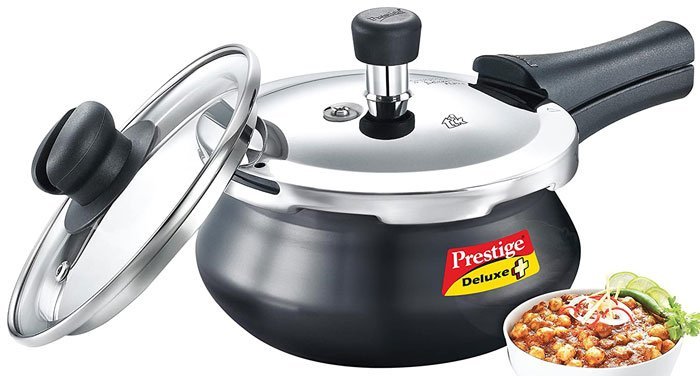 Check the latest price ( Amazon)
Available in sizes ranging from 1.5 to 3.3 litres, this is a great option for cooking smaller portions of side dishes. It comes with 2 lids- one for pressure cooking and the other made of toughened glass. The base is hard-anodized aluminium, while the lid is made of stainless steel.
Check the latest price ( Amazon)
Inspired by Hawkins, Prestige has rolled out the Nakshatra range of pressure cookers in the early 2010s. They are available in all materials and in a wide variety of sizes and shapes.
Hawkins
Hawkins Contura Pressure Cooker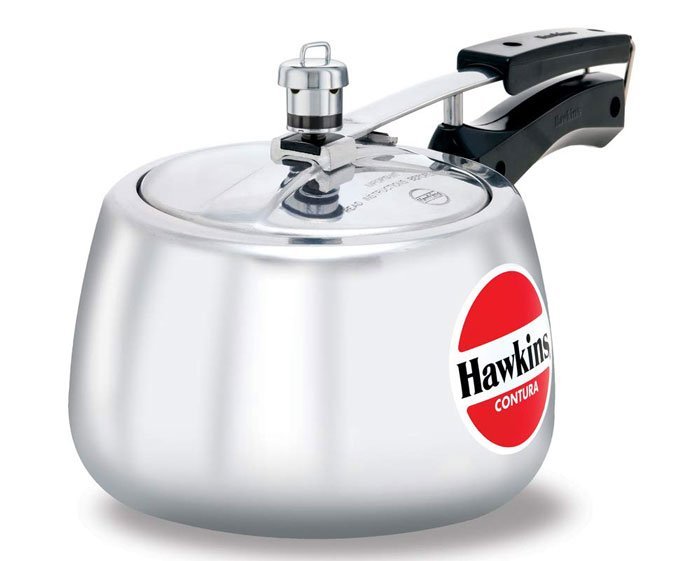 Check the latest price ( Amazon)
Made of aluminium, Hawkins Contura is available in sizes ranging from 1.5 to 6.5 litres. The base is comparatively thinner at 3.25mm and isn't compatible with induction stoves. I own this same model and it has been working perfectly for the past 9 years. However, certain user reviews claim that the safety valve gets damaged in no time.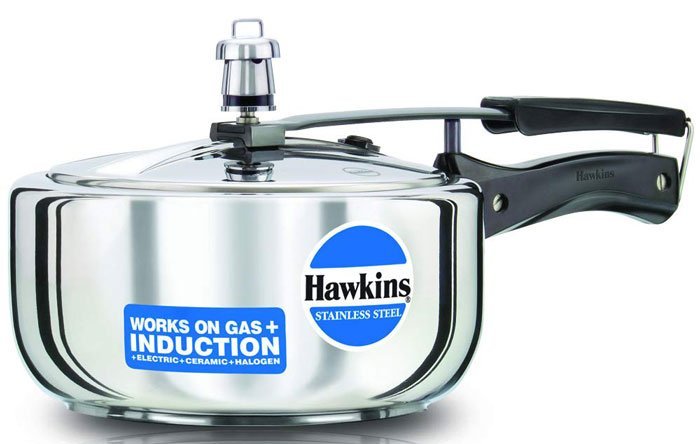 Check the latest price ( Amazon)
Available in sizes ranging from 1.5 to 10 litres, Hawkins stainless steel pressure cooker is an excellent option to choose from. It is available in regular, wide and tall shapes. We bought the 3-litre variant about 4 years ago and it has been running perfectly fine. Compared to the previous option, it has a thicker base of 4.1mm.
Check the latest price ( Amazon)
Hawkins Miss Mary is one of their oldest models which has been running successfully. Made of aluminium, it is an economic option available in sizes ranging from 3 to 8.5 litres. The base has 3.25mm thickness and is not induction stove compatible.
Check the latest price ( Amazon)
Available in a sophisticated design, Hawkins Futura is made of hard-anodized aluminium. It is available in regular, jumbo and tall styles in sizes ranging from 2 to 9 litres. Comparatively, it has a thicker base of 6.35mm. A few users complain about water seeping from the pressure valve. Otherwise, it is a sturdy product.
Hawkins Hevibase Pressure Cooker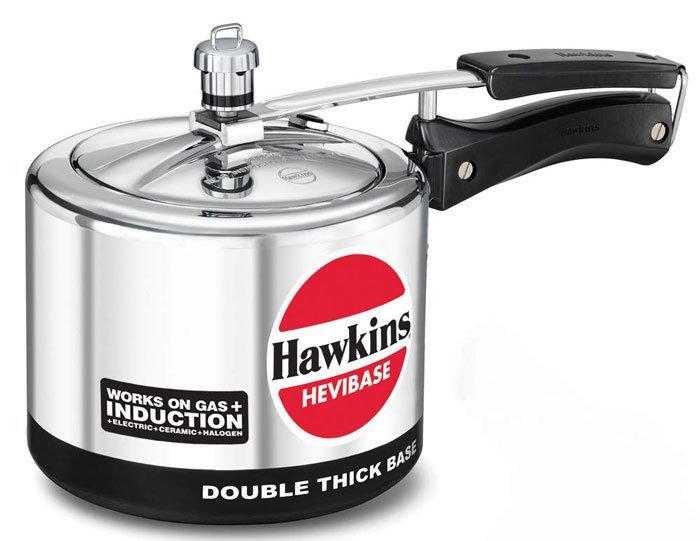 Check the latest price ( Amazon)
Available in sizes ranging from 2 to 8 litres, Hawkins Hevibase comes with a thick base measuring 6.35mm. This ensures even heating and reduces the possibility of food getting burnt and stuck to the base, making it an apt option for making curries that require sauteing of onion, vegetables and spices. It is made of aluminium and is induction-stove compatible too.
Conclusion
Considering all the aspects, it is hard to say one is better than the other. We would however recommend you to opt for Prestige for cooking rice as it is easier to drain off excess water and Hawkins for making curries and other food. This way, you get the best of both options.
Was this post helpful?
Let us know if you liked the post. That's the only way we can improve.