Whether you are planning to set up a kitchen from scratch or upgrade your existing one, there are certain essential cookware that you just shouldn't miss out on. Unique, yet versatile, they are an integral part of a functioning kitchen.
Here, we have listed some such must-have cookware. Wherever possible, we are also giving brand recommendations so that you can choose the best out of the options available.
Pressure Cooker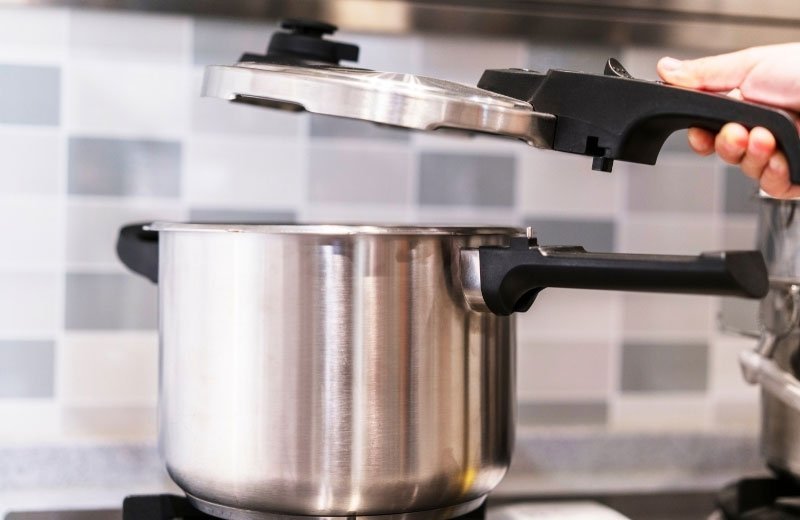 Whether you are a bachelor who cooks occasionally or running a home-based catering business, a pressure cooker is a must-have cookware in your arsenal. They are available in aluminium, stainless steel and anodized aluminium.
Aluminium pressure cookers are the cheapest among the lot. They are comparatively lightweight. Aluminium conducts heat quicker and more uniform than stainless steel. So, there won't be any hot spots and cooking will be faster too.
There are conflicting reports on the safety of aluminium cookware as aluminium leaches into the food. But, as per the National Medical Journal of India, the amount of aluminium that leaches into food depends on factors like pH of the food, duration, temperature etc. It is better to avoid cooking acidic food like tomatoes and lime in aluminium cookware. Under normal circumstances, our body is capable of eliminating this aluminium. However, people with chronic kidney ailments should avoid aluminium cookware as they won't be able to excrete the aluminium ingested.
If you are concerned about using aluminium, you could opt for stainless steel pressure cookers. They are heavier and comparatively safer too. But, ensure that they have strong handles that are capable of supporting their weight. Brands like Vinod, Stahl, Borosil too sell stainless steel pressure cookers. But, finding spares is pretty difficult.
Anodized aluminium is another alternative. They are made by an electrochemical process by which the aluminium is converted to an anodic oxide finish. It is durable and corrosion-resistant. They are a better alternative to aluminium as they are inert. However, just like non-stick, you need to clean them with soft, non-abrasive brushes. Else, the coating may wear off. Anodized aluminium pressure cookers are also more expensive than stainless steel.
Out of the available brands, our recommendation is to opt for Hawkins, followed by Prestige. Their products are safe and fairly durable. Moreover, due to their wide presence, you can get their spares from almost every shop that sells kitchenware. Out of the two, I personally prefer Hawkins as their products are more durable than Prestige. I have a nearly 10-year-old Hawkins pressure cooker and I have never even had to change its rubber gasket. On the other hand, I have had to change the pressure weight, handles and gasket of the Prestige cooker in the same period. You can read our detailed our detailed article on the best pressure cookers to understand the best options to choose from.
Read more: Which Type Of Cookware Is Best For Health?
Cast Iron Tawa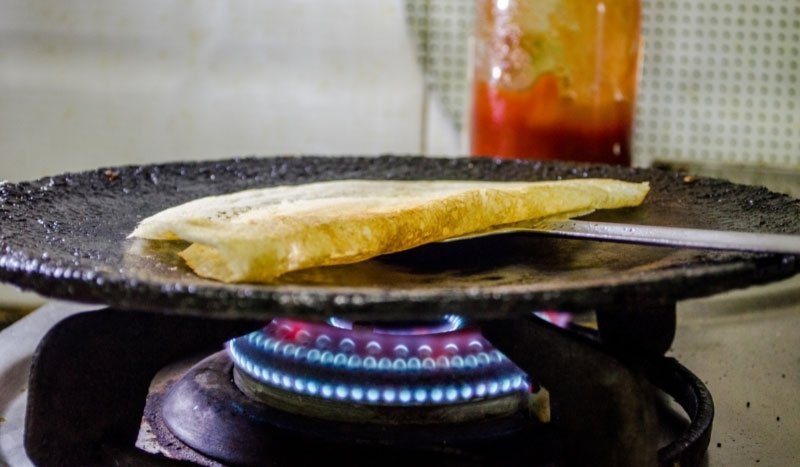 In the words of my friend Preetha, making dosa in nonstick Tawa is a sacrilege.
There is no going back once you have made dosa in a cast iron Tawa. The browning, taste and texture are unrivalled. Moreover, with proper care, it is a piece of cookware that can outlive you.
A drawback however is that cast iron cookware generally is high maintenance. You need to keep them away from moisture and also, season them for that black patina.
Opt for an unseasoned cast iron Tawa if you are confident in seasoning it yourself. Else, you can buy pre-seasoned ones which are sold online.
Stainless Steel Frying Pan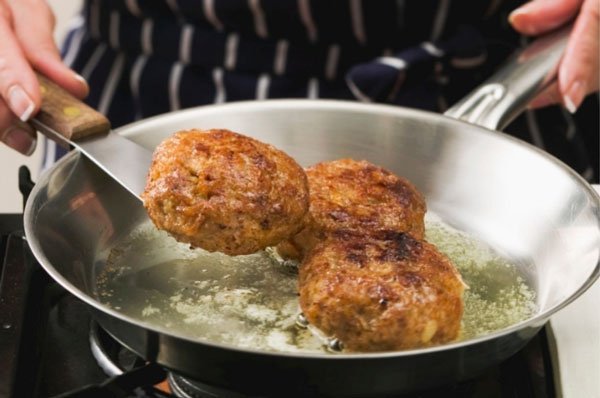 If cast iron skillets are too high maintenance for you, then stainless steel pans are the better alternative. But, it is better to opt for 3-ply stainless steel which comes with 2 layers of 304-grade stainless steel and a layer of aluminium sandwiched in between. Options from Meyer, Vinod and Bergner are quite durable. They won't warp and the rivets are also made of high-quality steel. So you won't find any noticeable gap between the pan and the rivets, even after prolonged use.
Saucepan
A saucepan is the right cookware you need for boiling, simmering and stewing. Nowadays, you get them in various materials like 3ply stainless steel, anodized aluminium and with Teflon coating. Most of the options have accompanying lids too.
Nonstick options are generally used for boiling milk. But, we generally don't recommend using nonstick cookware due to the adverse effects it may have on your health. Anodized aluminium would be a better alternative.
If you are looking for a durable and safe option, ones made from 3ply stainless steel are what you need.
You do get cheaper alternatives with thinner stainless steel bodies and disc bottoms. But food, especially milk tends to scorch around the edges.
Idili Maker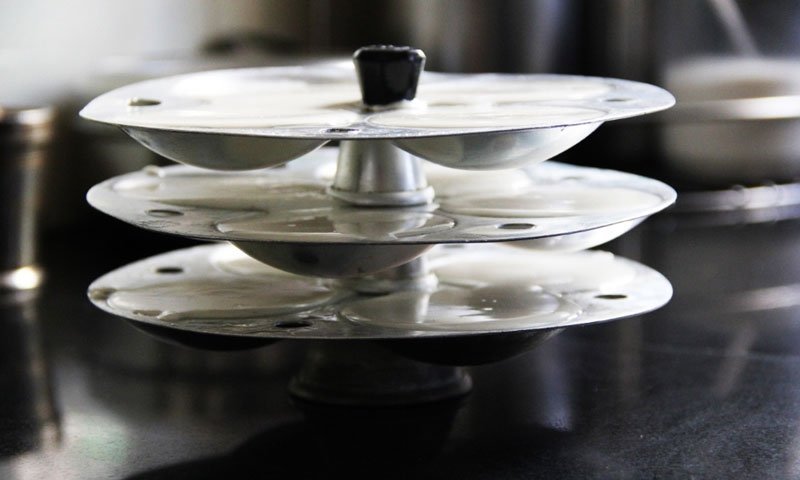 Idli is a breakfast item that is loved across India. If you have a tall pressure cooker, you can opt for an Idli stand, which is inexpensive. But, if you are someone who multitasks and makes breakfast and lunch together, you may not want to preoccupy your pressure cooker with idlis.
A family of 4 would need an option that makes 16 idlis at a go. This saves you a lot of time as you needn't cook two batches. Larger families could opt for ones that make 24 idlis at a go. Options with extra steamers and dhokla plates are also available.
Cast Iron Kadai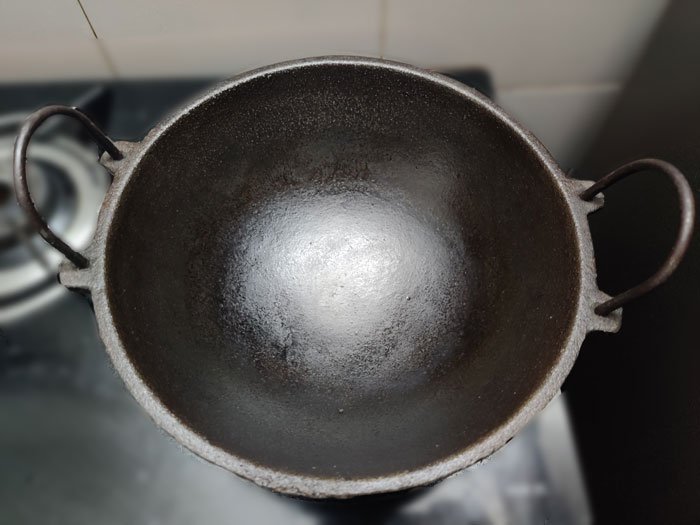 A small, compact Kadai is necessary for making side dishes aka, poriyal. Ones made from cast iron have their own benefits. They retain heat and are healthy. So, you can half-cook vegetables and keep them closed with a lid. The residual heat will slowly cook the vegetables fully retaining the nutrients.
Stainless Steel Kadai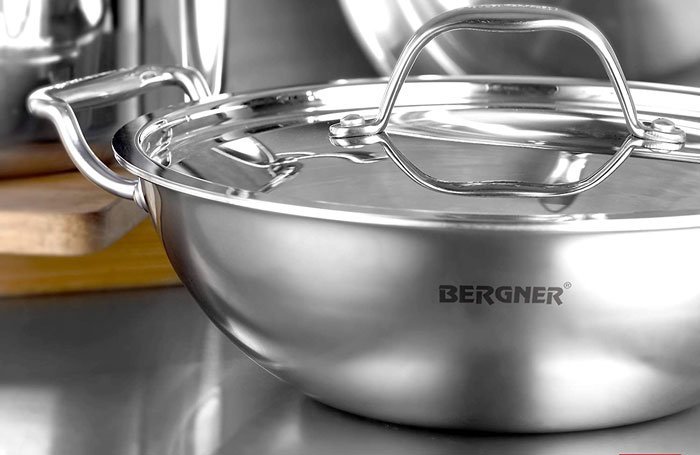 If cast iron is too high maintenance for you, then, stainless steel Kadai could be a better alternative. They are not as high maintenance as cast iron. But, food could get stuck on the bottom if you don't heat it properly and add sufficient oil.
Options made of 3ply stainless steel are better as they heat uniformly and retain that heat. So, the chances of scorching food are lesser.
Bergner, Stahl, Vinod, Meyer are some of the better options to choose from.
Biriyani Pot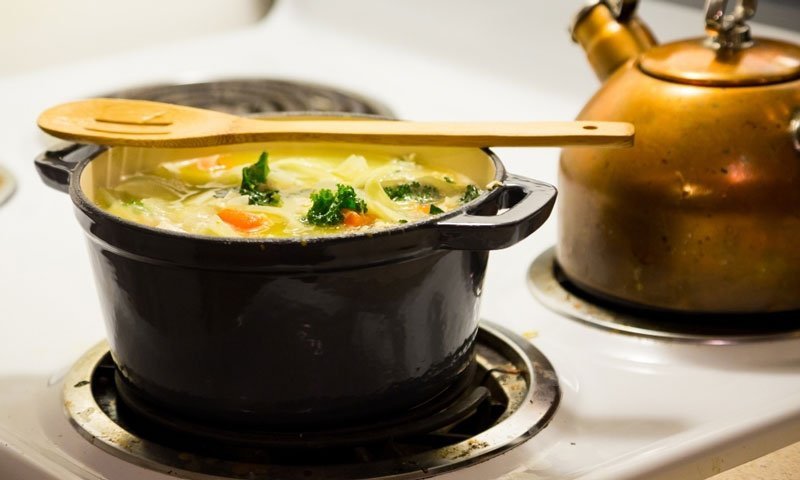 Biriyani is a dish relished by all, with each region having its own variety.
Options made of nonstick are the most popular. But, owing to health concerns of using nonstick, we recommend opting for stainless steel or cast iron dutch ovens with enamel coating. They are excellent for slow cooking and the heat retention ability of cast iron will result in better Dum Biriyani.
Tadka Pan

Tadka is an integral part of Indian cuisine. Commonly used options are made of anodized aluminium and come with a long handle. However, many of them are unbalanced as the handle won't hold on its own. So, opt for ones that have a stand attached to the handle.
Steamer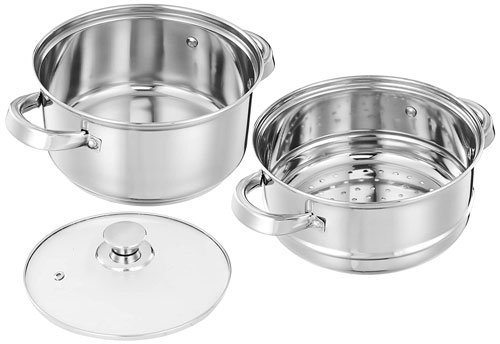 Steamed vegetables retain more nutrients compared to the ones boiled or simmered in water. That is why a steamer is a must-have for health-conscious folks. Moreover, steaming is a better option than microwaving to warm leftover biriyani, fried rice, idli, appam etc. as it retains moisture.
With these basic kitchenwares, you are all set to make the most of the Indian culinary delights. Let us know in the comments if there are any more options you would like us to add.