When Maggi was introduced in India by Nestle, they could never fathom the impact its offering would have on the whole of the country for decades to come. It was initially targeted at the working class as a quick and convenient food to save time and effort. They were the first brand in the country to introduce noodles on such a grand scale. However, the initial effort to popularise this product did not work as they hoped given the unfamiliarity of people with noodles as a food item. After many rounds of discussions and re-assessments, Nestle decided to position Maggi as a "snack" which proved to be very popular with kids. 
Indian kids across the last three generations and all economic strata have wholeheartedly accepted Maggi as the go-to food when they experience hunger pangs between meals and especially after they come back home after a long day at school. Every one of us is guilty of getting that insatiable craving for a quick bowl of Maggi at some point. Whether you are cuddled at home or spending the day out, Maggi was always the first choice of a snack since it is fast, convenient, and very economical considering the general financial condition of middle-class Indians. As their catchphrase goes; 2-MINUTE NOODLES! It always took well over two minutes but you won't find anyone ever complaining about that!
Nutritional Information of Maggi
Let's be honest, we all know this product contributes nothing towards the betterment of our health. Yet, it is without a shred of doubt one of the most popular products that sell in astounding numbers. Now, let's look into the nutritional details of Maggi noodles.
A regular pack of Maggi contains 389 kcal per 100g. It contains 13.5gm of fat, 8.2gm of protein, 59.6gm of carbohydrate, 1.8gm of sugar, 6.9mg of iron, 2gm of fibres, and 1028.3mg of sodium. The rest are complex carbohydrates. If you notice closely, the composition of "good" nutrients such as iron, fibre, and protein is almost negligible. Considering that the daily allowed intake of sodium is 2300 mg, Maggi can be particularly unhealthy in this regard. However, this never dissuaded Indian consumers from stocking up their pantries with Maggi noodles. 
Sales
India is probably Nestle's most profitable market and there are no signs of this phenomenon slowing down anytime soon. As per data sourced, its 2019 sales show around 264,000 tonnes of Maggi products during the year compared to 254,000 tonnes in 2014. The company has also recorded a sale of INR 3105 crore in 2018 compared to INR 2961 crore in 2014. This figure increased further in 2019 with a sale of INR 3500 crore. Quite curiously, the 2015 debacle hardly made any dent in the brand except for the corresponding few months. Once the company was in the clear, it was on its way not only to recover its losses but become the top choice for consumers once again. 
Related reading: 12 Popular Lays Flavours In India
Popular Maggi Flavours
Given the brand's image and how well-established it is in the Indian market, Maggi as a brand provides its customers with a wide array of flavours for its customers to choose from. Back in the 80s and 90s, it was mostly limited to two main variants; Masala and Chicken. However, with its ever-increasing popularity, its offerings have also been diversified considerably over the years. Here's a list of some of the top flavours currently available in the market:
Maggi Masala
The signature product of the brand that started it all. Besides the noodle, it comes with a tastemaker with essential "curry flavoured," typical of most Indian cuisine. It is a mixture of various Indian spices that goes into making almost any Indian curry. 
Maggi Chicken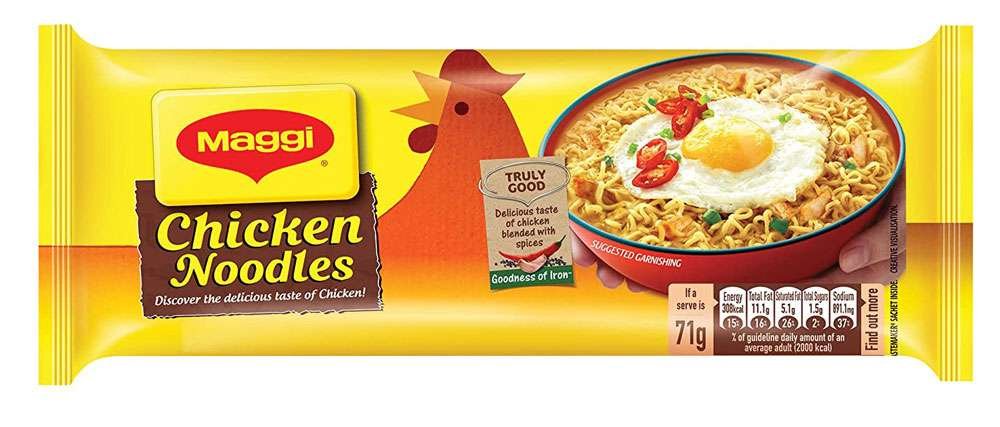 Another flagship variant of the brand that targets non-vegetarians. It is the only non-vegetarian offering of the brand. It combines the flavour of chicken with various spices to give it a distinct flavour and texture. The sodium content in Maggi chicken is higher than that of Maggi Masala at 1255 mg per 100 gm.
Maggi Special Masala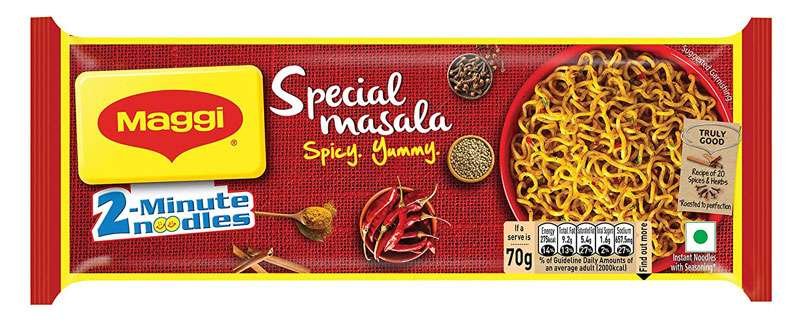 Similar to the original "Maggi Masala" in terms of composition. However, the spices are roasted and blended to give it a special taste which is sharp and yet subtle compared to the original variant which is full and pungent. Comparatively, it has a lower sodium content of 933 mg per 100 gm.
Maggi Nutri-Licious Masala Veg Atta
This is the healthier variant of the brand which focuses on health-conscious customers. The noodles are made of atta which is a staple food item in Indian cuisine. It comes with a tastemaker similar to other variants; however, it is prepared to mix in sync with the atta noodles. It is comparatively healthier with 821 mg of sodium per 100 gm.
Maggi No Onion No Garlic
Targeting those who follow a strict sattvic diet which forbids them from consuming onion and garlic. The absence of onion and garlic in the tastemaker is evident. Yet, it has a unique and delectable taste which works even for those who swear by onion and garlic in all their dishes. 
Maggi Masala Oats Noodles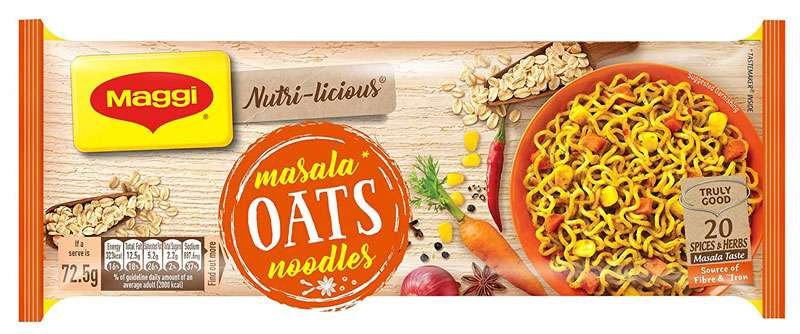 Placed in the market as a healthy noodle variant, the noodles are made of oats. While the tastemaker is a mix of 20 signature spices that is made specifically to go with the oats noodle variant. It is rich in fibre and comes with an assortment of vegetable chunks. Just like chicken flavour, it too has a high sodium content of around 1224 mg per 100 gm.
Maggi Veg Atta Spinach Noodles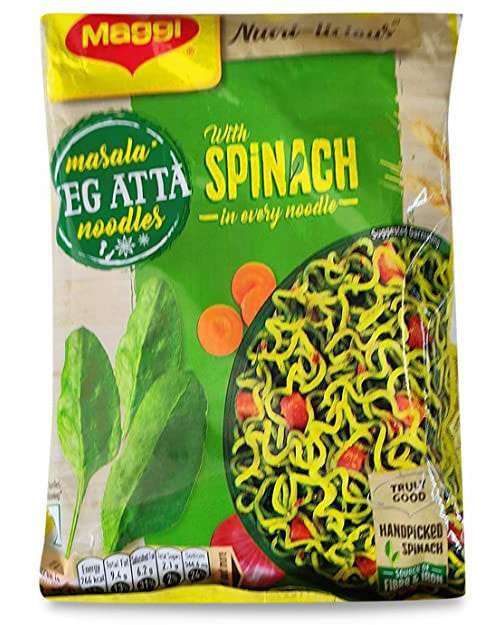 Another offering of the brand that combines the goodness of atta and spinach in the noodles. It comes with its tastemaker which is made specifically to enhance the flavour of the noodle. It too has a low sodium content of 781 mg per 100 gm.
Nestle has many other flavours and other similar products such as pasta and cup noodles in its portfolio. Depending on the target customer, they come in single units and combos along with various offers. What makes Maggi unique as a brand is the diversity of its offerings and how well it has catered to the Indian palate over the years. It also has many other Maggi noodle variants such as Tomato Chatpata Noodles, Bangkok Sweet Chilli, Fusian Hong Kong Spicy Garlic Noodles, and Desi Cheesy Noodles just to name a few. Some variants may create a strong following (Masala, Chicken, and Special Masala) while others may not for a multitude of reasons.
Either way, Maggi noodles as a brand is endearing and is expected to remain so for the foreseeable future; at least, as long as they stick to the food and safety regulation of the country. Maggi noodles may not be the healthiest food product in the market no matter what the makers say. However, we definitely do not want it to be toxic or carcinogenic by any means. So, as long as it is marked safe, it is good enough for the Maggi-crazed crowd.
Final Word
Besides its core components such as wheat, flour, and other spices; it also uses various preservatives and additives to enhance the taste and increase its shelf life. While these additives have been cleared by the food safety regulatory bodies, it is still unsafe to consume them regularly. Yes, you can have a bowl of Maggi once every few days without guilt or worry. However, it's best we limit its consumption if we value our health and wish to live a long and healthy life. 
Maggi noodles may be food for the restless soul but it's definitely not the food doctors would ever recommend.
Was this post helpful?
Let us know if you liked the post. That's the only way we can improve.