Just like many other homemakers, I bought a dishwasher at the height of the pandemic when helpers were working from home! Now, it has been almost 2 years since we have been using the Bosch Dishwasher and that gives us enough experience to do an in-depth review from a user's point of view. So, here we talk about the wash programs, design, ease of use, consumption values, performance and maintenance to help you make an informed buying decision.
Design And Space Utilization
The dishwasher measures around 59 cm each in width and depth and is almost 84 cm tall. As the door opens out, you need to ensure there is sufficient space in front of it too.
The Bosch SMS66GW01I which we have has a 13 place setting. A place setting is a term that is relevant to Western table habits. One place setting consists of a dinner plate, a snack plate, a saucer, a bowl, a coffee cup, a drinking glass, a knife, two teaspoons, a dinner fork and a small salad fork.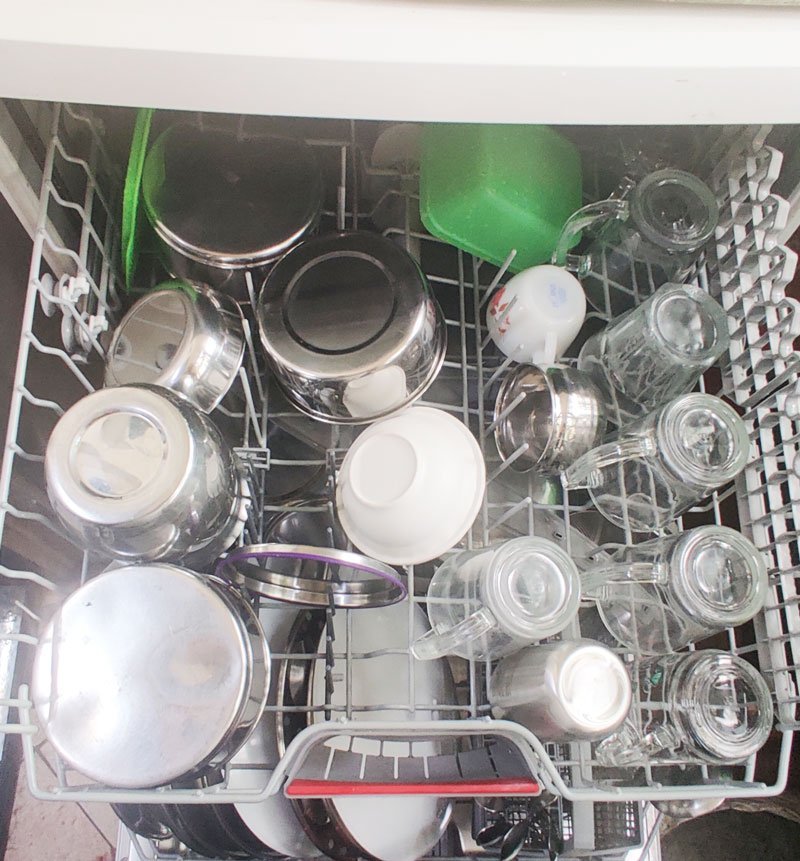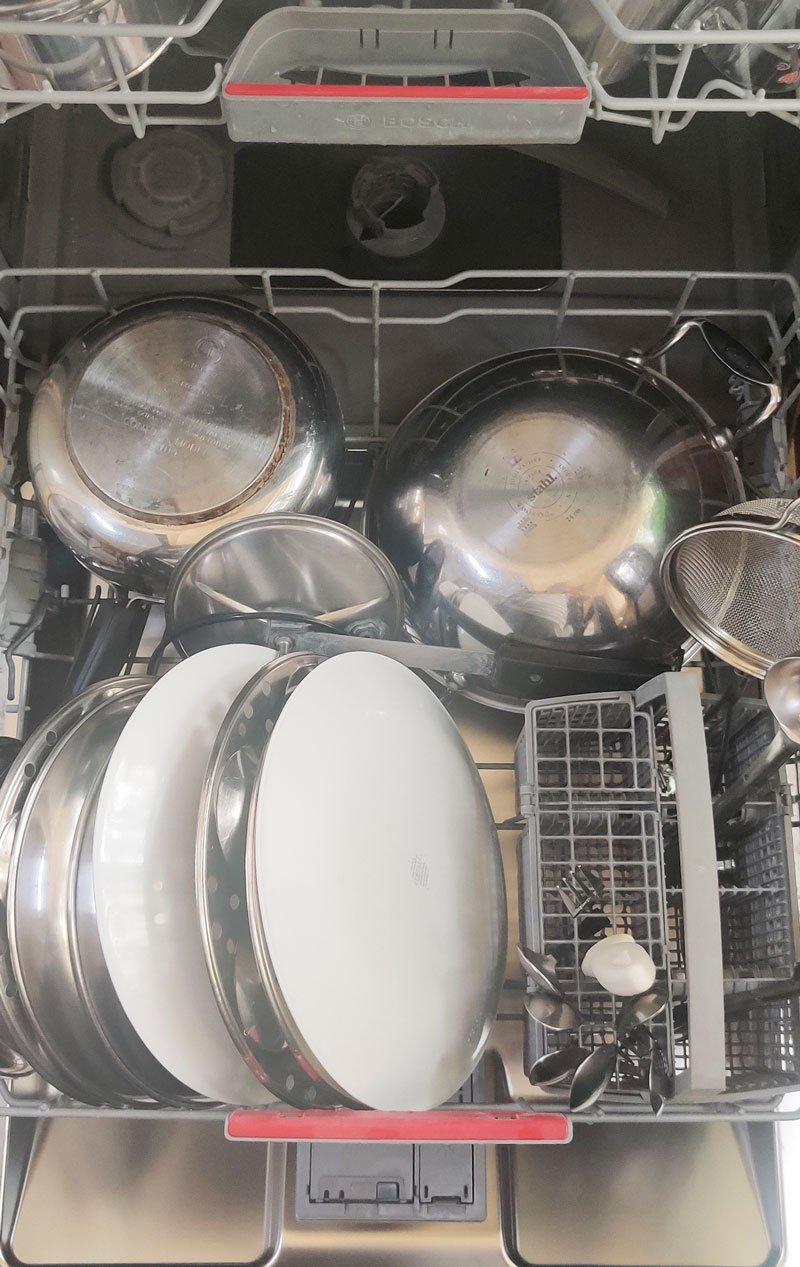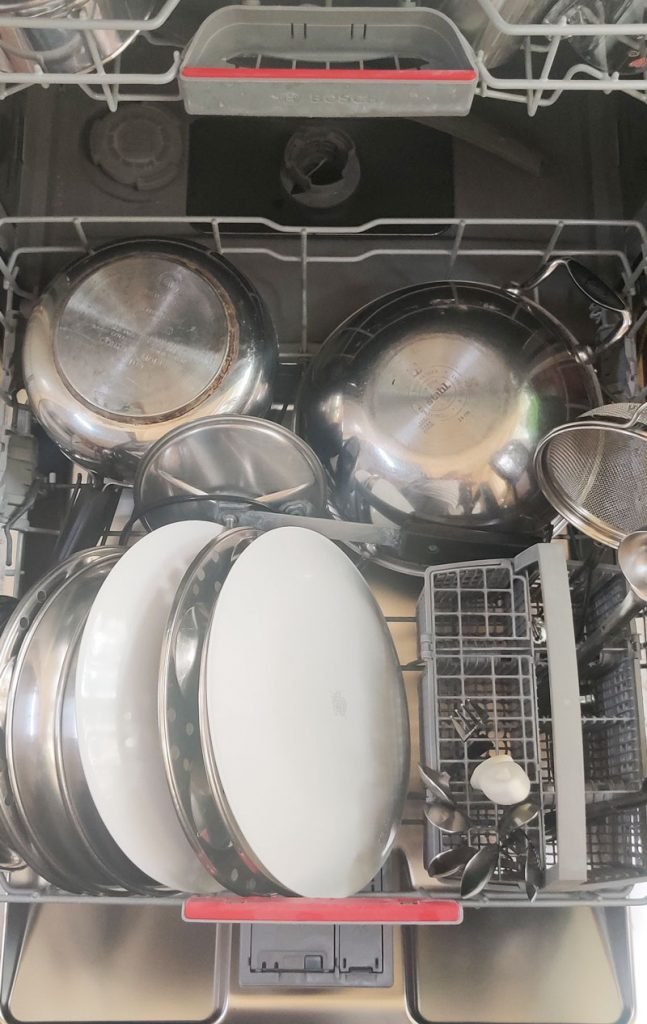 But typically Indian homes don't use these many dining wares. So that space can be utilized for other utensils like bowls, frying pans, Kadai and so on.
Plates, lids and large utensils can be placed on the bottom rack. The cutlery tray too can be placed at the bottom. Alternatively, you can stack the cutlery without using the tray on the top rack too. Behind the tines for plates and lids, you have space for keeping two large cooking vessels. Usually, you can keep two 5 litre pressure cookers OR a large 28cm Kadai and a pressure cooker/frying pan at a time.
In the top rack of the dishwasher, you can place bowls, saucepans, glasses, cups, serving utensils etc. Sometimes, we also keep frying pans on the top rack and it gets cleaned properly. The main aspect you need to keep in mind while loading the utensils is that they should not be placed one on top of the other in such a way that water from the spray arms doesn't reach the utensils.
Wash Programs
The dishwasher comes with 6 wash programs and 3 additional functions. The wash programs are-
Wash Program
Duration
Temperature
Suitable For
Intensive Kadhai
1 hr 35 mins
70° C
Cleaning heavily soiled dishes
Express Sparkle
59 mins
65° C
Cleaning normally soiled dishes
Auto
1 hr 25 min
45-65° C
Sensor controlled for light to normally
soiled dishes.
Eco
1 hr 30 min
50° C
Cleaning normally soiled dishes with low energy
consumption.
Quick
29 mins
45° C
Cleaning lightly soiled dishes without drying.
Prerinse
15 min
normal
Prerinse dishes which are not cleaned immediately.
The additional functions are-
Vario-eco– helps save energy and water consumption. When vario-eco is invoked, the time consumed for each wash program increases by 1-2 hours depending on the wash program selected. It saves around 20% energy too. For example, intensive Kadai without vario-eco consumes 1.26 units of energy, while with vario-eco, it uses just 1.02 units of energy. So, if you are not in a hurry, it is highly advisable to use Vario-eco to save energy and water.
Half load- is useful to save energy, time or water when there is not a full load of dishes to wash.
Extra-dry- is useful when you want to completely dry all the utensils. Sometimes, you find the plastic dishes don't become quite dry in regular wash programs. However, it is not really a commonly used function.
In addition, the dishwasher has a time delay function too.
Cleaning Supplies
There are a lot of misconceptions about the use of dishwashers. Many think they are suitable only for cleaning plates and glasses, many believe they are not made for Indian kitchens. However, when you start using it, you wonder why you never thought of buying it earlier! A dishwasher is definitely an incredible time saver. Moreover, it cleans dishes hygienically too.
A dishwasher needs three agents to clean the dishes. The first is dishwasher detergent. These detergents are specially formulated with ionizable salt, bleach, alkali metal silicate, water-soluble synthetic organic nonionic detergent to get rid of oil and stains all the while not producing foam. Detergent is added to the dispenser for every load.
Second, you need dishwasher salt. Its purpose is to reduce the hardness of the water so that the detergent works effectively. According to the Bosch technician who installed our appliance, their dishwashers are capable of working perfectly in water with a maximum TDS of 500 ppm. If the TDS is above that, you may have to install a water softener device. Else, the cleaning performance may suffer. If you have a soft water supply, then you need not use salt or can set the dispensing level to a minimum. Depending on the hardness and pH of the water, your technician will set the salt dispensing to an optimal level. At a time, 2 kg of salt can be filled in the detergent's salt compartment located near the dishwasher filter.
Finally, you have rinse aid, which as the name suggests helps rinse off water from the dishes by reducing the surface tension of the water. The quantity of rinse aid dispensed per wash can also be set at different levels depending on the water quality. At a time, around 200 ml rinse aid can be filled in the designated compartment near the detergent dispenser.
If you don't want to use these three supplies separately, you can use dishwasher tablets which integrate all three supplies into one.
We use Finish detergent, rinse aid and salt for our dishwasher. Our TDS level varies from 300 to 500. So, often, we depend on dishwasher tablets too. We have found that tablets clean far superior compared to detergent. But they cost a lot.
Related reading: 9 Things To Know Before Buying A Dishwasher
Aftersales Service
Bosch generally has a fairly prompt aftersales service. Their service in Bangalore, where we are located was prompt and effective. User reviews are also fairly positive in this regard.
Cleaning Performance
The dishwasher does a neat job cleaning all types of cookware like pressure cookers, Kadai etc. As it has a memory function, it resumes cleaning from where it stopped in case power goes in the middle of the wash program.
It cleans masala stains and moderately burnt food residues effectively. You get the dishes perfectly clean and dry. But, if you have woefully burnt a dish, then it won't clean completely. For example, once I poured oil on a stainless steel pan and went away from the stove. By the time I came back, the oil was completely burnt and the pan was heavily stained. Such kinds of stains cannot be removed using a dishwasher.
Note that you should not use a dishwasher for cleaning cast iron, aluminium, wood, bamboo and clay pots. The seasoning on cast iron gets stripped off in a dishwasher. Aluminium loses its sheen and gets discoloured. Wood and bamboo cutting boards may split due to the heat. Many people say clay pots tend to break in the dishwasher. However, I haven't found so in my experience. Also, you cannot clean mixer grinder jars in the dishwasher because the dirty water gets collected in the coupler and as a result, it may get damaged in the long run.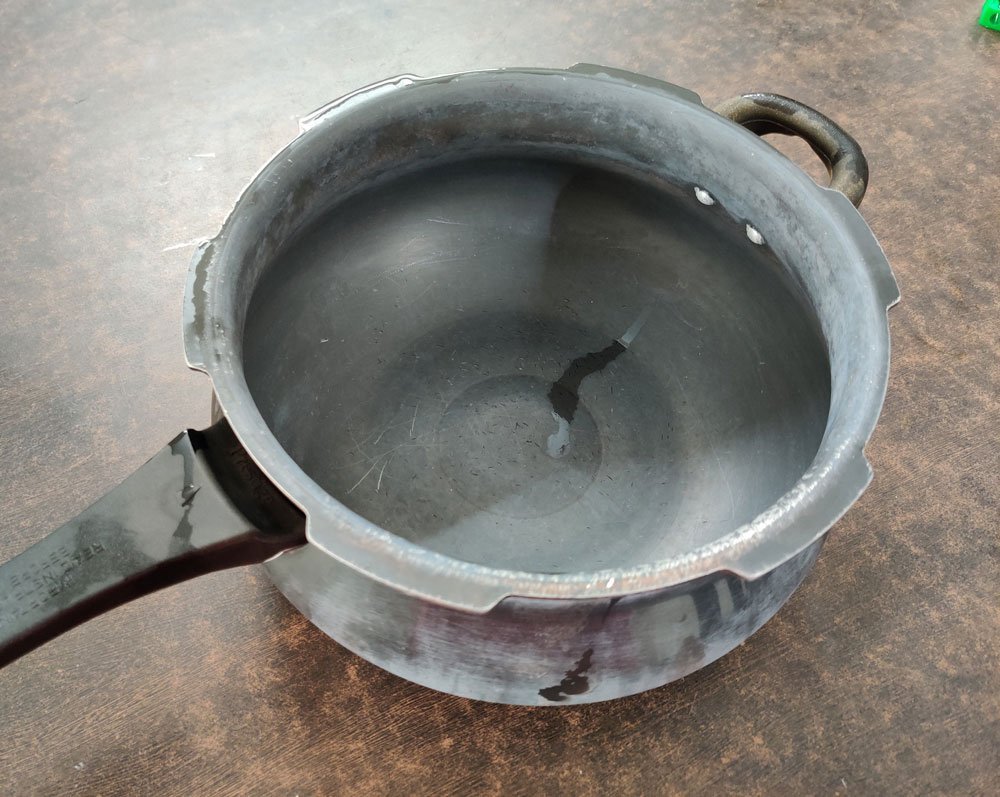 Here are some of the before and after pictures to help you have a better idea about the cleaning performance of the Bosch dishwasher.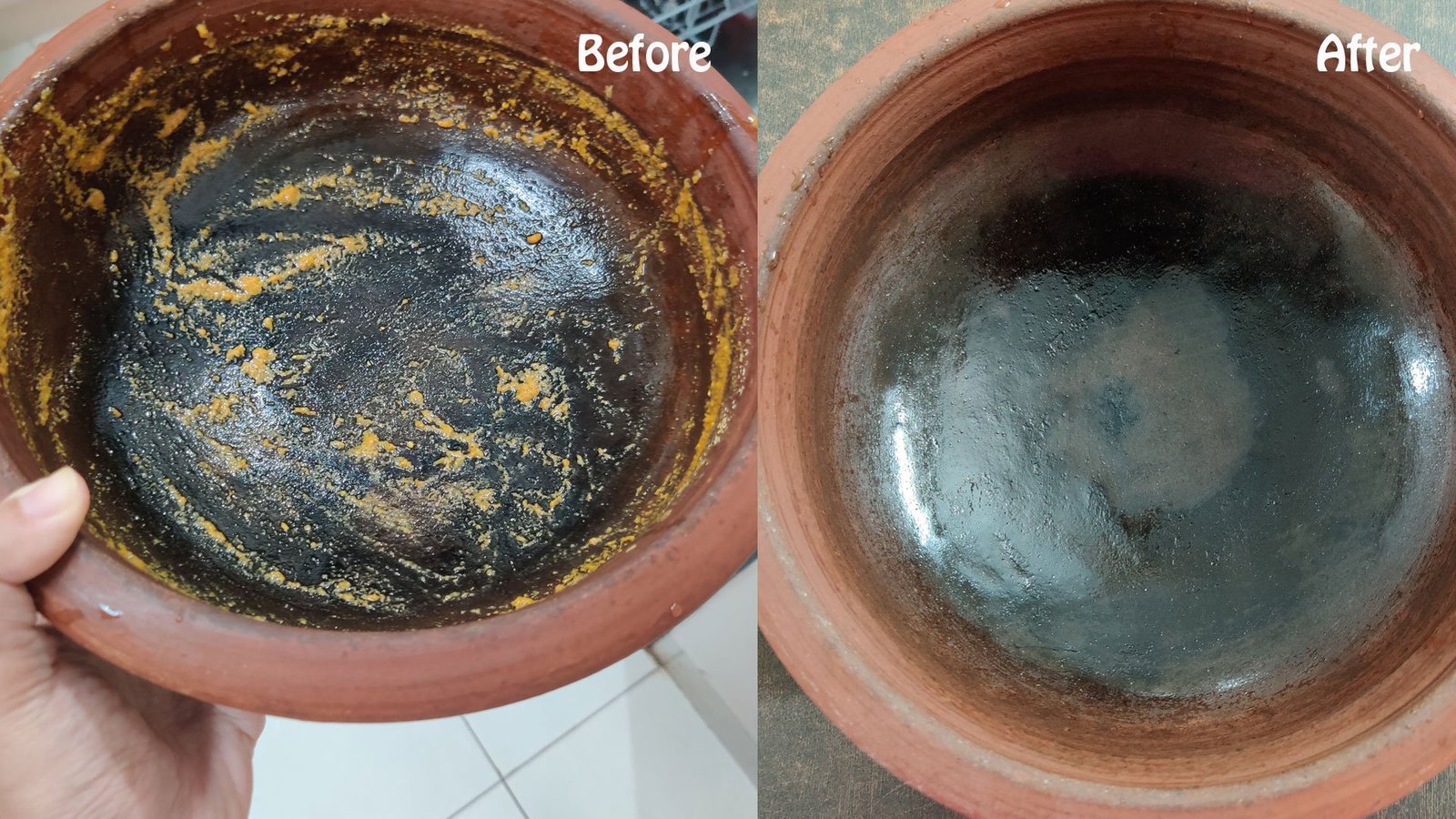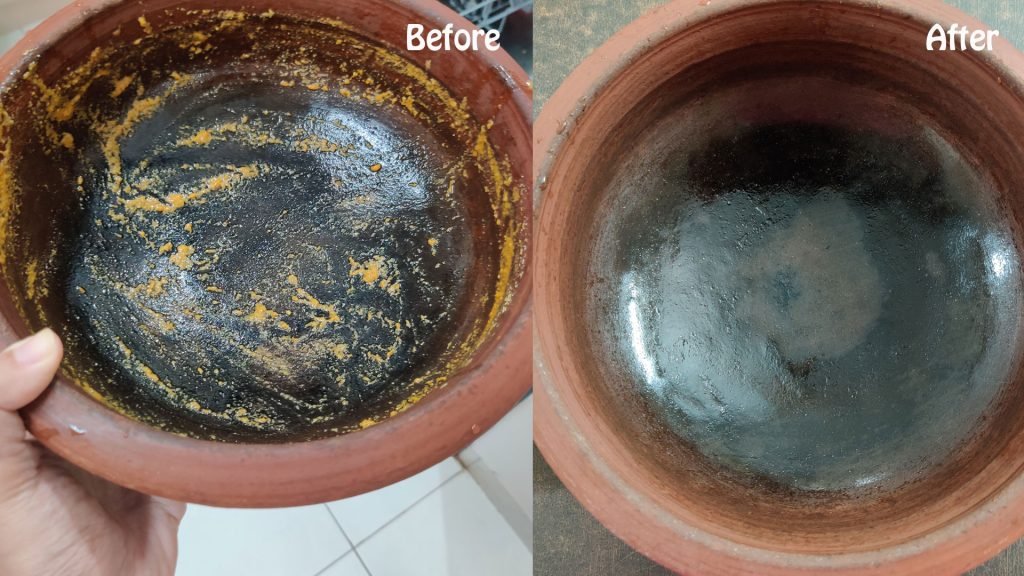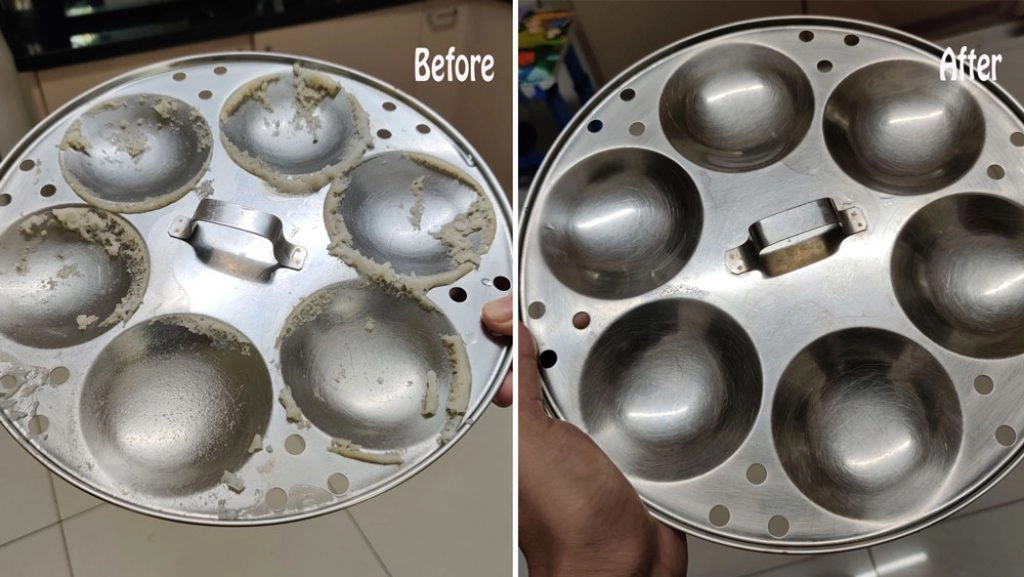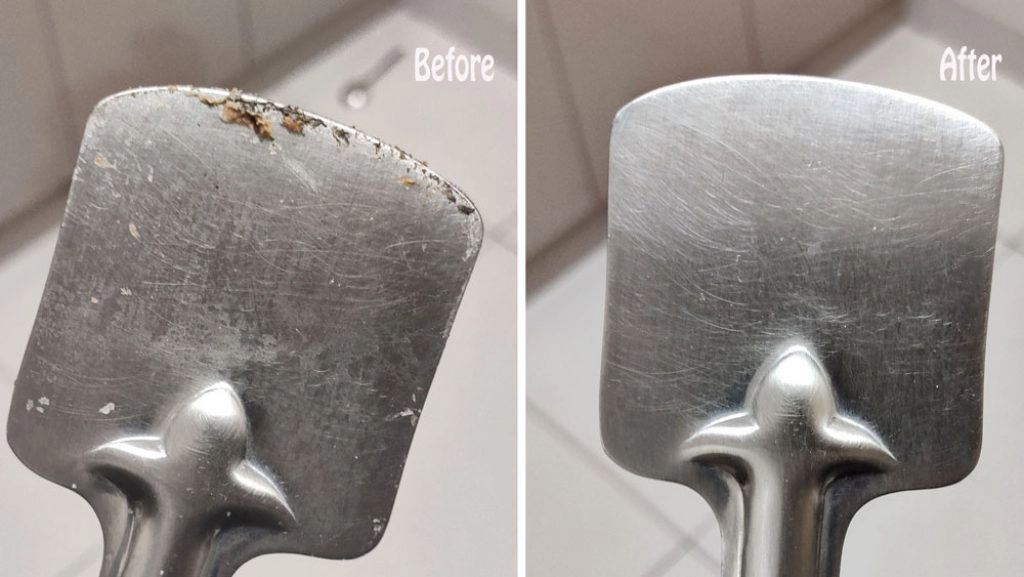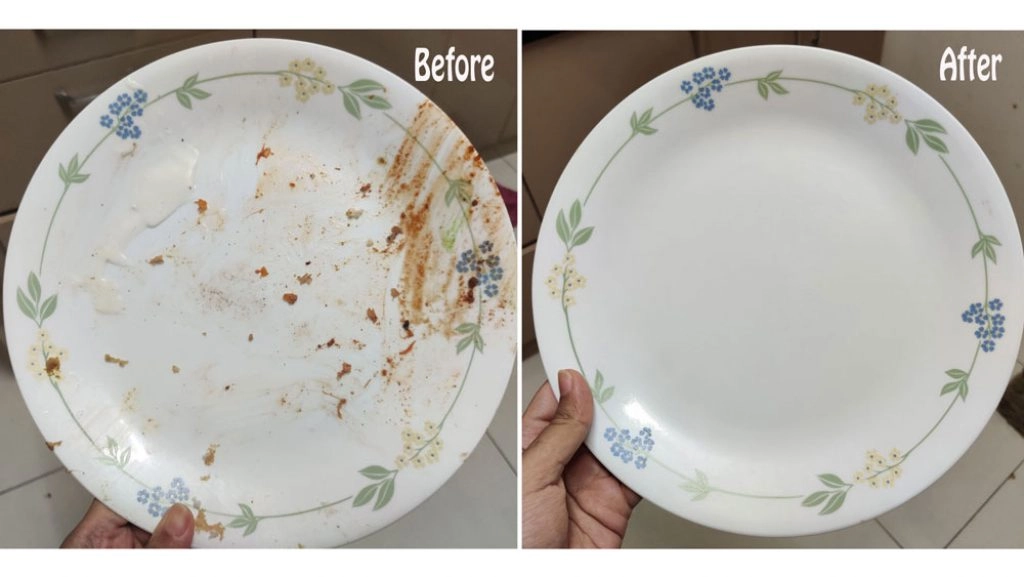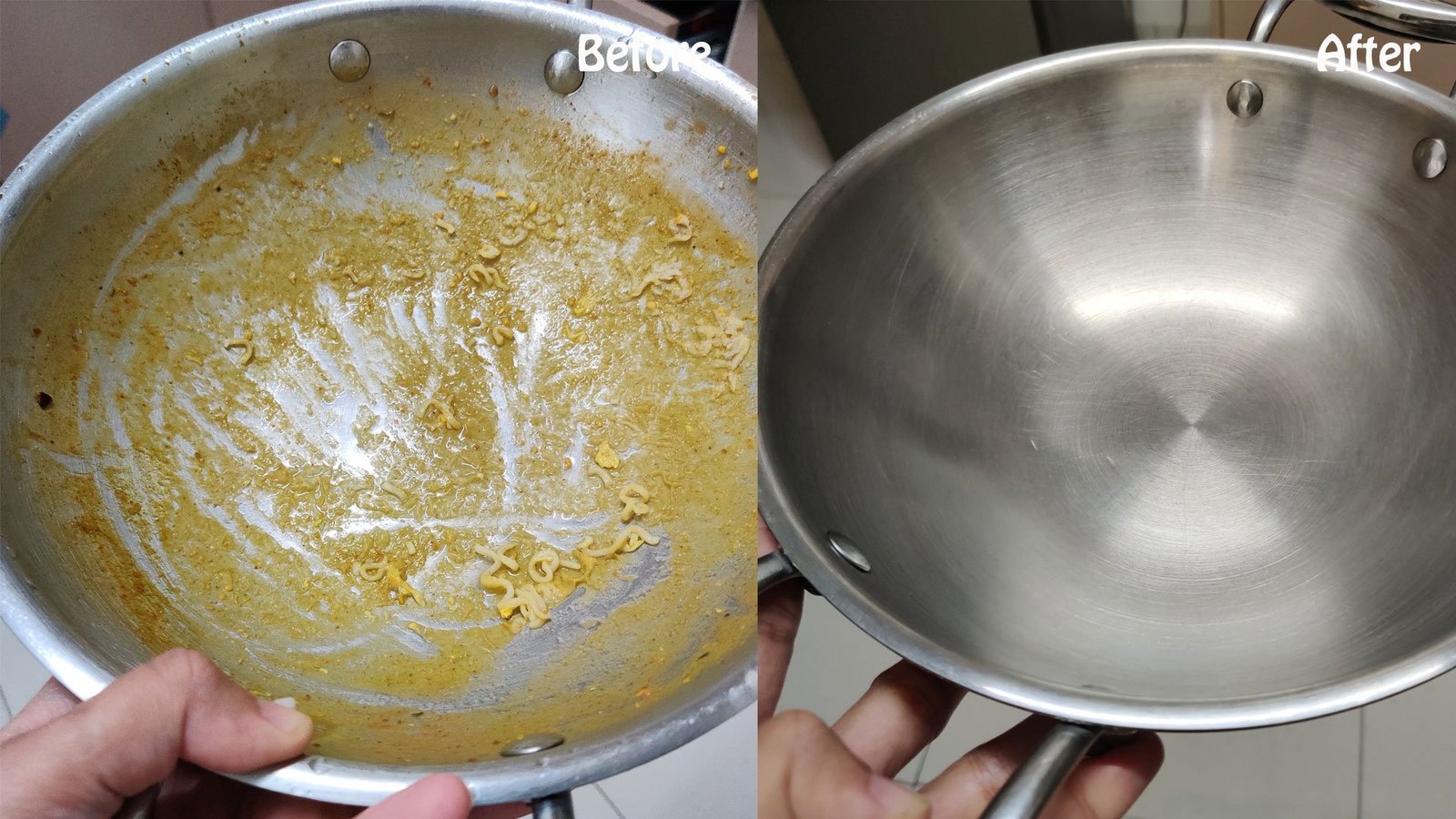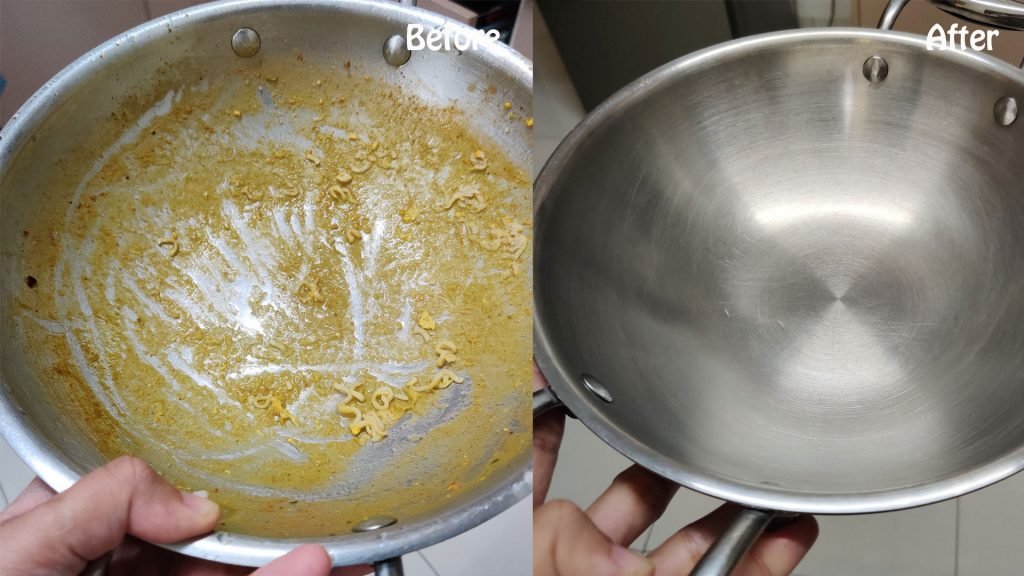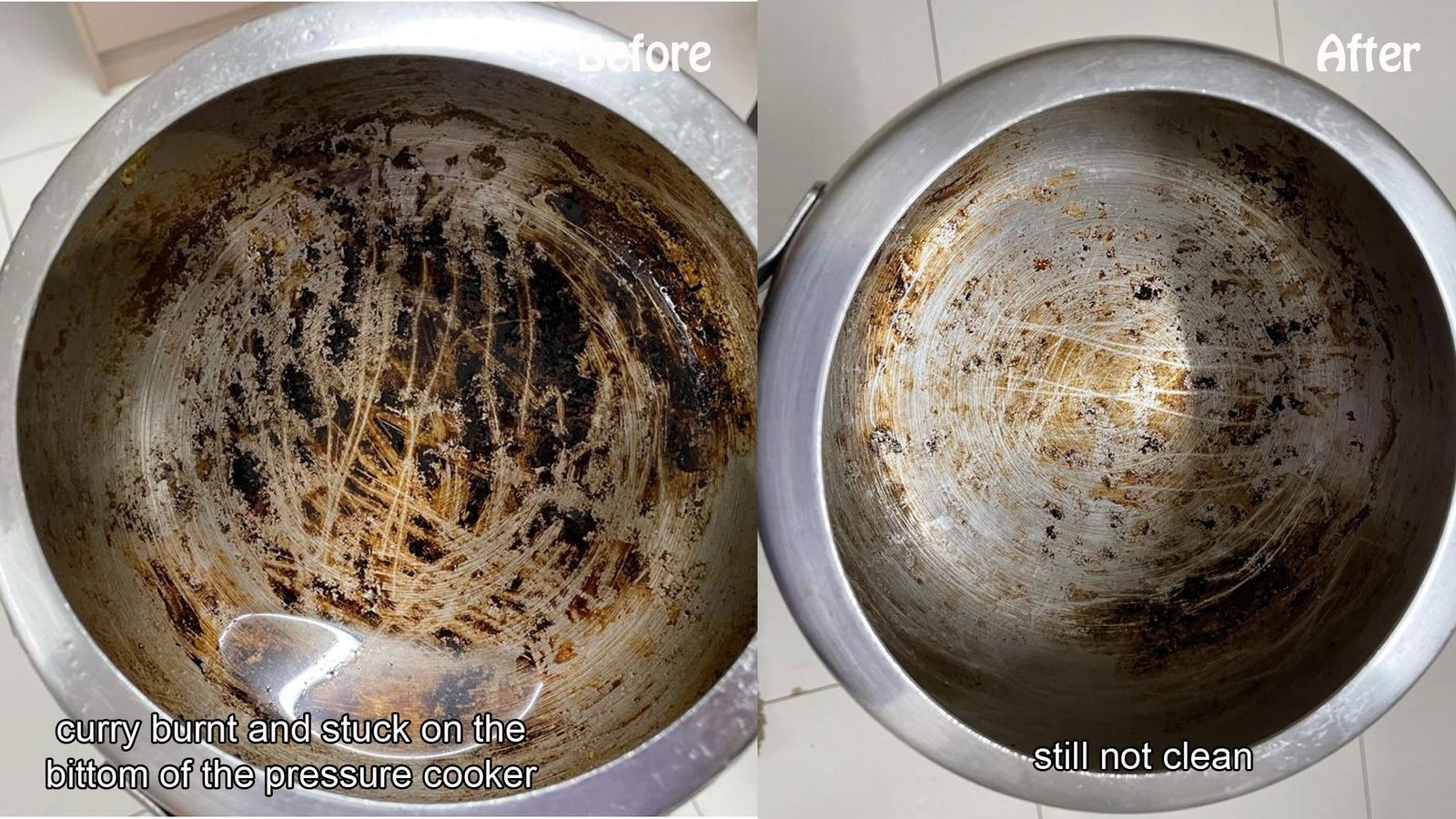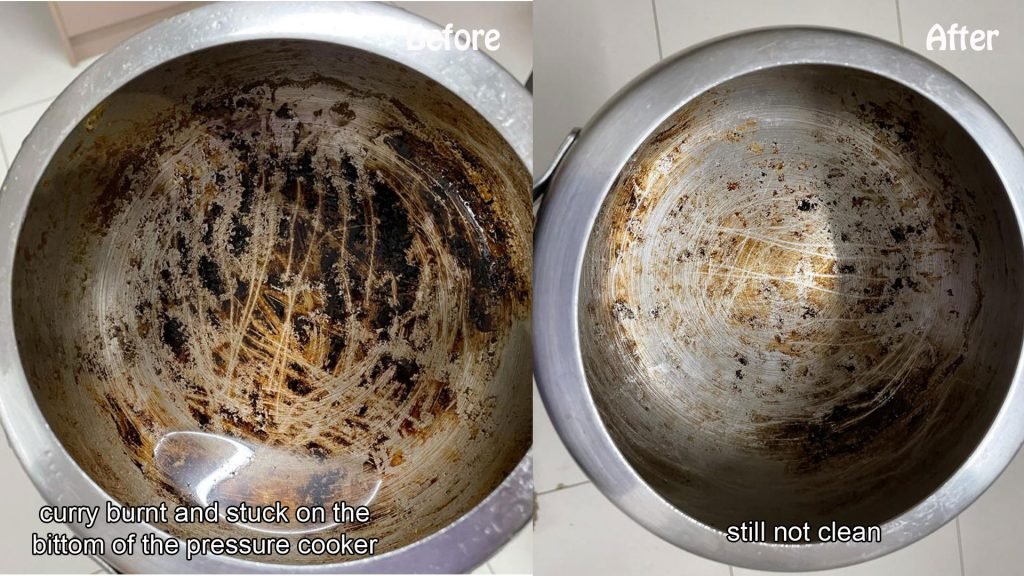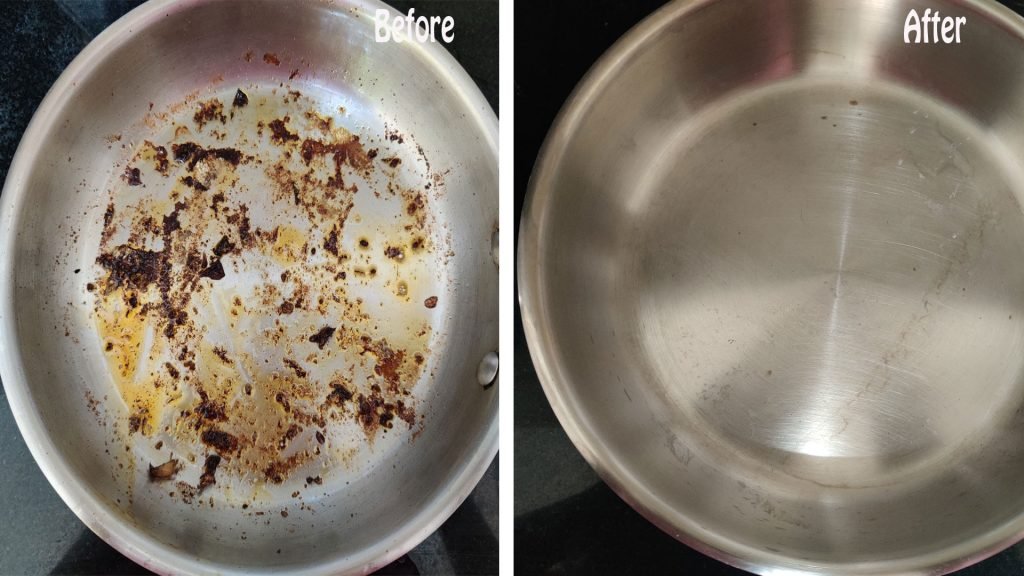 Overall, the cleaning performance of the dishwasher is highly satisfactory. Considering the time and effort saved, it is definitely a must-have for everyone who can afford it. But, if you predominantly have aluminium cookware in your kitchen, you will have to change to stainless steel and glass when using a dishwasher.
Energy and Cleaning Supplies Consumption
Depending on the wash program used, a dishwasher uses around 0.5 to 1.3 units of energy per wash cycle. Most homes use a dishwasher once or twice a day. This means monthly energy consumption ranges from 15 to 78 units depending on the usage pattern.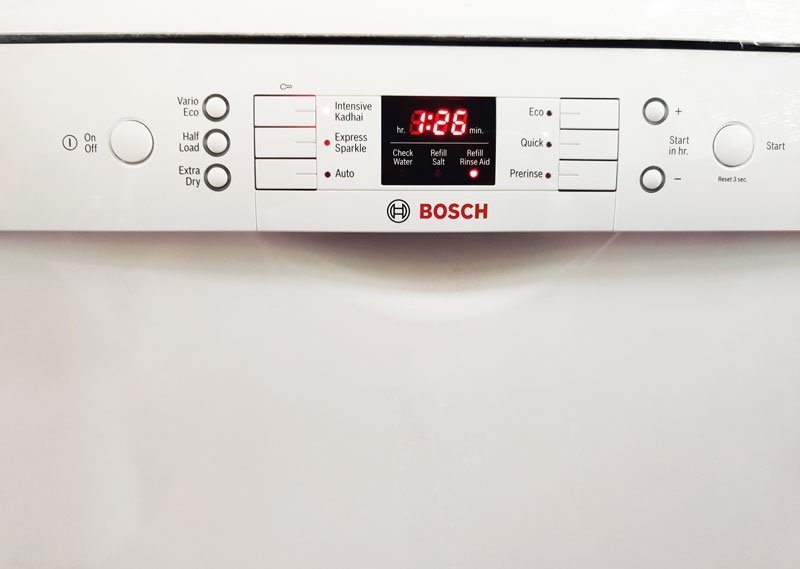 The detergent consumption varies heavily depending on the water quality. If the TDS of the water is higher than 500, the salt and rinse aid may last for just a month. But, if on the other hand the TDS is low, the salt and rinse aid can last for as long as 4 months and 1 kg detergent can last for 1.5 to 2 months.
The dishwasher uses 8 to 17 litres of water per wash depending on the wash program chosen.
Maintenance
Clean the dishwasher filter found on the bottom floor below the bottom rack every two weeks for optimal performance. A dishwasher has low water consumption because the water gets filtered and is circulated a few times and then finally, the dishes are rinsed in clean water. So, if the filter is not clean, dirty water gets circulated and as a result, the dishes become gritty.
If you have a hard water supply, use a descaler powder and run on the Intensive Kadai wash program once a month. This cleans limescale deposits not only on the interiors of the dishwasher but also on the pipe, heater and other components.
Wipe the seal on the dishwasher door every two weeks as food residue and debris may get deposited here.
Ideally, place the dishwasher on a stand with wheels so that you can move it and clean the floor underneath the dishwasher once in a while.
Was this post helpful?
Let us know if you liked the post. That's the only way we can improve.