It is natural to be confused when buying cast iron cookware. They are all made of the same material and look similar. But different brands offer them at different price points. So how do you differentiate between them and decide which one to choose?
To help you out, we bring to you the important aspects you need to look at when buying cast iron cookware, the leading brands, their point of differentiation and which ones are better for specific types of cookware.
Table of Contents
How To Choose Cast Iron Cookware?
Size
Irrespective of the type of cookware you buy, size is an important decision factor. But it is even more relevant for cast iron cookware because generally, the larger the size, the heavier it will be.
Cast iron Tawas are available in sizes ranging from 9 to 14 inches. We would recommend opting for 10-11 inch Dosa Tawa, in which you can make a moderate size Dosa and the Tawa's weight too will be manageable.
When it comes to Kadhai, we recommend buying two of them- a smaller one with 1-1.5 litre capacity for making vegetable side dish (sabzi or poriyal) and a larger one with 3-4 litre capacity for making curries.
Skillets, used for omelettes, fried food and curries are also available in a variety of sizes ranging from 8 to 12 inches. If you plan to use it mainly for omelettes and sabzi (poriyal), opt for an 8-9 inch skillet. Larger ones with sizes ranging from 10-12 inches are ideal for frying fish and chicken and making curries for 3-5 members.
In addition, you also get 3-6 inch skillets which can also be used as a Tadka pan.
Weight and Ease of Handling
The heavier the cast iron cookware, the better its heat retention capacity. But, unfortunately, hot, heavy cast iron cookware are not easy to carry around. Some of the Dosa Tawas we tested were heavy and without a raised handle, it was quite difficult to lift them from flat surfaces like a kitchen countertop or cabinet shelf.
So, consider the ergonomics of the cookware, especially if it weighs more than 3 Kg. Tawas should ideally have raised handles that make it easy to lift them. The handles of Tawas and Kadhai should also be wide enough so that it is easy to wrap a cloth over them and take them around. Unfortunately, most of the handle sleeves that come along with the Kadhais and long handle Tawas do not offer sufficient protection from heat.
Finish
One of the main differences between cheap and expensive cast iron cookware is its finishing. Cheaper ones have a rough surface and their seasoning may flake off within a few uses. During the manufacturing process, these cookware are just tumbled in a rotating drum filled with metal pieces. The metal pieces strike against the surface of the cookware to remove roughness to a small extent.
Expensive ones have a smoother finish. The smooth finish improves its stick resistance and they are easier to season too. The finishing is achieved by stone grinding the surface of the cast iron cookware.
Cast iron is brittle and will break when dropped from a height. So will the floor!
Related reading: Common Cast Iron Problems and Their Solutions
Best Cast Iron Cookware Brands In India
Cast iron cookware that you buy online are all preseasoned. They can be used right out of the box and food releases perfectly. You save time and effort, but you have to pay a premium price.
Unseasoned cast iron cookware available in local markets costs almost half the price. But, you need to clean them thoroughly by soaking them in starch water to remove any residues and impurities. Then, you have to season the cookware on your own. If you follow our step-by-step instructions in this article, it wouldn't be that difficult. Even so, we wouldn't recommend a first-time cast iron user to go for it because it could be intimidating. Many first-timers have given up on cast iron cookware because food gets stuck on them as it wasn't seasoned correctly.
When it comes to the cast iron brands available in India, our top recommendations are Indus Valley and Dynamic Cookware. Other options worth considering are Rock Tawa, Vinod Legacy, Nutrion and Meyer. Lodge is an excellent brand that has won acclaim internationally. However, it is too expensive in India as they are made in the USA.
Indus Valley offers super smooth preseasoned cast iron cookware. They are polished to have a smooth surface that is highly stick-resistant. ( We avoid using the term nonstick because cast iron can never be nonstick. You need to add sufficient oil or butter to release food in cast iron, which is not necessary for a nonstick pan).
Dynamic Cookware also has a smooth and even finish. Though a tad expensive compared to other options, its built quality and finishing make it worthwhile. They claim to have in-house manufacturing to ensure better product quality.
Rock Tawa sells the most affordable options. Their cast-iron cookware are thick and heavy. But the Dosa Tawa was not quite ergonomic in design. It was difficult to lift because it was heavy and the handles were not ergonomic.
Nutrion is a comparatively new entrant. They sell cast iron with a pebbly surface as well as smoothened ones.
Vinod Legacy is an offering from Vinod cookware. Their products have a comparatively rough finishing which is similar to Meyer. But the appearance is elegant. However, it is priced a bit premium.
Meyer is predominantly in the stainless steel cookware category. They have recently joined the cast-iron bandwagon. Their products too have a comparatively rough finish and are expensive compared to the rest.
Even though all these options are preseasoned, the seasoning wears off after a while. When food starts getting stuck to the cookware, apply an even and thin layer of oil and heat till the oil starts smoking.
Related reading: Cast iron Vs Stainless Steel Comparison
Best Cast Iron Cookware In India
Below, we recommend the top options for various types of cast iron cookware available in India. While some of them are based on our in-house tests, for others, we have relied on expert reviews from chefs and user reviews.
Dosa Tawa
A good dosa Tawa needs to have excellent stick resistance, superior finishing, ergonomic handles and sufficient thickness and weight for heat retention.
For our best list of Dosa Tawas, we tested 4 options. Out of them, our top recommendation is Dynamic Cookware 11-inch Preseasoned Tawa. It has raised ergonomic handles, superior finishing and excellent stick resistance making it an ideal choice. The next best on our list is the Indus Valley Supersmooth Preseasoned Dosa Tawa. It has a machine-polished smooth surface and fairly good stick resistance. But, the handles are not quite ergonomic.
Check the latest price on Amazon
Dynamic Cookware Dosa Tawa is available in sizes 10, 11 and 12.5-inch sizes. For homes, we recommend a 10 or 11-inch Tawa which weighs 2.5-3.3 Kg. It has a thickness of about 5mm which results in better heat retention.
As mentioned, the surface of the Tawa is fairly smooth and its built quality is also good. The preseasoned surface is highly stick-resistant and releases Dosa without any fuss. The ergonomic handles are also a major advantage compared to other options.
Check the latest price on Amazon
The surface of Indus Valley is polished and smoother than that of the former option from Dynamic Cookware. It too releases Dosa without getting stuck to the base. The Tawa has excellent heat retention due to the thick base. And you can make yummy, crispy Dosa with a nice texture on this Tawa.
However, the finishing of the rims and the bottom surface are not up to the mark. The single, flat handle is also not comfortable enough for lifting the Tawa either.
Related reading: How To Clean Cast Iron Tawa?
Kadhai
As mentioned earlier, we recommend opting for separate Kadhais for side dishes and curries. The one for poriyals and side dishes can be 1-2 litres in size. They are lighter in weight and easier to handle. But most of them don't come with lids. If you want a smaller Kadhai with a lid, you may have to shell out anywhere between Rs.2-3.5k, whereas the ones mentioned below are all priced under Rs 1300. You can buy a lid with a handle from a local shop and save a pretty penny!
Some of the options worth considering are-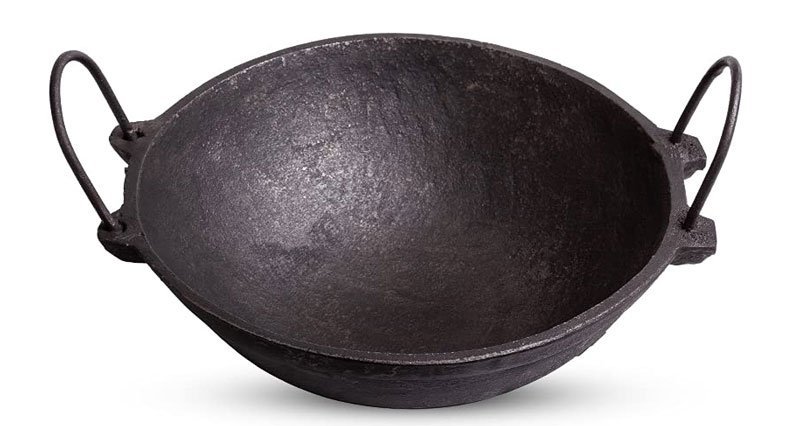 Check the latest price on Amazon
Indus Valley offers cast iron Kadhai with rough as well as smoothened surfaces. The ones with a rough surface are available at affordable, priced at less than Rs. 1000. After several uses or by seasoning it a few times, you can achieve a smooth and slick surface. Kadhais with smoothened surfaces are priced at around Rs. 1500.
Its handles are comfortably wide enough that you can wrap a kitchen towel and move it around. The 8-inch variant weighs less than 2 Kg and has a 1.2-litre capacity. It has around 4mm thickness.
Check the latest price on Amazon
The Nutrion Cast Iron Kadhai come with a smoothened surface owing to which it has a premium price. They sell 9 and 10 inch Kadai with and without lids. The 9-inch variant has a 1.9-litre capacity. It weighs 1.5 Kg, which makes it comfortable enough to handle.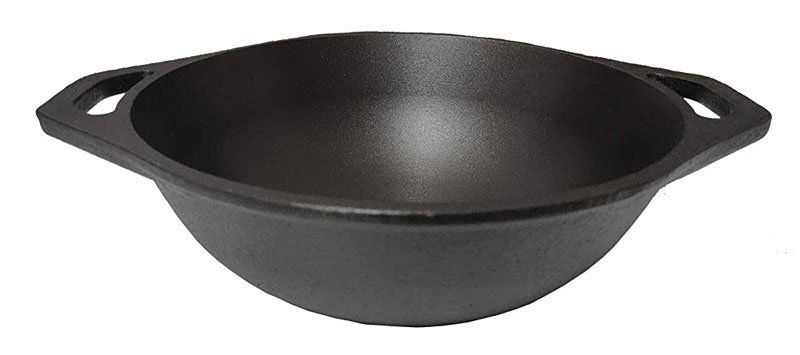 Check the latest price on Amazon
Dynamic Cookware also has a smoother surface which makes it fairly stick-resistant. It has a flatter base too. They are available in sizes ranging from 8 to 12 inches. The 8-inch variant weighs almost 2.8 Kg. The handle is also comfortable to hold with a kitchen towel.
Related reading: Best Pressure Cookers In India
---
Larger Kadhais with 3-4 litre capacity are ideal for making curries. Its excellent heat retention allows slow cooking of meat keeping them succulent and juicy. They are also apt for making larger quantities of sabzi ( poriyal).
Options worth considering are-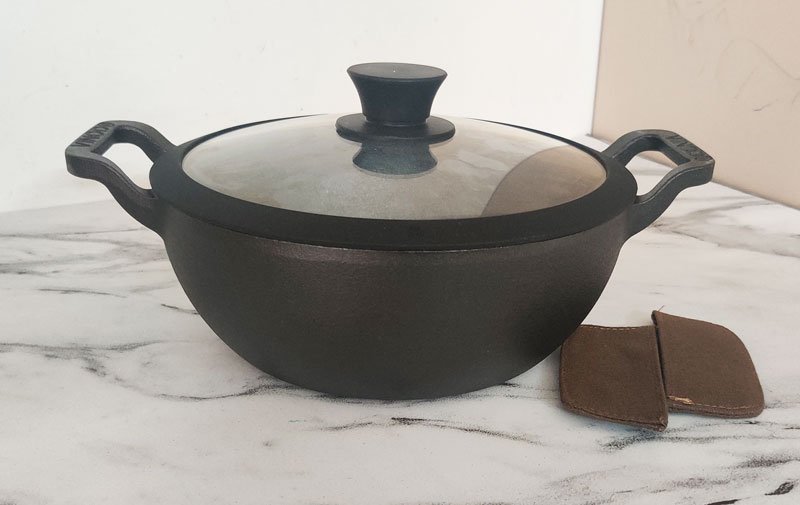 Check the latest price ( Amazon)
Vinod Legacy cast iron Kadhais are available in sizes 22, 24 and 26cm. They come with handle sleeves for protection against heat. However, we didn't find it effective enough. Compared to other options, it has a premium pricing. But even so, the finishing is rough and not smooth like Dynamic Cookware of Indus Valley Super Smooth.
The lids are made from toughened glass and the handles are wide and ergonomic, allowing you to comfortably wrap cloth around it for moving the Kadhai around. The Kadhai also has a wide, yet deep shape allowing you to easily flip the ingredients using a ladle. After using it over a period of time, it starts developing a slick surface.
Check the latest price ( Amazon)
Prestige Cast Iron Kadhai is less expensive than Vinod Legacy. It too has a bit of a rough surface which smoothens up after a few months of use. Compared to Vinod Legacy, the handles are short and not that ergonomic. Also, it doesn't have a lid.
Skillet
Cast iron skillets or frying pans are great choices for achieving perfect sear on fried fish, chicken and paneer. An ideal skillet should have good seasoning, and ergonomic handles and be heavy enough to retain the heat for a longer duration.
Options worth considering are-
Check the latest price ( Amazon)
Skillets or frying pans from Indus Valley are available in sizes ranging from 8 to 10 inches. This range of skillets have a smooth finishing, which is easier-to-use for those who have just started using cast iron cookware. Some options even come with silicone grip for the handle. However, there is a high chance of it getting hot when used for longer duration.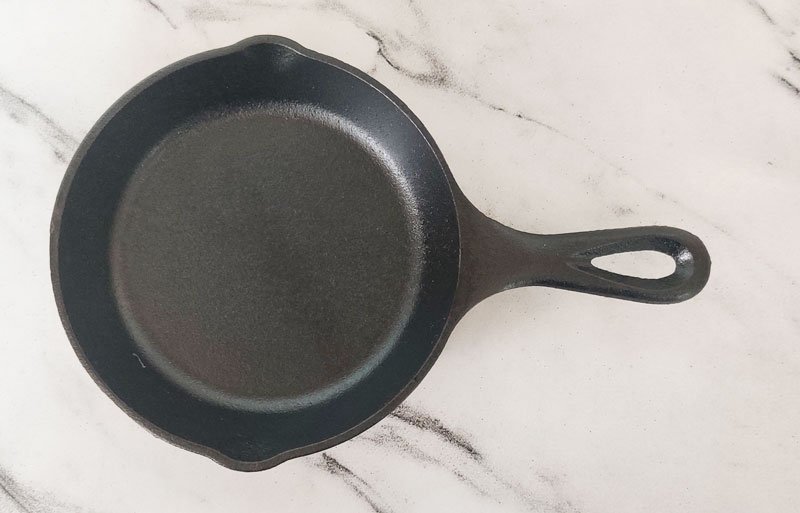 Check the latest price ( Amazon)
Lodge skillets are available in sizes ranging from 3 to 15 inches. You can use the smaller ones for Tadka and the larger ones for frying fish, chicken, paneer etc. Lodge too has a pebbly finish which becomes slick after a few months of use.
You may also like our article on Best Air Fryers In India
Grill Pan
Grill pans are not commonly used in India. Most people prefer to use a skillet for grilling. But if you would like to have perfect grill marks on your sandwiches, steaks and paneer, then a grill pan is what you need. But, due to its design, you need to season it perfectly and add sufficient butter or oil, or else the food could get stuck to the bottom.
Options worth considering are-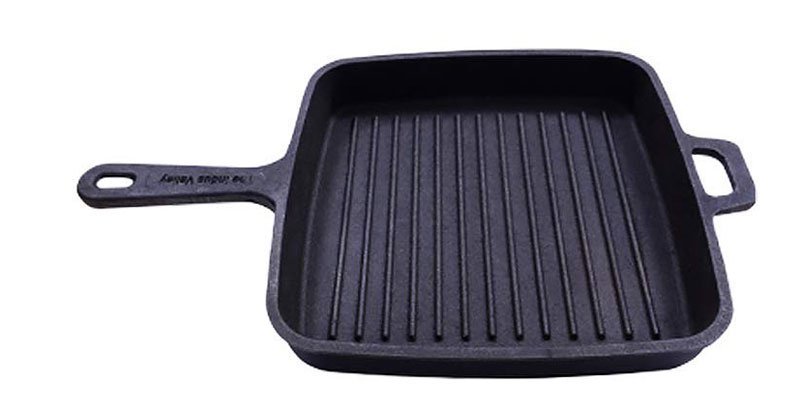 Check the latest price ( Amazon)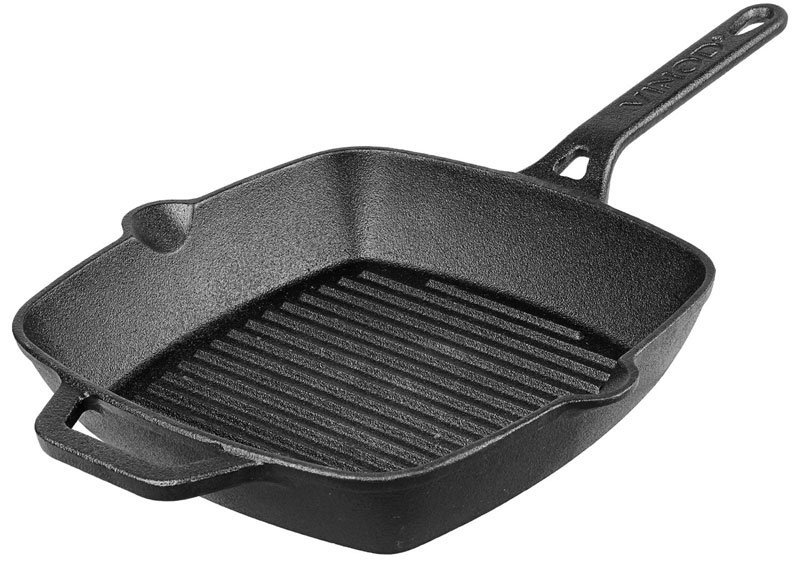 Check the latest price ( Amazon)
Roti Tawa
It is always good to keep separate Tawas for roti and dosa. Else the dosas will get stuck to the base. Roti Tawas have a concave surface and come with a long handle so that you can move it easily when making Phulka.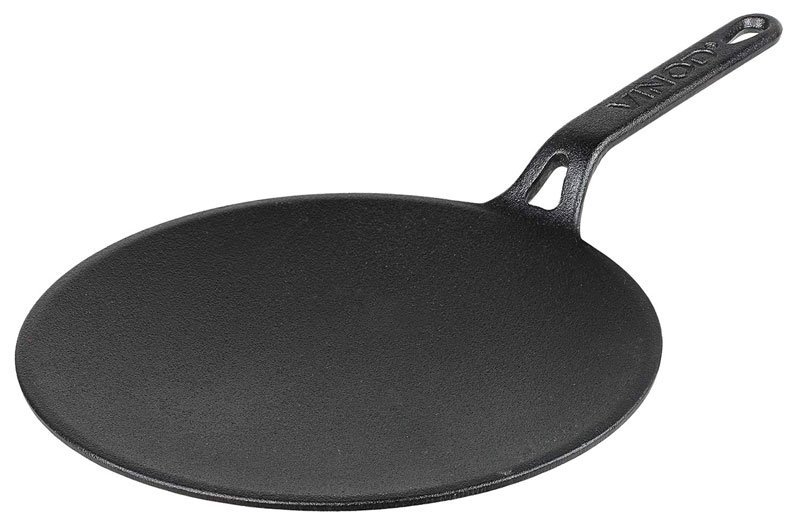 Check the latest price ( Amazon)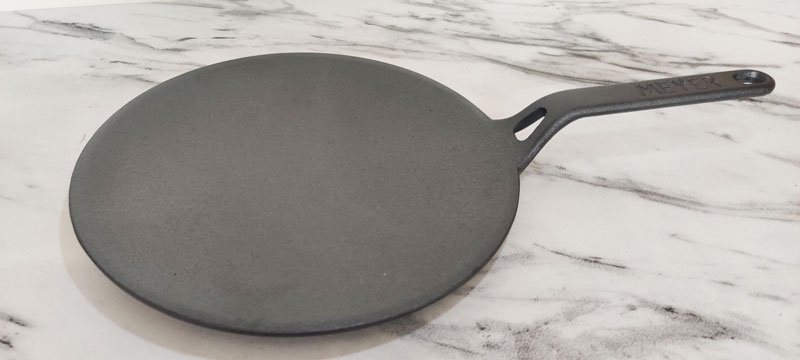 Check the latest price ( Amazon)
Dutch Oven
Dutch ovens are used in Western countries to make one-pot meals. But in India, they are used mainly for making delicious Dum Biriyani. Owing to the excellent heat retention of the cast iron pots, the steam and aroma from the meat and masala permeates into the rice without sticking to the bottom.
Options worth considering are-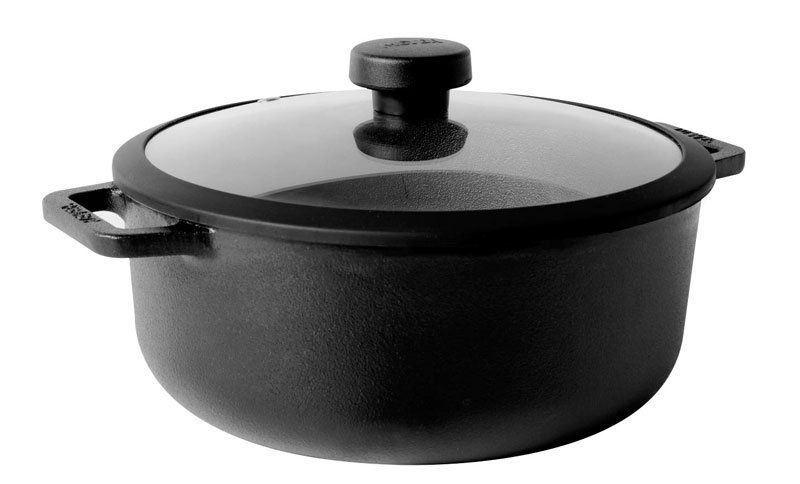 Check the latest price ( Amazon)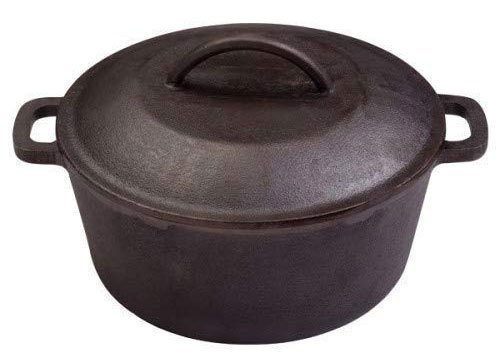 Check the latest price ( Amazon)
How To Care For And Maintain Cast Iron Cookware?
Traditional cast iron cookware offers immense health benefits. Though in minute quantity, they transfer iron to food cooked in it also. Further, they have excellent heat retention capacity. So, you can slow-cook nutritious food and also save fuel. On the flip side, it requires more maintenance than stainless steel or nonstick cookware.
Let us take a look at important tips to maintain cast iron cookware so that they remain easy to use and lasts long.
First of all, cast iron cookware will rust. We have seen many users complain about certain brands saying their cast iron cookware are of poor quality because it rusts. But that isn't true. The onus is on the customers to maintain cast iron cookware to prevent it from rusting. Unless you buy enamelled cast iron cookware, it will rust.
So, after every use, wash it thoroughly using a non-abrasive scrub. Then, heat it on a low flame to dry off the water and apply a thin layer of oil. A silicone oil basting tool will be immensely helpful for applying oil. Once it cools down, keep it in the cabinet. But before use, clean it thoroughly with soap because the oil could trap dust particles.
Avoid keeping cast iron cookware in the sink for a long time. This could affect the durability of the seasoning.
When storing cast iron cookware in the kitchen cabinet, place it on a thick cardboard sheet or mat. Else, the rust from the cookware could permanently stain the cabinet shelf.
Avoid using abrasive scrubs and harsh detergents for cleaning cast iron cookware as it can ruin the seasoning.
For the same reason, avoid cleaning cast iron cookware in dishwashers.
Cooking acidic food like tomatoes and tamarind will damage the seasoning, especially if the cookware is new. This doesn't mean you should avoid them completely. Rather, be prepared to season the cookware before using it the next time.
Was this post helpful?
Let us know if you liked the post. That's the only way we can improve.