AmazonBasics Cylinder is a mid-segment canister vacuum cleaner that looks promising. It comes with variable suction power, numerous attachments, and a durable body. However, not everything is hunky-dory either. Let us discuss its performance on various floorings, design, ease of use, noise, and other factors to help you make an informed buying decision.
Pros
Variable suction capacity makes it easier to use on delicate surfaces.
Integrated accessories holder ensures easy and quick access to all accessories.
Effective on different hard floorings.
Cons
Difficult to drag the floor brush at its maximum suction capacity.
Not effective for pet hair and on carpets.
Design
The design of the AmazonBasics Cylinder vacuum cleaner has some resemblance to that of Philips Powerpro. It comes with a sturdy body. As the name suggests, it is bagless, making it easier to clean.
The vacuum cleaner comes with a 6A plug and it consumes 700 watts of power.When it comes to cord length, it measures an impressive 5.1 meters, leaving its competitors like the Eureka Forbes Quick Clean DX and Inalsa Spruce in the dust with their measly 3 and 4 meter cords, respectively. So you'll have plenty of wiggle room to maneuver around your home without having to constantly switch outlets.
This vacuum's hose and wand combo measures around 250 cm in length, but it can be extended up to 285 cm. Whether you're tall and need to clean the floor or short and tackling the ceiling, it's got you covered.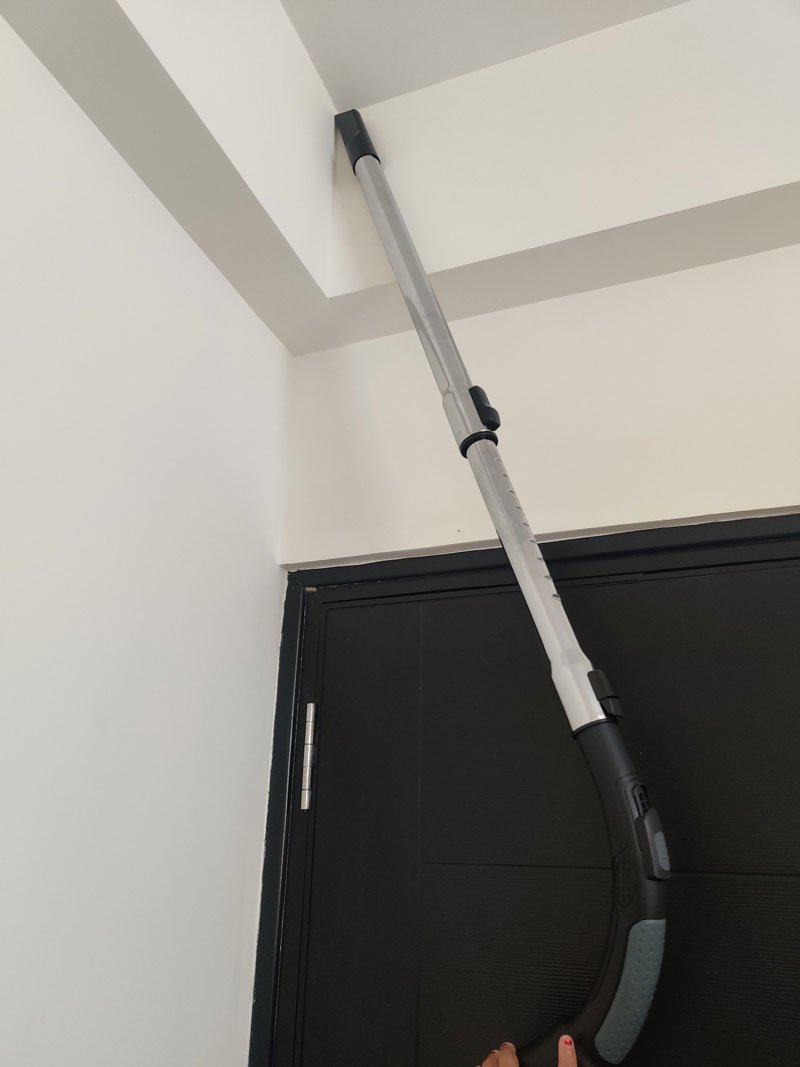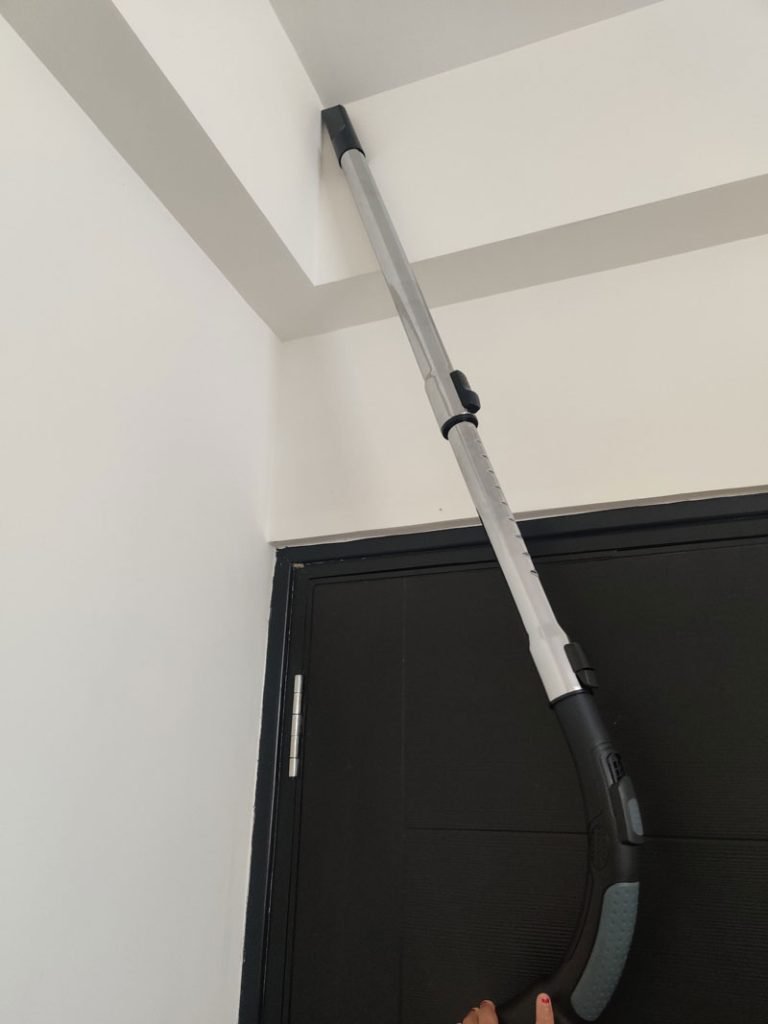 Something we liked about the dust bowl is that it has openings on both sides. This makes it easier to clean the dust bowl. Also, as it has a HEPA filter on one side, you can rest assured that dust won't leak back into the room.
Inspired by Philips PowerPro, AmazonBasics too has tried to integrate the accessories into the vacuum cleaner. You get an accessories holder which can be hung to the vacuum cleaner handle or the steel wand. This ensures easy access to the accessories at all times.
In addition to the floor brush, you get a wooden floor brush, which has bristles to prevent scratches on the wooden flooring.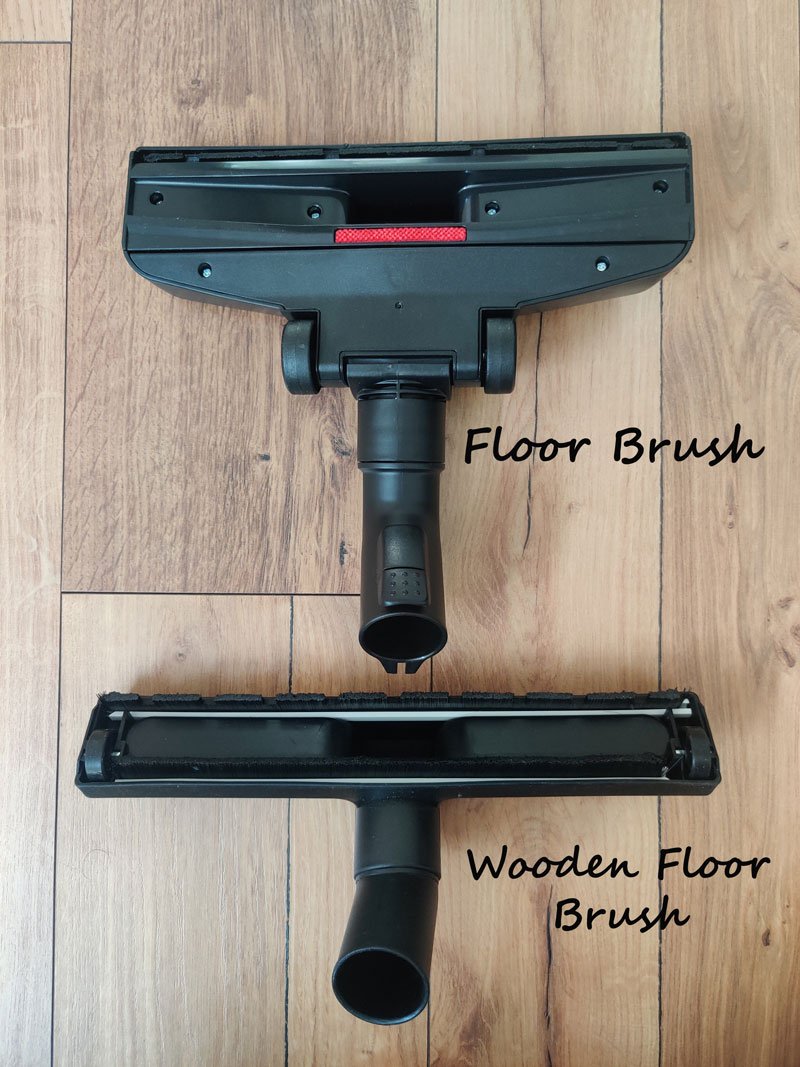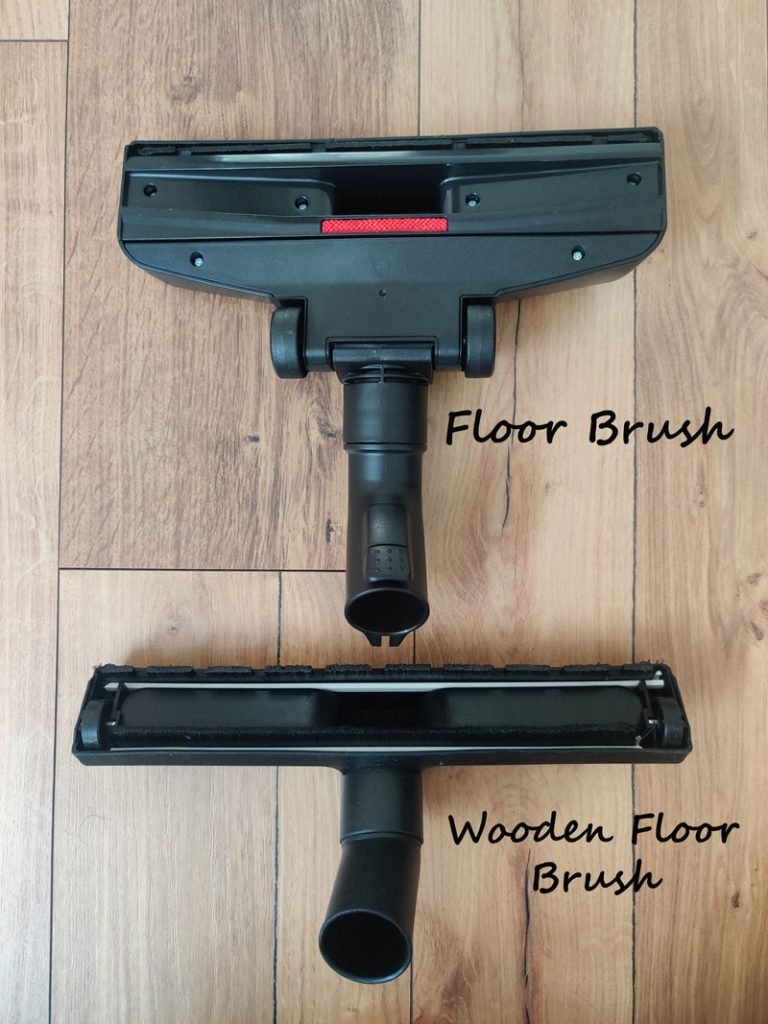 Yet another key point of differentiation is that it comes with a knob to adjust the suction power. This makes it safer to use on keyboards and such delicate spaces. With large wheels and a compact body, it is fairly easy to manevour too.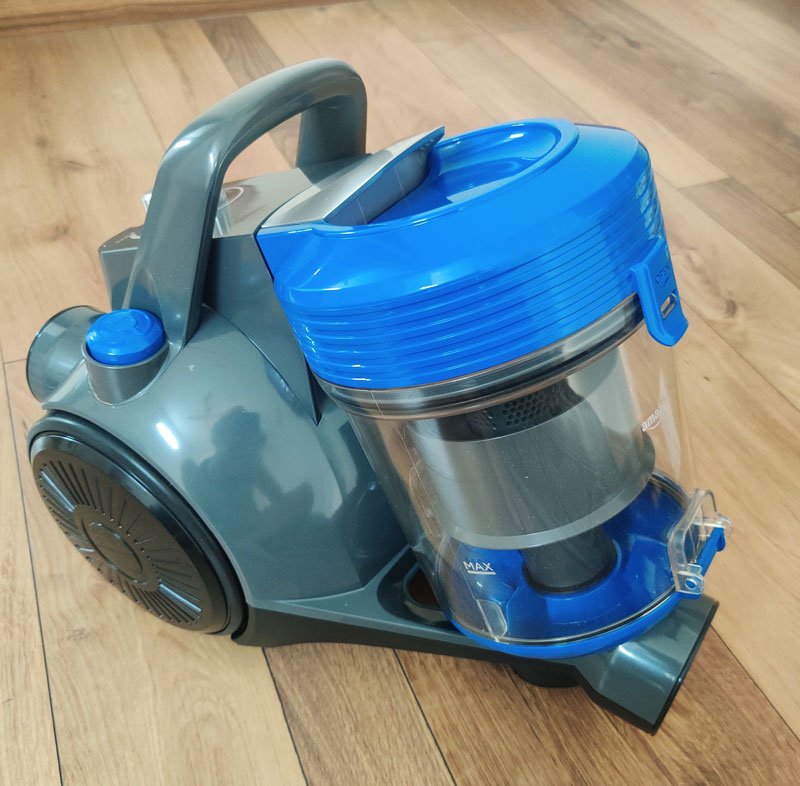 Performance
Soil, Dust, and Smaller Debris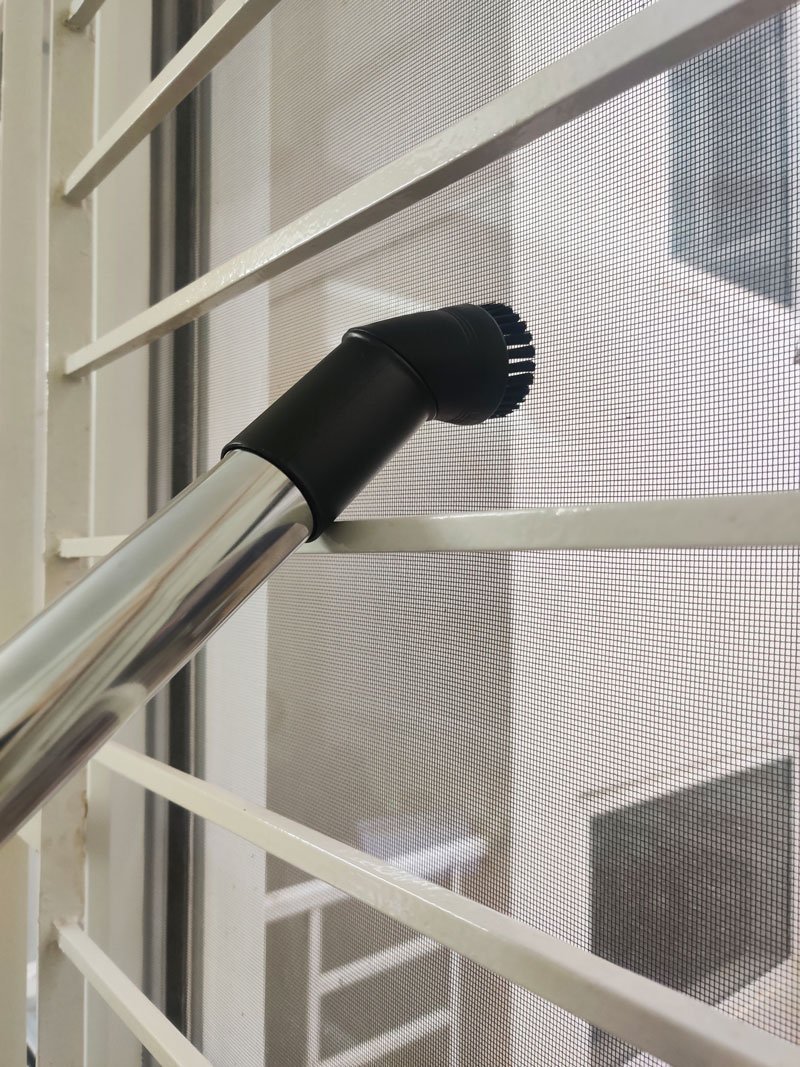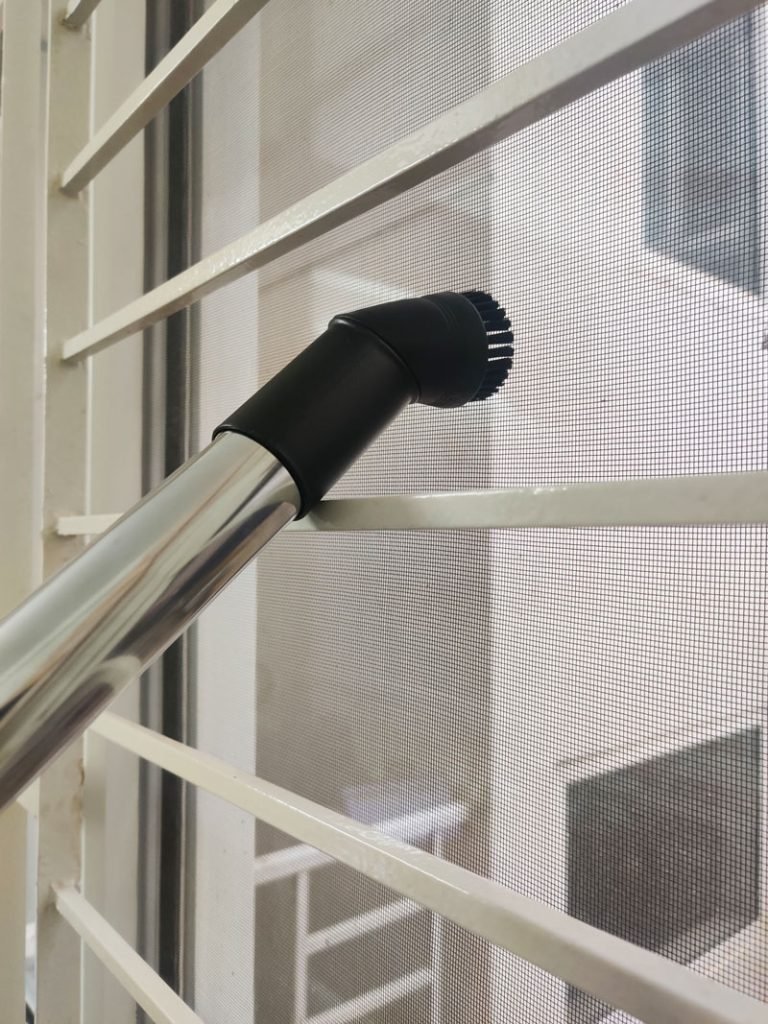 As mentioned, the vacuum cleaner has variable suction capacity. You need to put more effort into dragging the floor brush when the suction power is at its maximum. So, often, putting it at around 75% of its maximum capacity is enough.
The vacuum cleaner is effective at cleaning up soil, dust and other smaller particles from tiles. Using the wooden brush, you can effectively clean up wooden flooring without worrying about scratching the surface.
We were able to capture around 95-97% of sand from the tiles with the regular floor brush and 99-100% of sand from wooden floor using the wooden floor brush. But, when it comes to cleaning low-pile carpet, the efficiency was just around 75%.
Pet Hair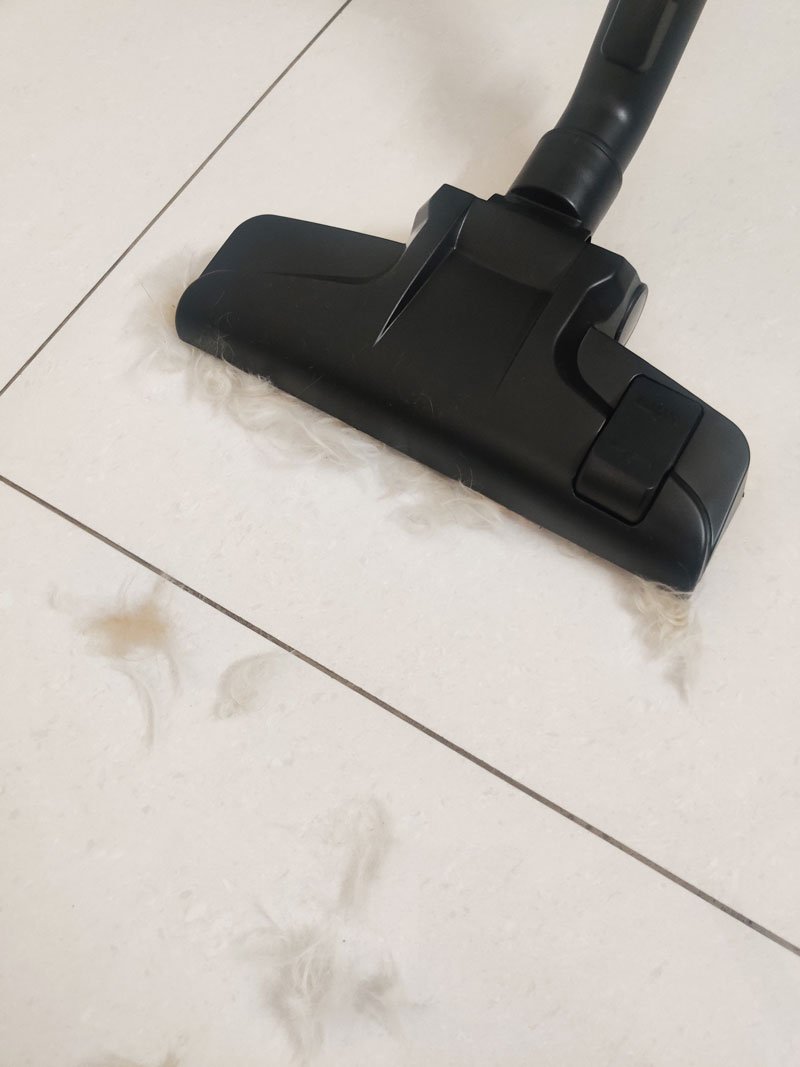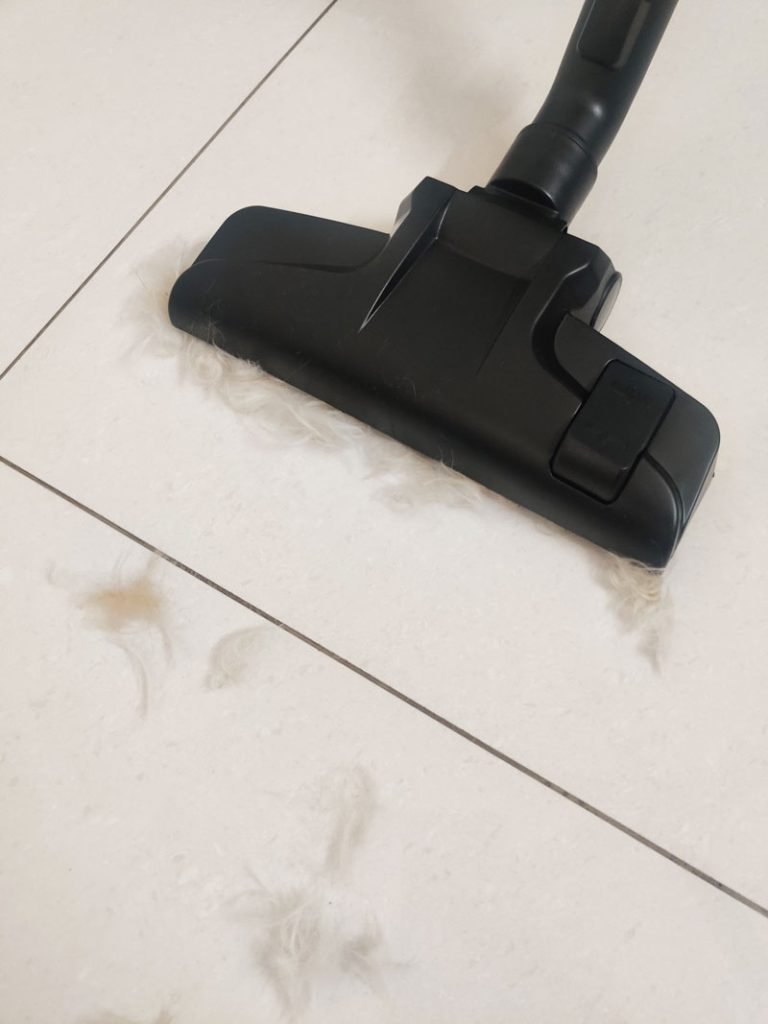 The vacuum cleaner is not the best for pet hair. When set at the maximum suction capacity, it pushes the large chunks of pet hair instead of suctioning it up. Even when cleaning carpets, it leaves behind a lot of pet hair.
The wooden floor brush is comparatively more effective. However, you will have to pass the brush twice to capture the pet hair completely. Even then, a lot of pet hair gets entangled in the bristles of the floor brush.
Overall, if you are looking for a vacuum cleaner for pet hair, we would recommend Philips PowerPro over AmazonBasics.
Related reading: 6 Best Vacuum Cleaners In India
Larger Debris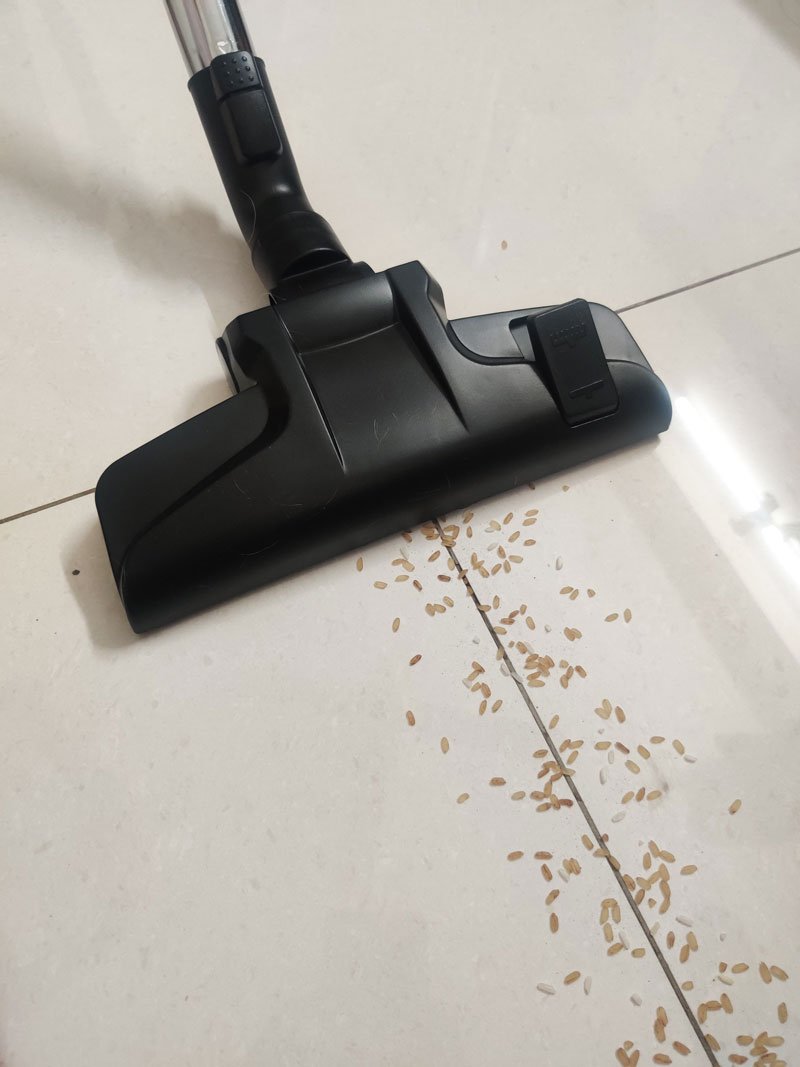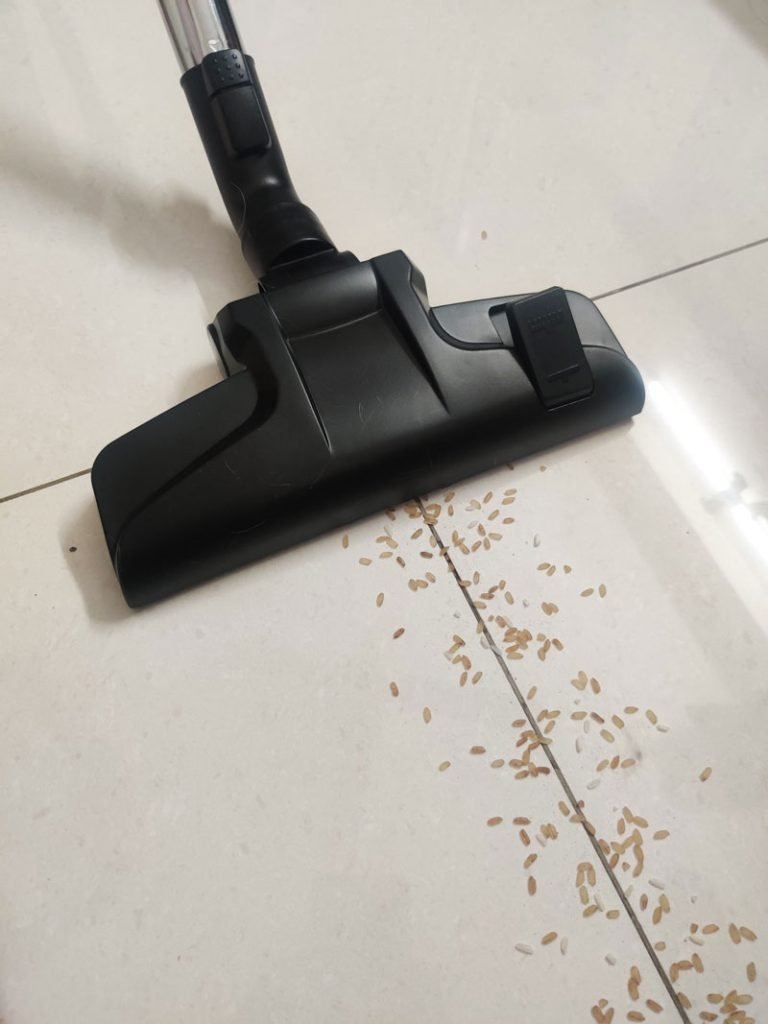 The vacuum cleaner sometimes struggles with larger debris. Instead of suctioning it, the vacuum cleaner pushes some of them away. It was able to capture around 95% of rice from tiles. But struggled on carpets. When we tried on cocopeat, the results were poor on both tiles and carpets.
When you compare the performance, it is almost at par with Philips Powerpro. You can overcome this to an extend by lifting and placing the floor brush on the debris. In day-to-day cleaning, you may not find it to be a major flaw, but a small inconvenience.
Accessories
The vacuum cleaner comes with 3 main accessories and an extra brush for wooden flooring. The accessories are a crevice tool, a furniture nozzle, and a dusting brush. They all are made of good quality plastic and appear durable.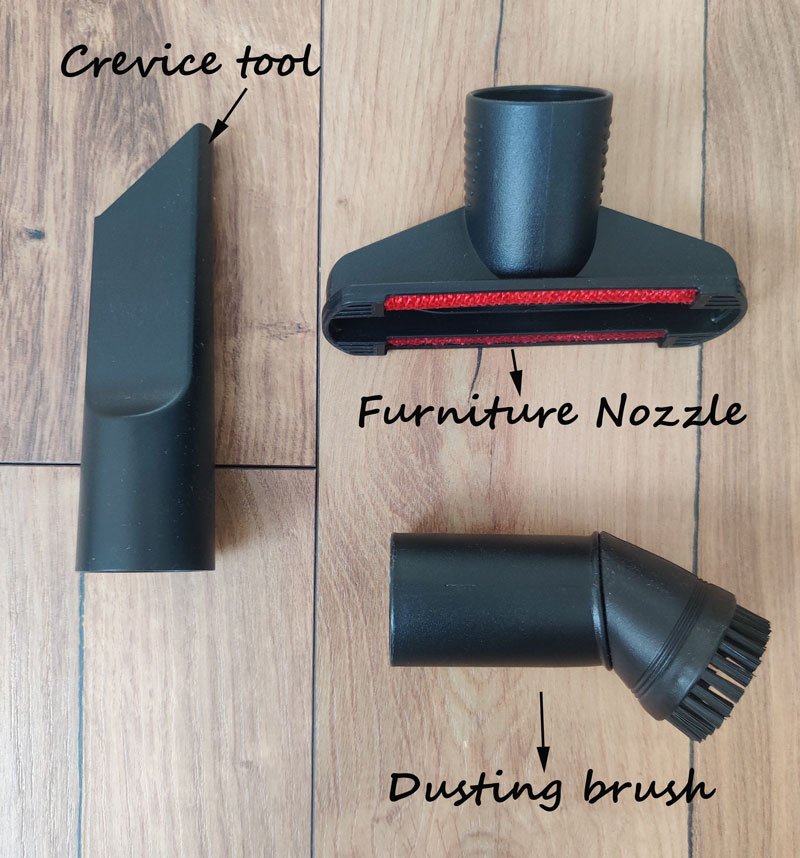 Using the accessories, you can effectively clean upholstery, ceiling, behind the furniture, window sills, and such tricky places. As the accessories holder can be fixed onto the vacuum cleaner, everything except the wooden floor brush is always within access.
How Well Does It Perform On Different Floorings?
The vacuum cleaner is effective on tiles, marble, granite and such hard flooring. But, it isn't a good idea to use it at the highest suction power as it may sometimes scratch delicate surfaces and make it difficult to push around the floor brush.
Its performance is average on carpets. Also, as mentioned earlier, sometimes it becomes difficult to drag the floor brush on carpets..
The wooden brush is effective and doesn't cause scratches on the wooden floor. It is quite effective at cleaning different types of debris too. In fact, if you have a large area of wooden flooring, AmazonBasics would be a recommended choice.
Noise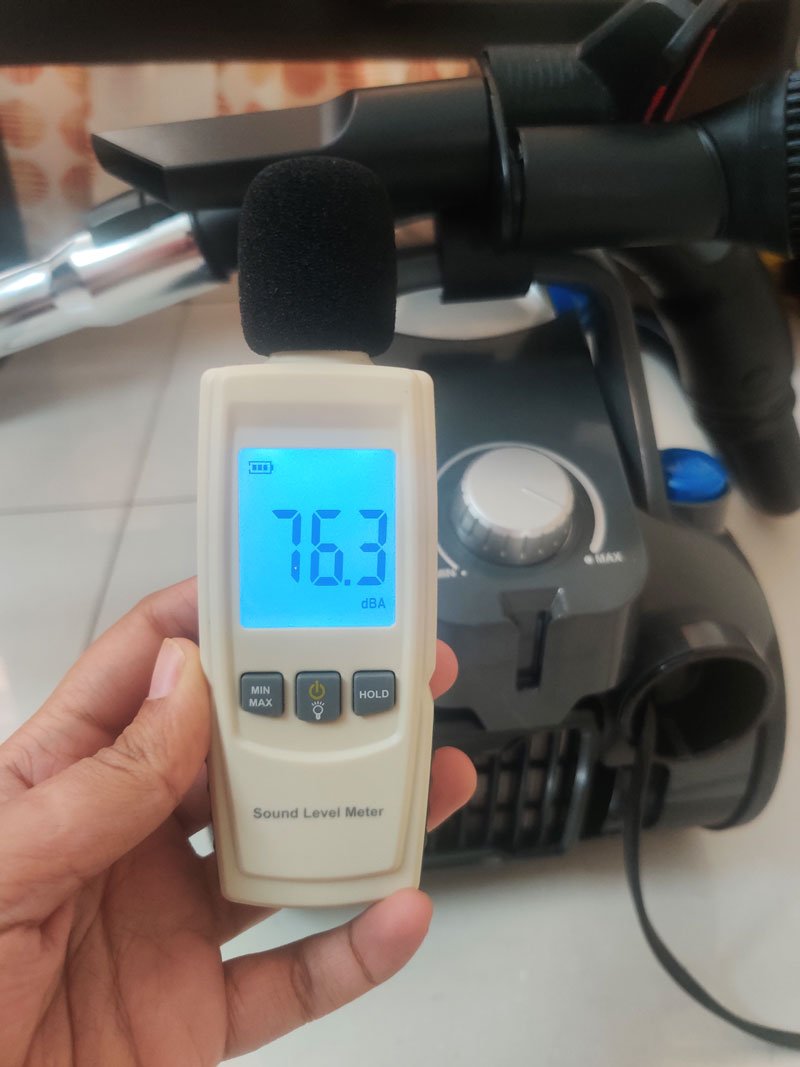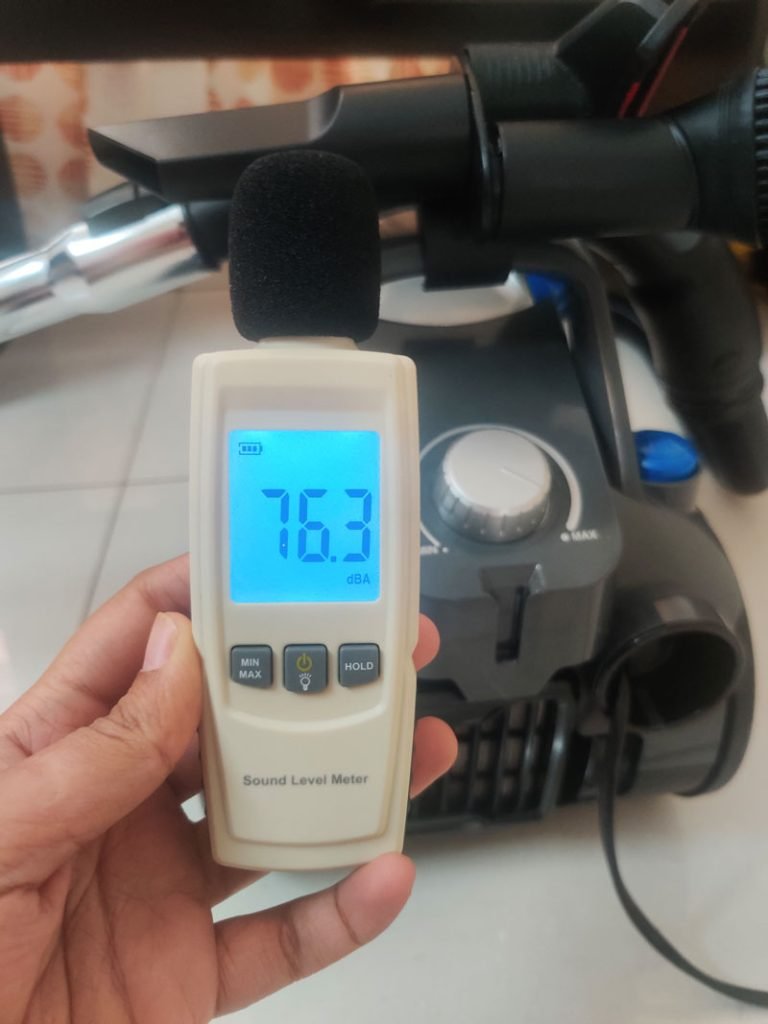 The vacuum cleaner is less noisy compared to other canister vacuum cleaners we have tried. At the maximum setting, it makes around 77dB when measured adjacent to the vacuum cleaner. At 10 feet distance, it makes just around 71 dB. At the lowest suction capacity, it measures 70dB from near and almost drowns in regular household noises from a distance.
So, if you are looking for a less noisy canister vacuum cleaner, AmazonBasics Cylinder would be an apt choice for your needs.
Ease of Cleaning Dust Bowl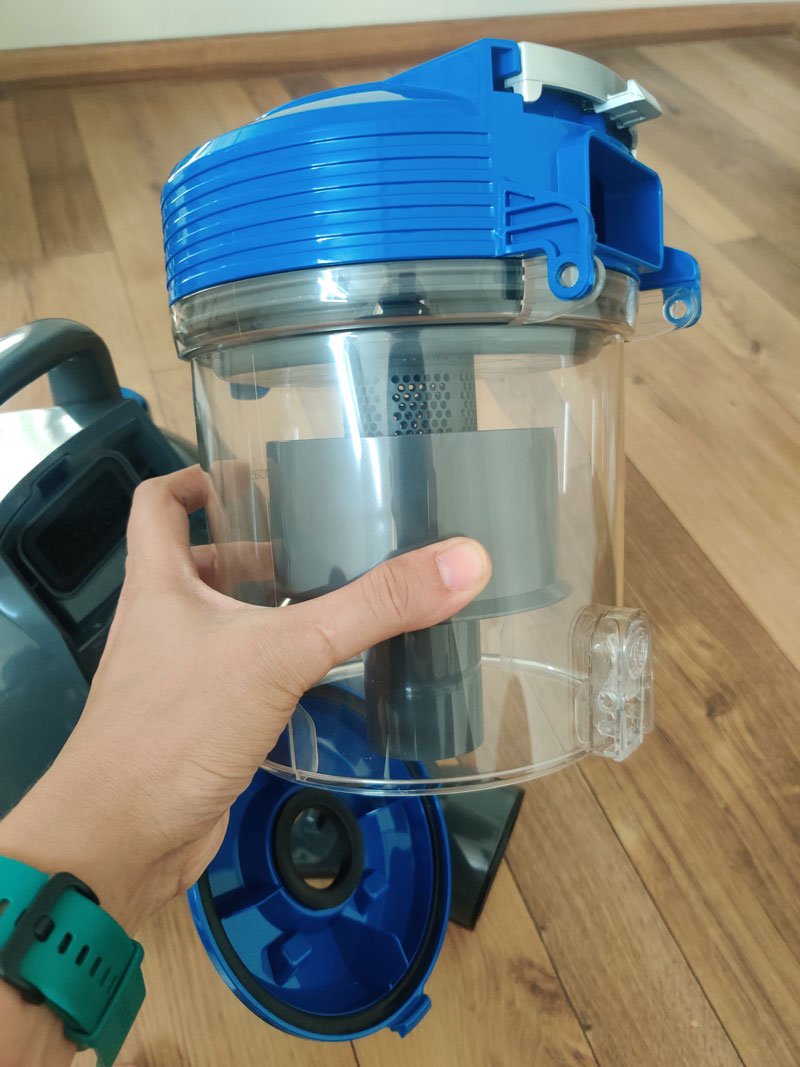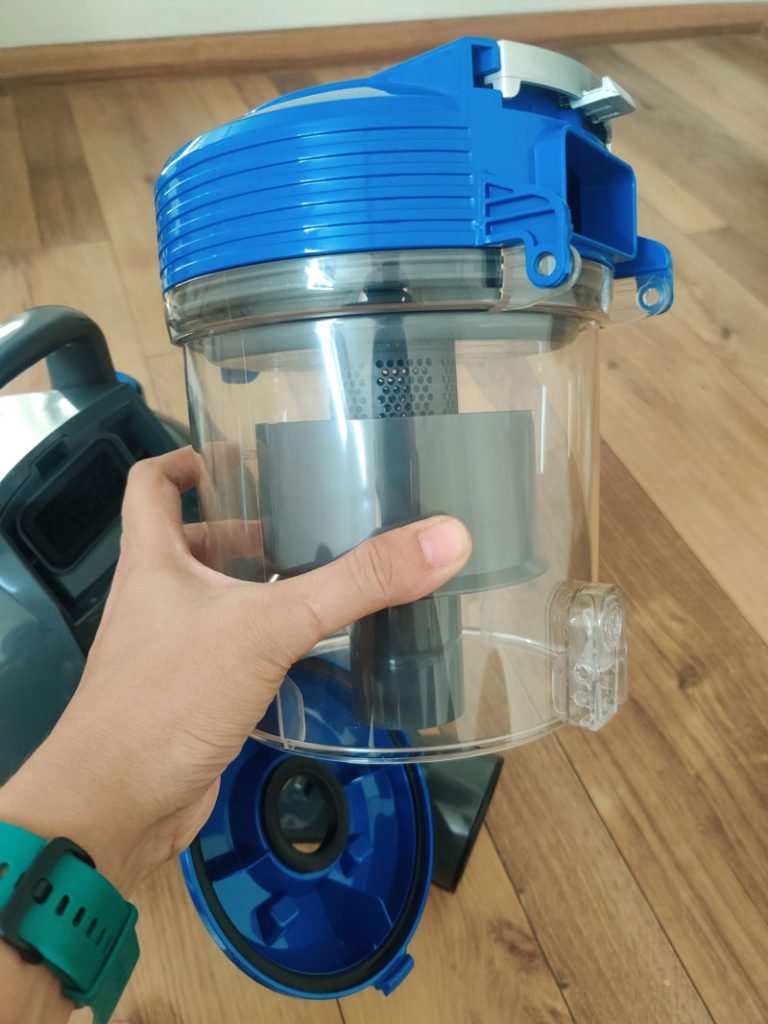 The dust bowl of the vacuum cleaner is made of plastic. It has a HEPA filter that allows only clean air back into the room. You can easily open the bowl from both ends to clean the HEPA filter and the dust bowl. As there is no bag, you won't have to spend on replacing the bags after a while.
Ease of Storage
Just like every other canister vacuum cleaners, there is a hook on the body to hang the wand and hose. But, often, the wand tends to slip from the body. The accessories can be fixed onto the holder and attached to the steel wand for easy access.
Built Quality
One of the main advantages of AmazonBasics Cylinder vacuum cleaner is its superior built quality. When on sale ( which is often), you can get the vacuum cleaner for around Rs.4000. Cheaper options from Inalsa and Eureka Forbes are sold for around Rs.3500. And comparatively, AmazonBasics has much superior built quality. It comes with an extendible steel wand, a body with durable plastic and the accessories too are superior in quality. Many users complain about Eureka Forbes DX Clean and Inalsa Spruce breaking down after a year or two. But such complaints about AmazonBasics are rare.
Observations From Daily Use
As mentioned earlier, you can carry on with regular clean-up of the house at around 75% of its maximum capacity. This is enough to clean up most debris. Be it in the living room or spills underneath the dining table, the vacuum cleaner can be easily maneuvered and the suction power is enough to effectively clean up the area.
It is fairly effective at cleaning the edges and corners of the home too. Even though the cord measures 5.1 metres, you do have to look around for plug points across the home. Sometimes, the plug comes off when you tug the wire.
It is apt for those who have tiles and wooden flooring. But not the best for those with carpets and pets.
Is It Apt For Those With Allergies?
Thanks to the HEPA filter, air that is released back into the room doesn't adversely affect the air quality. So, we can infer the dust doesn't release back into the room. Hence, it is an apt choice for those with allergies.
Conclusion
With superior built quality, fairly good suction power, and a moderate price, AmazonBasics is an apt choice for those who need a durable vacuum cleaner without splurging a lot. That being said, it isn't an ideal choice for those who have pets and carpets at their home.