Homes are having larger refrigerators by the day. But it is not just the size, newer refrigerators also have a laundry list of features like WiFi connectivity, LED display panels, temperature control systems and so on. Prominent among them is the in-built water and ice dispensers in refrigerators. They are predominantly found in larger refrigerators with a capacity of 400+ litres. Though most of them come in side-by-side refrigerator format, certain double-door refrigerators too have water and ice dispensers.
It offers immense convenience for the modern family that doesn't want to frequently fill bottles and ice trays. But it also comes with a few pitfalls. Let us explore in detail to understand if it's truly worth the extra price tag.
How Do Refrigerators With Water Dispenser Work?
In Western countries, refrigerators with water and ice dispensers are quite common. Most of them are not mere dispensers but are equipped with a plumbing system that draws in water and purifies it to make ice cubes and chilled water. The purification system is just basic though. It has just an activated carbon filter that captures odours and contaminants. As tap water in most Western countries is potable, this system is usually enough.
In India however, water is not as pure as we would want it to be, making a full-fledged water purifier a necessity. Most refrigerators don't have the feature or system to purify water to that extent. So, instead of a plumbing system that takes in water from the tap, our refrigerators have a container with 3-5 litre capacity. This water is chilled or frozen into ice cubes and dispensed as and when needed. Once you fill the reservoir, it takes around 2-3 hours to dispense chilled water.  If you haven't used the dispenser for a long time, the residual water in the line may be warm. So, you have to discard the water and drain the line so that cool water comes in again.
Not every refrigerator with a water dispenser has an ice dispenser. So, look at the product description meticulously before you buy one.
Advantages of Refrigerators with Water Dispensers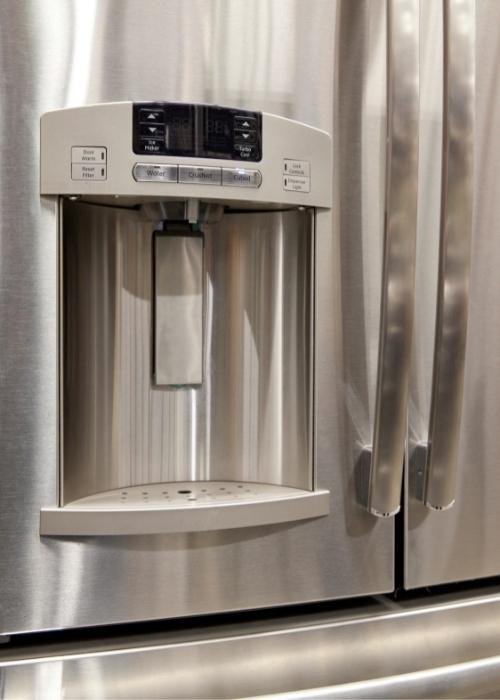 The biggest advantage is of course the convenience. Most nuclear families would have to fill the water reservoir just once a day and you get chilled water at your convenience. In fact, many families say that their daily water intake has increased as they get reminded to drink water every time they pass the refrigerator. Of course, parents with young children also find it to be a huge advantage as kids can get water without adults' help.
The water dispensing system of refrigerators in the west is quite prone to trouble as it requires additional plumbing systems and ice could get clogged in the connecting pipes. In India however, the system is simpler and it is less prone to malfunctioning. 
Higher-end refrigerators also dispense crushed ice, which is also a positive considering most of the mixer grinders available in the market do a shoddy job of crushing ice.
Disadvantages of Refrigerators With Ice Dispensers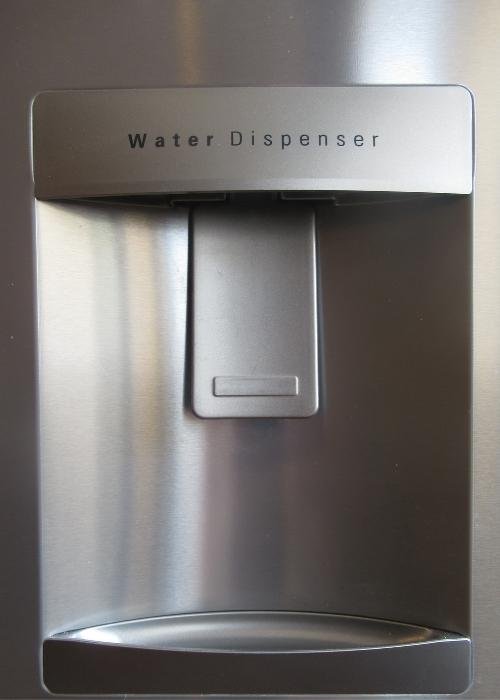 First and foremost comes the cost. Generally, refrigerators with water dispensers cost more than ones without. For example, a 687 litre LG side-by-side refrigerator without a dispenser costs about Rs. 90,000 while the one with dispenser costs close to Rs. 1.15 lakh.
It's not every family's cup of tea because many don't find it useful because now instead of filling bottles, you fill the reservoir. They require human intervention, unlike their Western counterparts.
The bulky reservoir also takes up space resulting in lesser storage space for your fresh food. This would be significantly noticeable in double-door refrigerators with 400-500 litre capacity. However, in side-by-side refrigerators, it wouldn't be a major cause of concern.
Here are some of the best models available that come with an inbuilt water dispenser.
Best Refrigerators with Water Dispenser
AmazonBasics 564 Litre Side By Side Refrigerator
Priced less than Rs. 50000, AmazonBasics offer one of the cheapest side-by-side refrigerators in India. It has a chilled water dispenser, but not an ice dispenser. The design and features are pretty much standard. But, while most side by side refrigerators have an inverter compressor with a 10-year warranty, Amazon Basics has a primitive reciprocatory compressor with just 5-year warranty.
If budget is a cause of concern, you could opt for it as it offers excellent value for money. Otherwise, you could go for more reliable options like LG or Samsung.
LG 674 Litre GC-L257SL4L Side By Side Refrigerator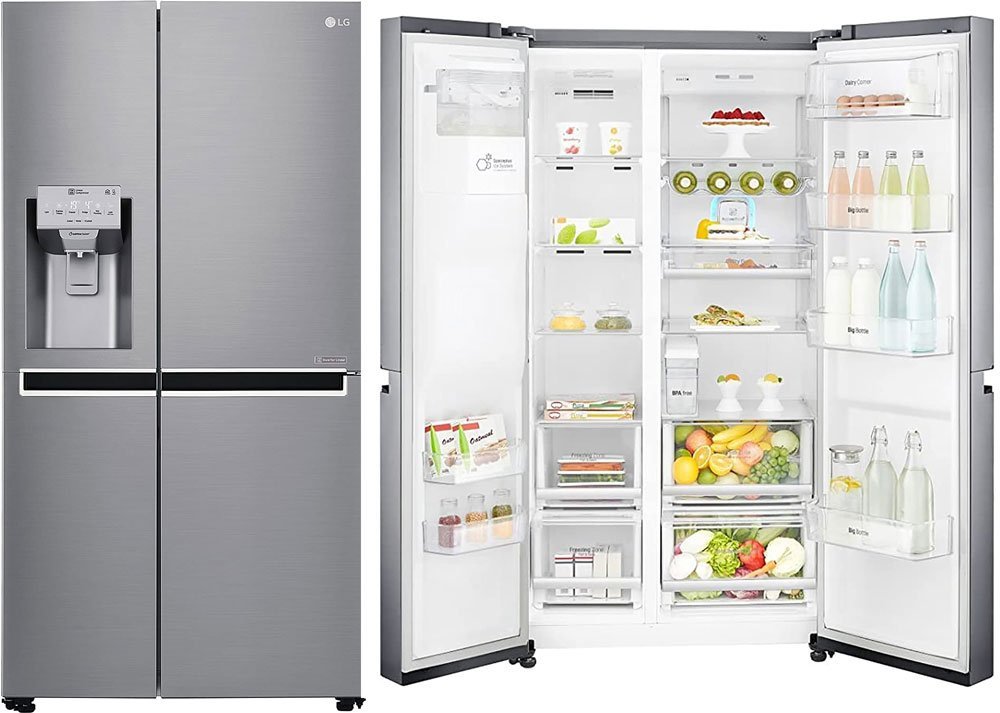 If you are looking for a side-by-side refrigerator with a water and ice dispenser, LG GC-L257SL4L is one of the best bets.
Being a product from LG, it is fairly dependable. It uses an inverter linear compressor which is quite superior in terms of cooling performance and efficiency. The food preservation system for vegetables, as well as cooked food, is quite good. The LED display on the door helps change the settings with ease. Further, it can be controlled with the SmartThings app too.
The dispenser occupies space in the freezer section of the refrigerator. Considering most homes don't use such a large freezer to its full capacity, you don't miss space because of the dispenser.
If you want to splurge further, you could opt for LG GC X-247CSAV with the same 668 L capacity and similar features. But, you get an insta-view door, which is a pretty cool feature to have.
Hisense 507 Litre RQ507N4SBVW Multi-Door Refrigerator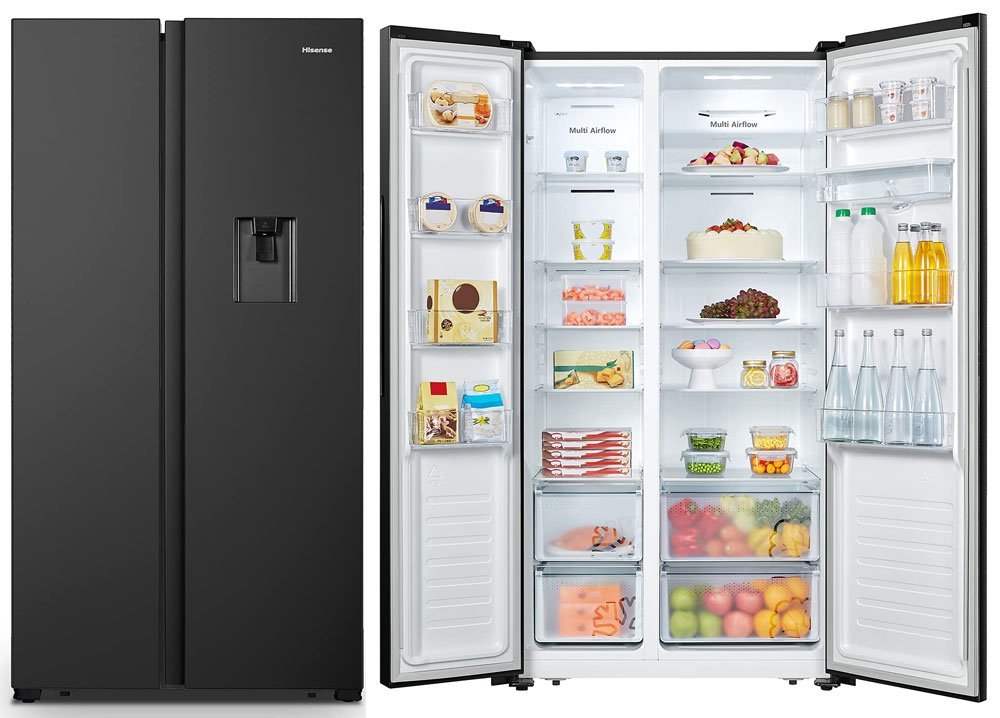 Hisense is a relatively new entrant in Indian markets. In the US, their products are considered to offer excellent value for money. Priced at around Rs. 65000, it is also a competitive offering in India. They use a digital inverter compressor and offer a 10-year warranty on the compressor.
While the previous options had an LED panel on the door, here you have it inside the refrigerator on the right-hand side. Its water reservoir has around 3.5-litre capacity. The refrigerator dispenses just chilled water and not ice.
Considering the budget-friendly pricing and fairly good cooling performance, it is definitely an option worth considering.
Samsung 523 Litre RT54K6558SL/TL Double Door Refrigerator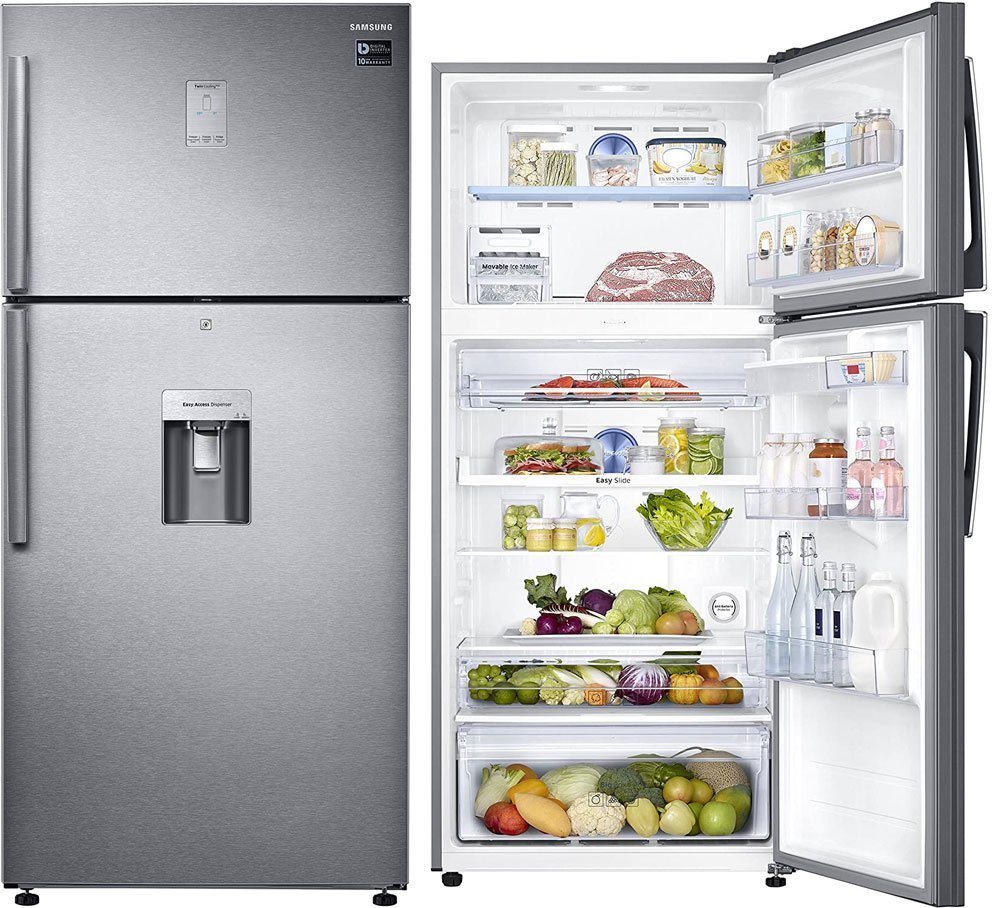 Samsung RT54K6558SL is yet another double door refrigerator with water dispenser. Compared to the previous option from LG, it has higher energy consumption. However, in terms of cooling efficiency and performance, it is quite a good option.
The reservoir takes up just half of the top shelf on the door, and this means a lesser capacity of just about 2.5 litres. The low capacity is really a letdown! It doesn't have an ice dispenser either.
Compared to the previous LG refrigerator, this one has a better interior. They both have a fresh zone at the top. Samsung, in addition, has a pull-out shelf too, which is quite helpful when you need to keep in and take out larger utensils or a whole birthday cake.
Moreover, it is a 5-in-1 convertible refrigerator that offers flexible storage space too. It also means higher humidity in the fridge for preserving fresh food and no odour mixing between the fridge and the freezer.
It is a more apt option for modular kitchens and corner spaces as the vegetable drawer can be pulled out by opening the doors just 90 degrees. In LG, as they have a shelf at the bottom of the door, you have to open the door wide in order to pull out the vegetable drawer completely.
If having a wifi capability and smart app operation doesn't really bother you, then you could opt for this Samsung refrigerator with a larger capacity and available at a lower price too.
Samsung 633 litre RS78CG8543S9HL Convertible Side-By-Side Refrigerator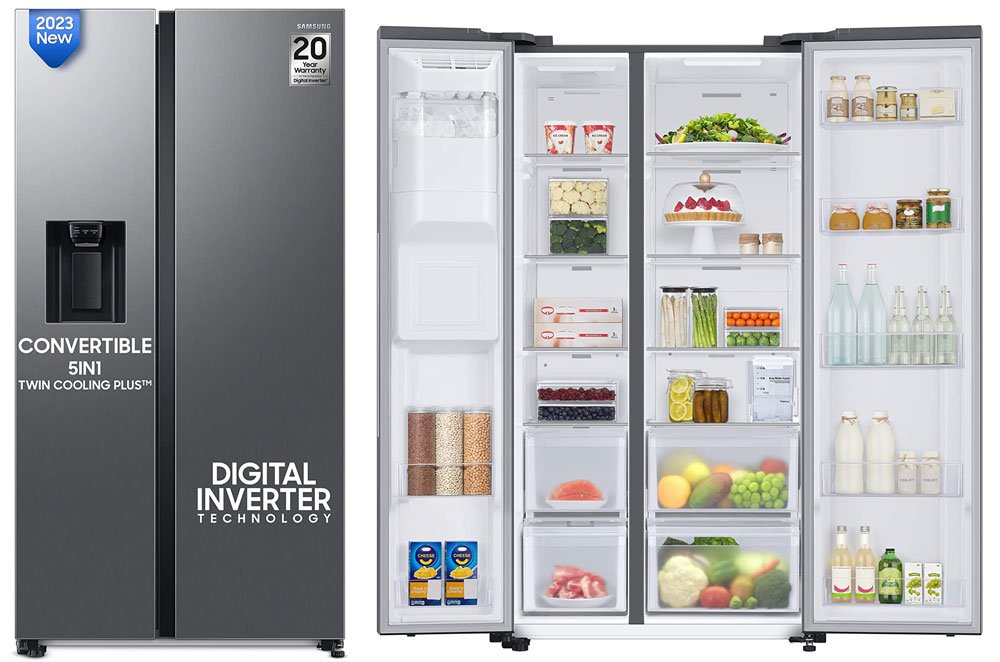 An advantage of this Samsung refrigerator over side-by-side refrigerators is that it is convertible. This means you can convert the freezer to fridge and put fridge and freezer on standy-by in different modes. It is incredibly useful for Indian families who don't use the freezer extensively.
This refrigerator again has just a water dispenser and an ice dispenser. The reservoir is comparatively larger and has about a 4.5-litre capacity. Thanks to the Twin cooling technology, there is no odour mixing and the fridge is circulated with air that has a higher level of humidity.
If having a large water dispenser and a flexible storage space is a priority, this Samsung side-by-side refrigerator is definitely what you need.