Smart air purifiers are a plenty. But among them, Mi 4 Lite stands out for its budget-friendly pricing. It is in fact the least expensive air purifier that has a real-time PM levels display on it. Most others have just LED light indicators and many a times, they aren't precise. Through this hands-on review, let us take a look at its features, performance, maintenance and other aspects.
Pros
Budget-friendly pricing
Smart features and real-time PM 2.5 display
Quick and effective air purification
Accurate air quality sensor
Cons
Could have had a recessed handle for easy portability.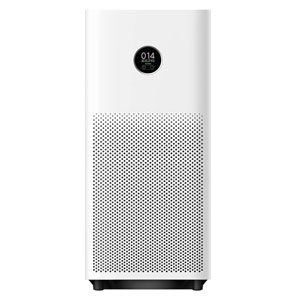 Mi Smart Air Purifier 4 Lite
Filters
While most air purifiers come with rectangular shaped filters, Mi air purifiers have a cylindrical filtration system. The main advantage of such a system is that it takes in air from all sides and lets it out from the top. As a result, air purification is faster.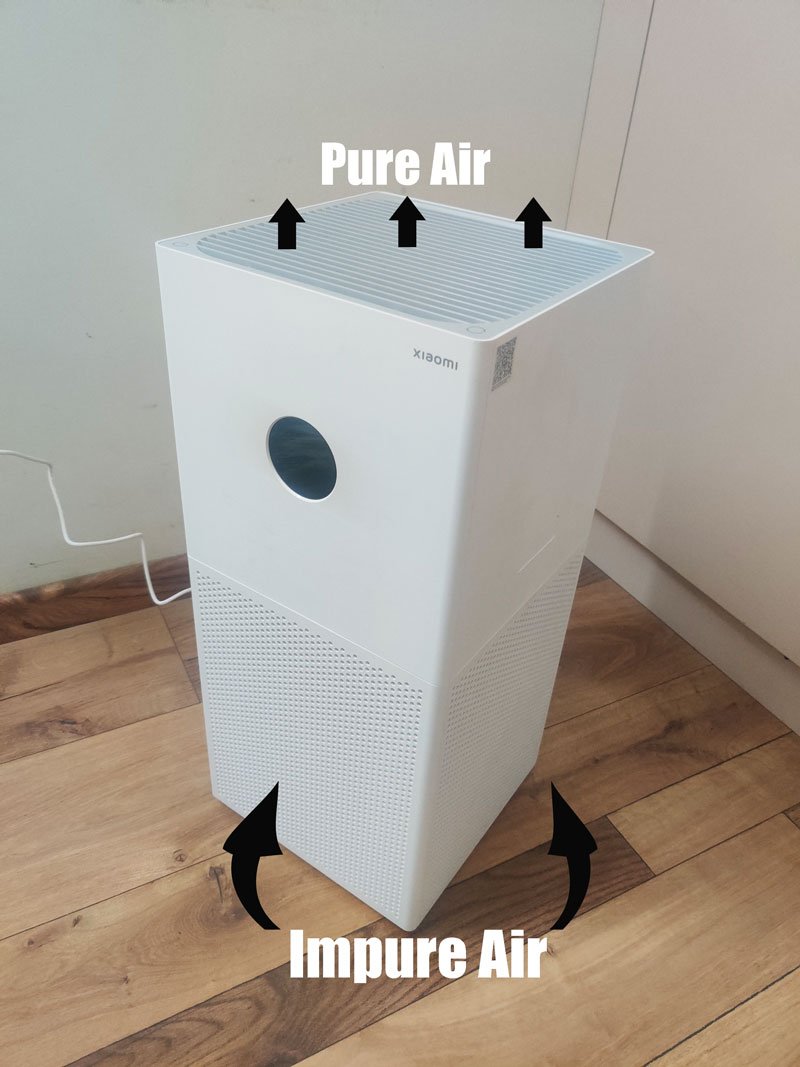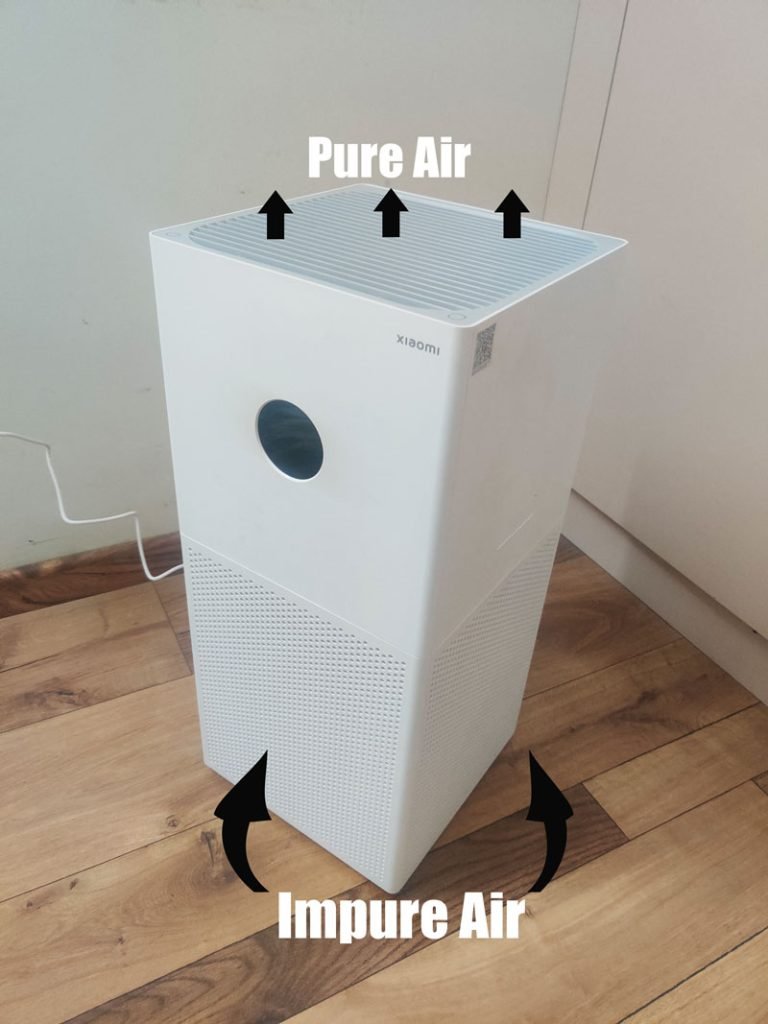 Mi Smart Air Purifier 4 Lite doesn't have a separate prefilter. Instead you get a composite filter which comprises a primary filter, a true HEPA filter and an activated carbon filter to capture odours and VOCs. ( Volatile Organic Compounds). The HEPA filter grade is unfortunately not mentioned in the product description or user manual.
Features
As mentioned earlier, Mi 4 Lite is a smart air purifier. This means it can be controlled using your mobile app, Alexa or Google Home. On the air purifier, there are 2 buttons. First is a power button. Then you have a button to change the mode. The round display shows the real time PM 2.5 level, temperature, humidity, Mode and status of the Wi-fi connection.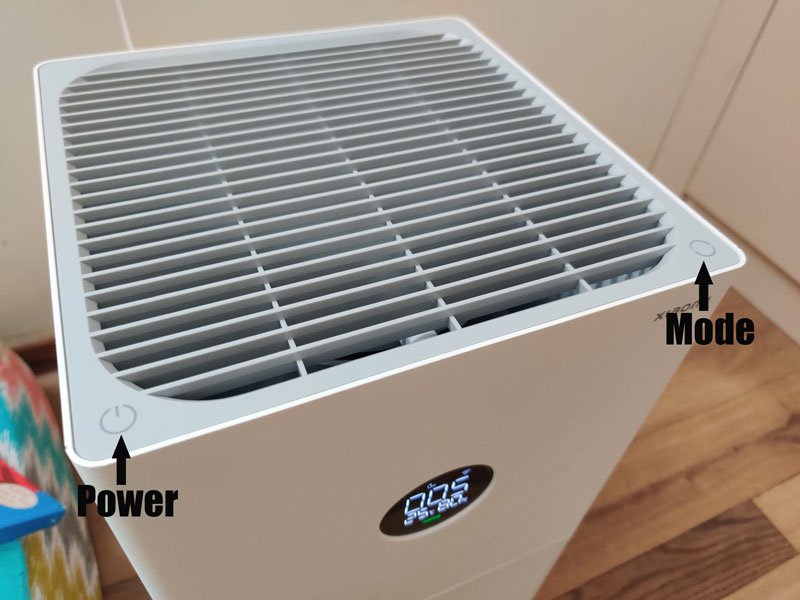 The mobile app has a lot more functions. You can power on and off the device, change the modes into auto, sleep or manual. In manual mode, you can adjust the speed as per your needs.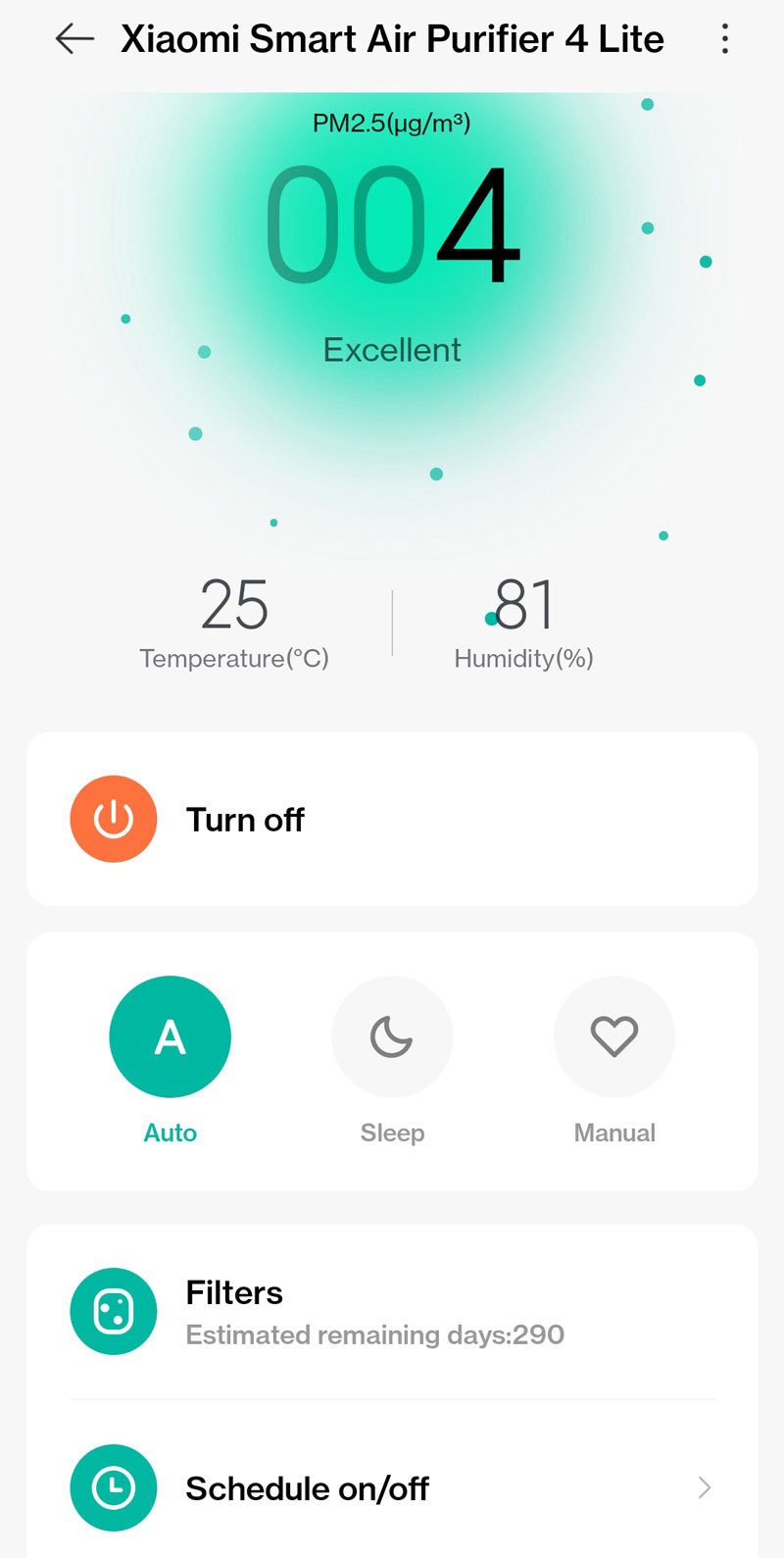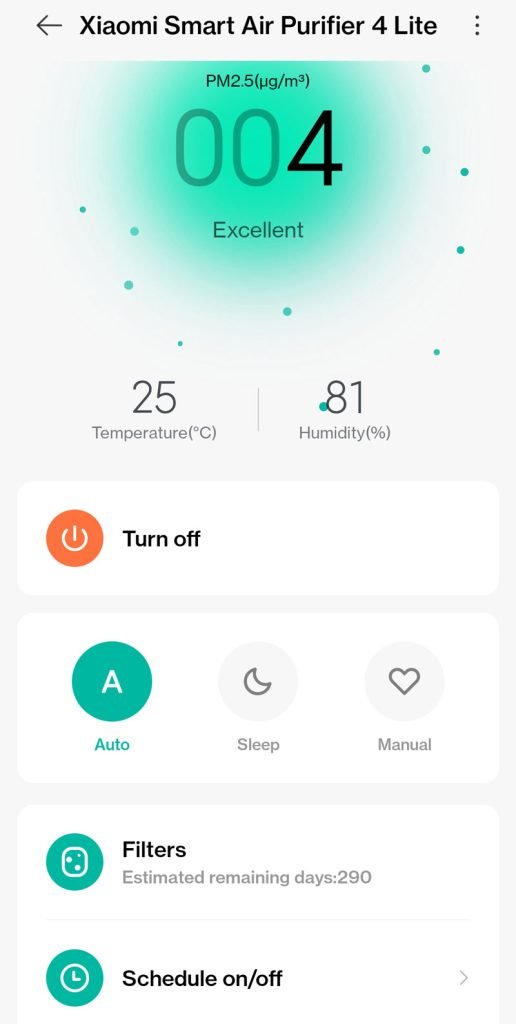 There is also option to schedule the air purifier. So, you can switch on the air purifier maybe 30 minutes before you go to bed so that the air is cleaner before sleep. Or you can schedule it to start before you reach office and off it around the time you leave. The app also has a smart scenes function whereby you can set up various if-then scenarios. For example if the humidity or PM levels are higher or lower than the levels you set, you can switch mode. Or you can dim display or turn it off under certain conditions. This way, you can take your mind off the air purifier.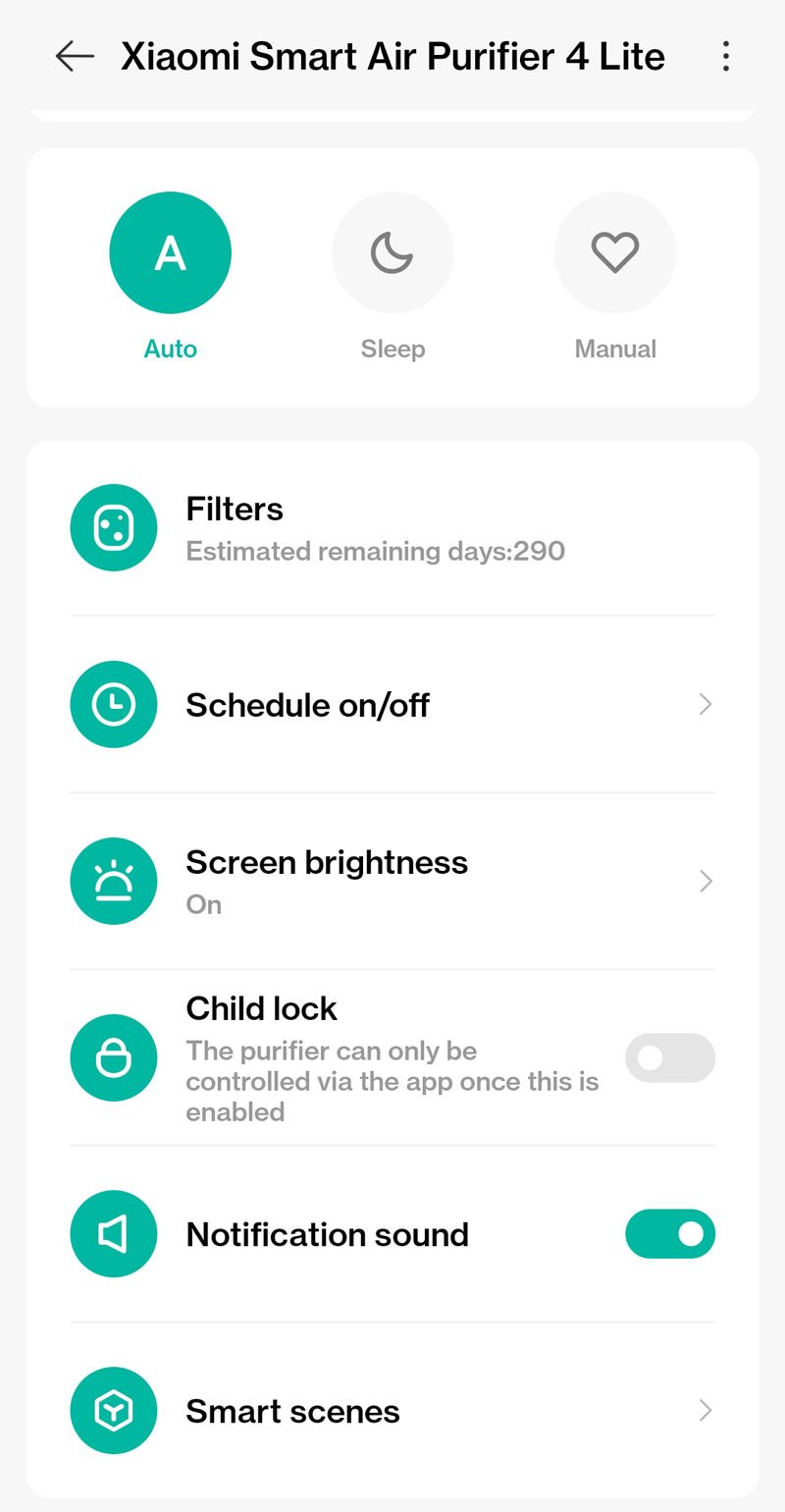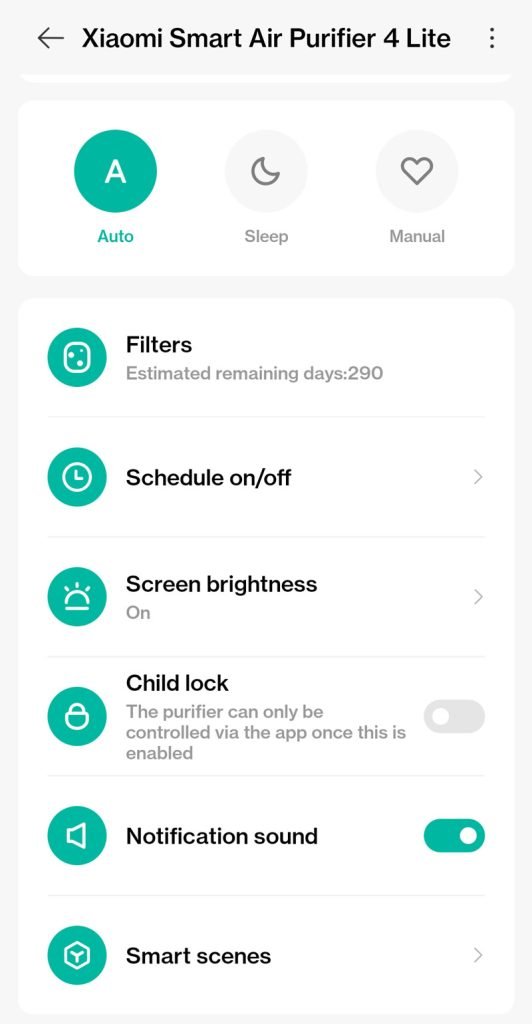 Yet another feature I liked as a parent is that its child lock can be set only from the app. Once locked, further operations can be carried out only from the mobile app.
Further, you can change the LED display brightness and notification sounds from air purifier using the app. It also displays the remaining filter life in number of days.
Performance
The Mi Smart Air Purifier 4 Lite comes with a particle CADR of 360 m3/hr and Formaldehyde CADR of 120 m3/hr. According to the manufacturers, it is suitable for spaces ranging from 25-43 square metres. The readings of air quality monitor and Mi air purifier's air quality sensor were almost in the same range.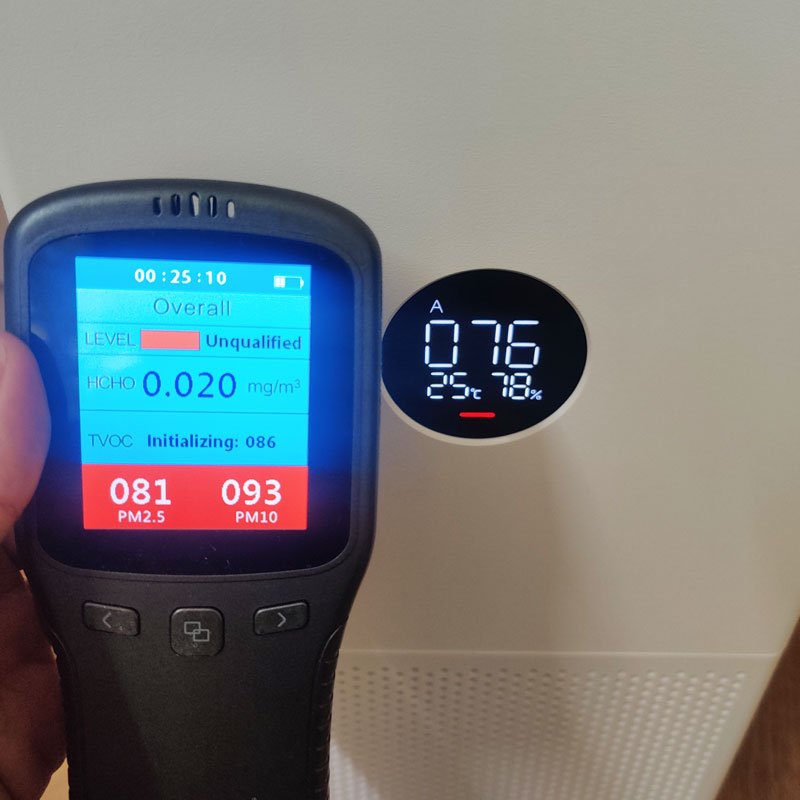 We tested the air purifier in a 250 Sq. ft room and a larger 450 Sq. ft space. In both cases, we increased the PM 2.5 level to around 350 ppm by lighting camphor. In the larger room, we had to light camphor in two ends of the room in order to ensure the PM levels throughout the room is high. Then, we measured the PM levels in all 4 corners of the room and a few more random spots to ensure it was high enough. Sometimes, there were some variations and we took them into account for our tests.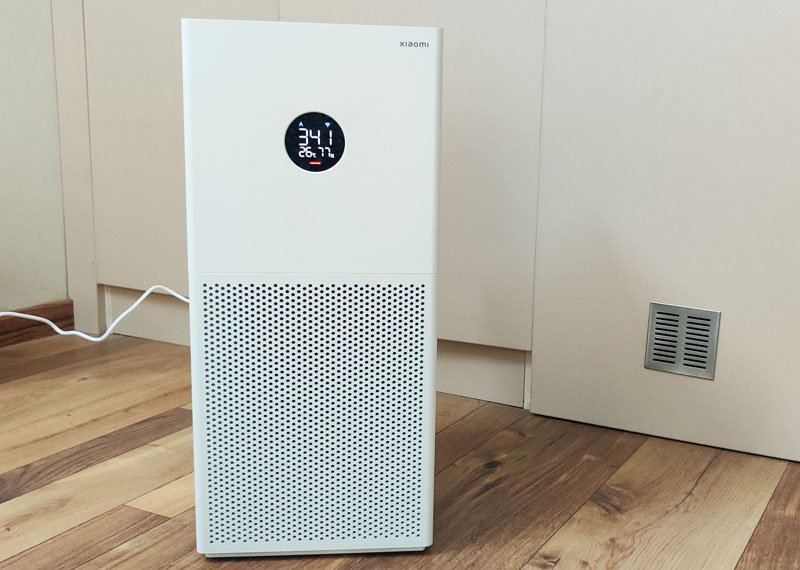 Next, we placed the air purifier in the rooms and ran them in auto mode. We then checked the PM levels at 15, 30 and 60 minute marks in all corners of the room.
First, let us look at how it performed in the smaller room. In the auto mode, the air purifier detected a rise in PM level within just 10-15 seconds and increased the fan speed. It was running at the maximum speed till the PM level reduced to around 150 ppm. Then, it reduced the speed a little bit. The next drop in fan speed was when the PM levels reached 100 and 35 ppm respectively.
Within just 15 minutes, the PM 2.5 levels in the 250 Sq. Ft space reduced to 71. In 30 minutes, it touched around 32 and in an hour, it was down to 18.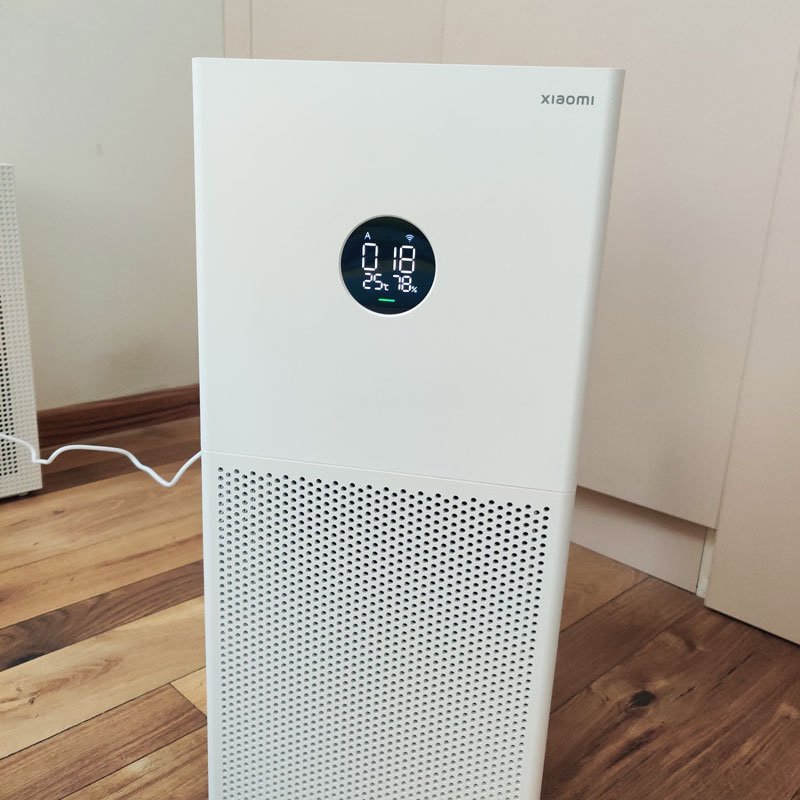 In the 450 Sq. ft space, after 15 minutes, the PM level was around 150. At 30 minute mark, it touched 81 and by the end of an hour, it was around 35. All corners of the room showed more or less the same figures. For example, at 60 minute mark, the air purifier displayed the PM levels as 35 and the monitors placed in the two edges of the room showed 38 and 40. We did this experiment closing all doors and windows emulating real-life experience. However, it is not a completely sealed room like a scientific experiment. And the difference wasn't too significant to require attention. One thing that can be said for sure is that the air purifier doesn't create an air bubble where just the air surrounding the air purifier is cleaned and the rest is left polluted for a long time.
So, compared to other air purifiers in the same price range, we find Mi 4 lite to be faster and more efficient at purifying the air. Moreover, the smart features make it a much more attractive option.
Portability
The air purifier weighs just around 5 Kg which makes it light to move around. The power cord measures 160cm, which is fairly long enough. What we found lacking is a recessed handle like what is found in Philips AC1215/20 which would have made it a lot more easier to carry around.
Maintenance
According to the app, the filter lasts for around 291 days. However, the actual life would depend on the usage level and the level of pollution in your area. Being a composite filter, you have to replace the whole filter at a time. It costs around Rs. 2300 to replace the air purifier filter. This is comparatively lesser than that of Philips and Coway.
Other maintenance include periodic removal of dust from the air inlets and the filter compartment using vacuum cleaner or a soft cloth. In addition, the laser particle sensor needs to be cleaned using an air blow gun, vacuum cleaner or a soft brush.
Flaws, But Not Deal Breakers
Given the budget-friendly price, rich features and the efficient performance, you cannot really find a major fault with the air purifier. The only minor gripe is it would have been better if it had a recessed handle that would make it easier to move around.
Other Models
The Mi Air Purifier 4 is another model offered which costs around Rs. 15K. While 4 lite can be used in spaces of up to 462 Sq. ft, Mi 4 offers slightly better coverage of 516 Sq. ft. But something we did not like about this air purifier is that it has a negative air ionizer. Here, negative ions are released from the air purifier and it binds with the airborne dust particles and settles down on the floor. But, as per researches, ionizers are known to trigger allergies and asthma attacks in individuals. Hence, we do not really recommend opting for this air purifier. The Mi Lite 4 is a far better option to consider.
Conclusion
With budget friendly price, effective cleaning and extremely useful smart features, the Mi Smart Air Purifier 4 Lite is one of the best budget-friendly air purifiers we have tested. It ranks high in terms of its air quality sensor's accurateness, effective cleaning and user-friendliness, making it a much better option than Philips AC1215/20 and Coway Airmega 150.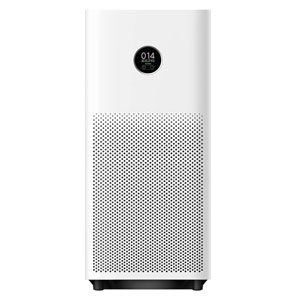 Mi Smart Air Purifier 4 Lite