Amazon Basics sells fairly good quality appliances at a budget-friendly price. Most of their products have high safety standards too, as they are made for the international market. Today, we review the Amazon Basics Induction Cooktop with 1900 watts heating element. We will take a look at its performance, functions, ease of use, and other aspects to help you make an informed buying decision.
Pros
Fairly quick at cooking and boiling.
Has useful functions like heat milk which boils milk preventing spillage
Budget-friendly pricing
Cons
Comes with a 16 A plug which many people may not have easy access to. But, it is safer than having a 6 A plug.
Design
Amazon Basics 1900 Watt induction cooktop comes with a black matte finish body measuring 27cm wide, 35cm deep and 7.5cm tall. It is stable on the countertop and owing to the matte finish as prone to smudges as Philips HD4928. Unlike most other options, it comes with a 16A plug point, which is safer.
The induction stove comes with 6 preset functions. The induction plate measures 18cm in diameter. According to the manual, cookware with induction base measuring 15-18cm can be comfortably used on this induction stove.
Related reading: 5 Best Induction Cooktops In India
Preset Functions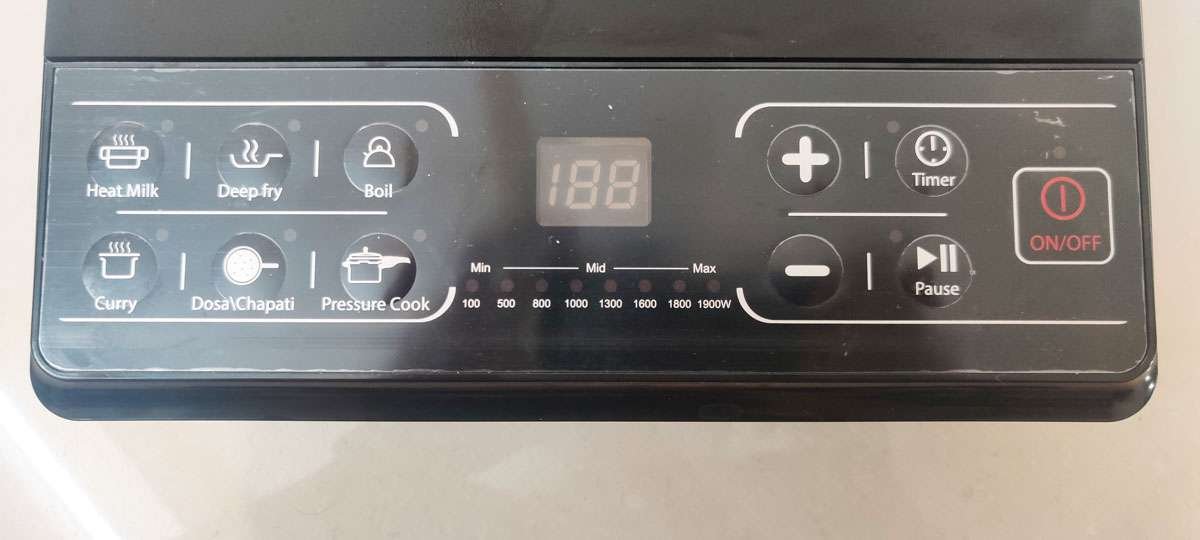 As mentioned earlier, the Amazon Basics Induction Cooktop comes with 6 preset functions. They are heat milk, deep fry, boil, curry, dosa/chapati and pressure cook. An advantage of this cooktop is that it has a pause function, which many of the cooktops in a similar price range do not have.
The preset functions work optimally. The heat milk function comes with a 15-minute timer. During this time, the induction stove runs at a varying wattage to ensure that milk doesn't boil over and spill. If you have used a saucepan with capacity of at least twice the volume of milk you intend to boil, you won't have to worry about milk spilling.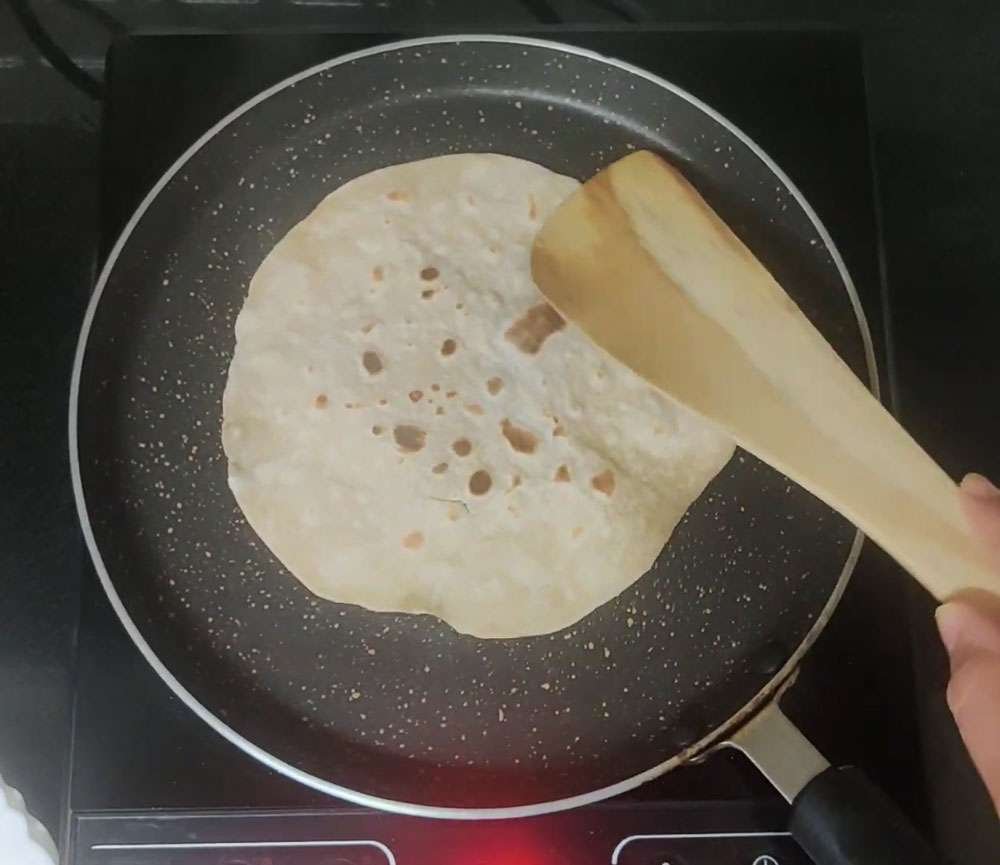 Similarly, using the dosa/chapati function, you can make small chapatis in about 2-2.5 minutes. However, if the size of the chapati is large, the edges won't get cooked properly. This is something you notice while making dosas too. Even while using the deep fry function, you notice that the food at the centre gets browned quickly, while that at the edges don't brown sufficiently. To overcome this, you have to move around the food frequently so that all pieces get cooked evenly.
The boil water function runs the cooktop at the maximum wattage. We noticed that in a cookware with thick bottom, one litre water can be boiled to 100 C in about 5.2 minutes. The time varies depending on the base thickness as the temperature sensors may reduce the wattage of the unit if it finds the base overheated.
In the curry mode, the induction stove runs at 1300 watts and the default timer is 45 minutes. This can be adjusted as per your needs. Similarly, in pressure cook mode, it runs at 1000 watts for 120 minutes. Unlike Philips, the wattage doesn't change after a pre-determined time according to the stages of cooking.
You may also like our article on Best Thermos Flasks In India
Performance
The Amazon Basics Induction cooktop offers fairly good cooking performance. It is efficient, effective and quick. As mentioned earlier, you can boil 1 litre of water in just 5.2 minutes, which is faster than options like Prestige and Pigeon which comes at a similar price range.
Its preset functions are also optimal, offering a superior user experience.
Ease of Use
The induction cooktop comes with responsive buttons that are easy to use. You can set the timer and wattage as per your needs. In addition, it comes with a pause button, which is helpful when multi-tasking in the kitchen.
Safety Features
The cooktop comes with fairly adequate safety features. It is the only option that comes with a 16 A plug. Most of the options come with a 6 A plug. Considering these are high power-consuming appliances, a 16A plug offers superior safety. But, unfortunately, it is an inconvenience in many Indian kitchens as 16A plug points are not readily available.
Just like other induction cooktops, it too goes on stand-by mode when cookware is removed for more than a minute. It has various error alerts too. E3 and E6 indicate overheating. In such cases, you need to wait for the stove to cool down before restarting it. E1, E2, E4, E5 and Eb are error codes signifying safety issues. In such cases, it needs to be repaired before using again.
Flaws That Could Have Been Better
It would have been better if the modes like curry, pressure cook etc would have had varying wattage to optimize energy efficiency. Otherwise, we cannot really find any flaws with this cooktop.
Other Models
Other models in a similar price range are Prestige PIC 20 induction cooktop. Comparatively, Amazon Basics has better aesthetics and performance. Amazon also has a similar cooktop with touch control and it has 2000 watt heating element. Yet another model comes with 8 preset functions and crystal glass plate which offers superior performance. Amazon Basics also has a budget-friendly option which has 1600 watt heating element.
Conclusion
With superior safety features, excellent performance and efficiency, Amazon Basics 1900 watt induction cooktop is one of the best induction cooktops to consider. It also comes with budget-friendly pricing, making it an even more attractive option to consider.
Was this post helpful?
Let us know if you liked the post. That's the only way we can improve.