Looking for the best induction cooktops in India? Check out our top recommendations based on hands-on testing.
An induction stove is a handy appliance for bachelors, hostelers, and even homes because you never know when you may run out of gas, forgetting to book a spare! The best part of induction stoves is that they are quick. While it takes 8-10 minutes to bring a litre of water to a rolling boil on the stovetop, it takes just around 4-7 minutes on an induction cooktop. Also, induction cooktops are comparatively safer. So, how do you find the best induction cooktop for your needs? Let us explore this in detail. But first, our top recommendations.
Our Top Recommendations
If you are looking for an induction stove that can cook quickly, then Philips HD4928 2100 Watts Induction cooktop is our top recommendation. The cooktop takes just about 4.2 minutes to boil water to 100° C. You can cook curries, make chapati, pressure cook, and boil milk with ease. In addition to showing the wattage, it has a pause button and a countdown timer too when using cooking functions. The induction plate is also wide enough. But, it is comparatively expensive.
If you are looking for something a bit more budget-friendly, Amazon Basics 1900 Watt Induction cooktop is a recommended choice. It too heats quickly and can boil water to 100° C in about 5.2 minutes. There are several cooking functions and the product is overall easy to use as well. You can boil milk without worrying about it spill over. However, a drawback is it comes with a 16A plug, which isn't something many kitchens may have easy access to. That being said, it is safer than other options out there.
Which Are The Best Induction Cooktops In India?
Table of Contents
You may also like our article on Best Thermos Flasks In India
How We Tested?
For this review, we chose some of the top-selling induction cooktops in India and subjected them to a variety of tests. First, we checked how fast each induction cooktop could boil 1 liter of water at its highest wattage. This helps us find how quick and efficient each induction stove is.
Then, to find how well it distributes heat, we did a flour test. This means, we spread a thin layer of flour and heat it on a low setting. If the flour gets browned evenly, the induction stove distributes heat evenly. Unfortunately, as the coil of all induction stoves we tested are small, measuring just around 6 inches in diameter, the heat was concentrated at the centre. This has a significant effect when making dosas or frying food like cutlet, fish, paneer etc. The food at the centre will be brown, while the ones at the edges of the pan will not be.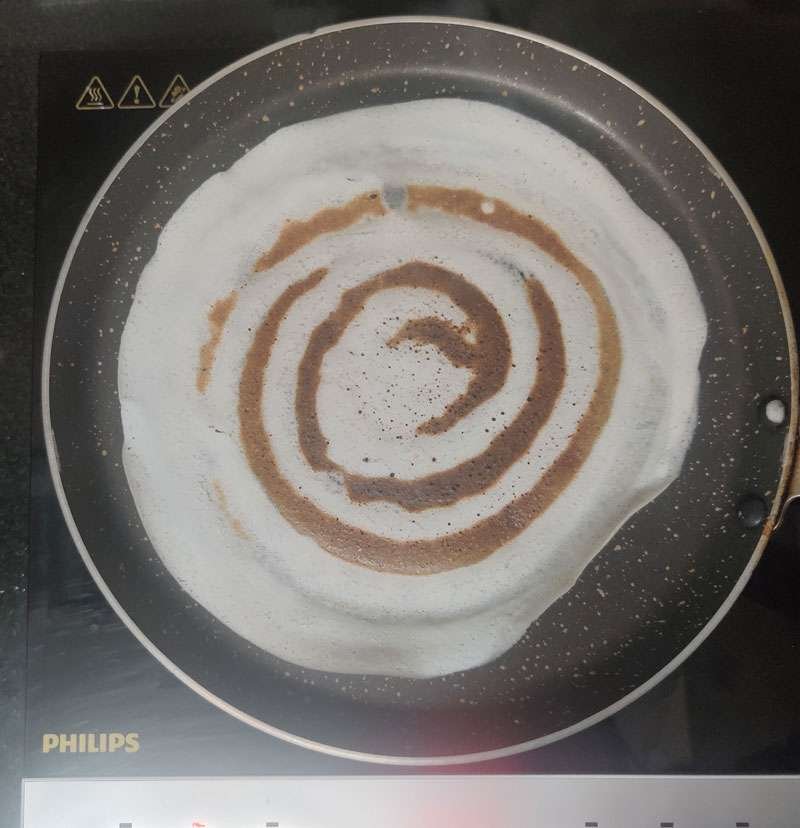 Further, we tested the various functionalities that each induction stove offered. We tried the keep warm function to see how long and at what temperature it maintained the dish. We also checked if the heat milk function boils in such a way that it prevents milk from spilling over. Further, we also checked how well functions like roti/dosa, pressure cook, etc worked. During all these tests, we checked the wattage using a watt meter to see whether the stoves had a maximum wattage as claimed and also how effectively they conserved energy without compromising on cooking efficiency.
Best Induction Cooktops In India
Philips Viva Collection HD4928/01 2100-Watt Induction Cooktop
Check the latest price on Amazon
Pros
Quickest among the induction cooktops we tried.
Easy to use interphase
Cons
Expensive compared to other options.
Doesn't have heat milk function.
Philips HD4928/01 is one of the best induction stoves we have tried out. It comes with a 2100-watt heating element and has a 6A power plug.
The cooktop is incredibly quick, boiling water to 100 °C in just 4.2 minutes. You can use cookware with a base measuring anywhere from 12-20cm in diameter on this induction stove.
The induction stove comes with 5 main programs. They are roti/dosa, gravy, stir fry, slow cook, and pressure cook. In programs like roti/dosa, the maximum temperature that can be set is restricted to 180 °C/1300 watts. On the other hand, programs such as gravy can be set to their highest power. In addition, you can manually set the timer and temperature too. The timer can be set up to 3 hours, which is helpful when you want to keep food warm or when you want to slow cook.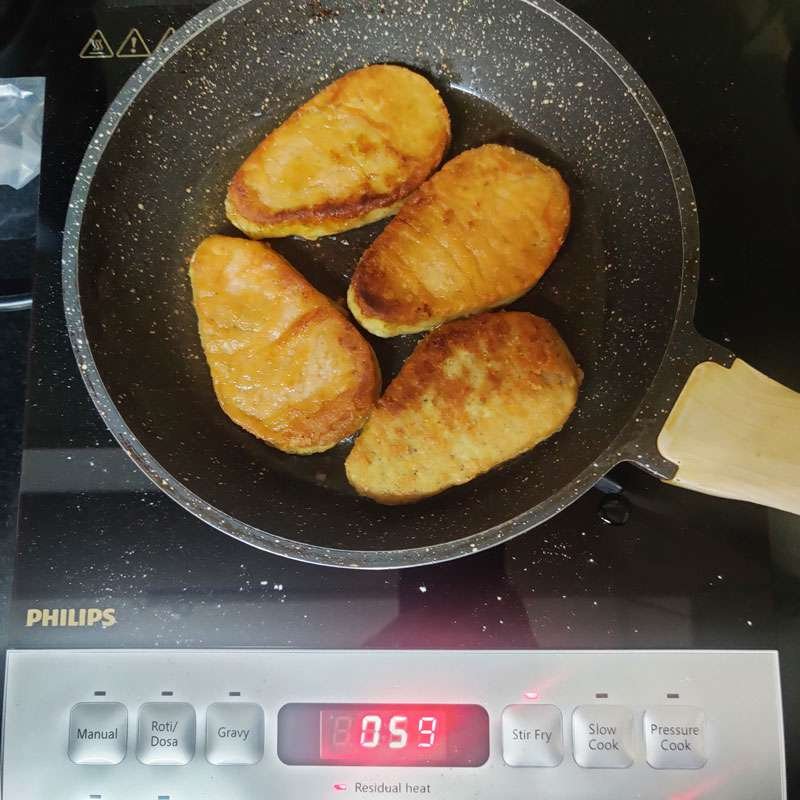 The induction cooktop is ideal for boiling water, milk, gravies, and pressure cooking. But when you make dosa, the center tends to get brown and the edges white because the heating coil at the centre actually has a very small diameter of just around 6 inches. When making roti/chapati, you need to ensure that it is small in size, measuring around 15cm in diameter. Larger chapati will face the same problem as seen in dosa- its edges won't cook sufficiently. Even when frying paneer, fish, or chicken, you need to move it around frequently from the centre. Else, the pieces at the centre may get burnt and the ones around the edges will not brown enough. But, keep in mind that this is not particular to just Philips but common to all induction stoves available in the market.
Overall, being quick, with easy touch controls and an aesthetic appeal, Philips HD4928/01 is one of the best options to consider.
Amazon Basics 1900 Watts Induction Cooktop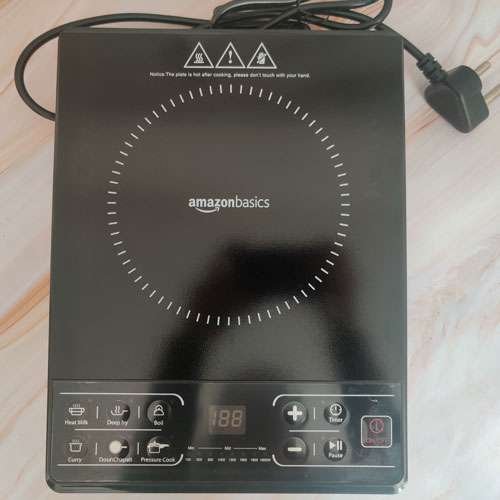 Check the latest price on Amazon
Pros
Fairly quick at cooking and boiling.
Has useful functions like heat milk which boils milk preventing spillage
Budget-friendly pricing
Cons
Comes with a 16 A plug which many people may not have easy access to.
One of the advantages of Amazon Basics products is that they are of pretty good quality and competitively priced too. We found the Amazon Basics kettle too as the best budget-friendly option.
The induction cooktop comes with a 1900-watt heating element. It has 6 functions. They are heat milk, deep fry, boil, curry, dosa/chapati and pressure cook. The manufacturers recommend using cookware with around 15-18cm wide induction base on this cooktop for optimal performance. It also has a timer that can be set from 1 minute to 3 hours.
You can boil water to 100 °C in about 5.2 minutes. The heat milk function comes with a 15-minute timer. If you boil milk in a utensil with 2-2.5 times its volume, you can rest assured that the milk will not boil and spill over. That means you should boil 500 ml milk in a saucepan with at least 1-1.5 litre capacity. This makes "heat milk" an especially useful function for busy mornings when you don't have time to guard over the milk.
The dosa/roti function is useful for making small chapati/roti. But, thin, wide dosa gets brown just in the centre and not at the edges due to uneven heat distribution.
The cooktop also has basic safety functions like going on stand-by mode if the cookware is not placed on the cooktop within a minute of removal; alerts when cookware is not in place or in cases of overheating.
The main drawback of the cooktop is that it comes with a 16A plug. Honestly, this shouldn't be called a drawback because this is done to protect users as high-wattage heating appliances should have 16A plugs for better safety. But, unfortunately, 16A plug points are not quite prevalent in many kitchens and hostels.
Overall, with responsive buttons, an easy-to-use interface, quick cooking, and superior safety functions, Amazon Basics is an economical, yet superior option to consider.
Bajaj Majesty ICX Pearl 1900W Induction Cooktop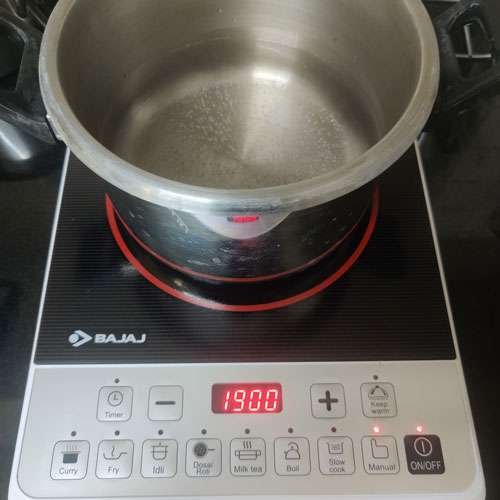 Check the latest price on Amazon
Pros
Fairly quick at cooking and boiling
Easy to use interphase.
Durable.
Cons
Milk tea function doesn't prevent milk from spilling while boiling.
Bajaj Majesty ICX Pearl is yet another top-selling induction cooktop in India. It comes with a 1900 watts heating element and has 8 functions. They are curry, fry, idli, dosa/roti, milk tea, boil, slow cook and keep warm. Price-wise, it falls between Amazon Basics and Philips HD4928.
Its induction base measures around 19cm in diameter. However, the heating coil is much smaller in size.
Just like Amazon Basics, Bajaj Majesty ICX Pearl too boils water in about 5.2 minutes. Using the roti/dosa function, you can make small chapatis that are evenly cooked.
The keep-warm function, as the name suggests, heats the curry and maintains it at about 70 °C. Its timer lasts for 2 hours.
However, a drawback is that, unlike Amazon Basics, Bajaj's induction stove doesn't heat milk in such a way that it avoids spillage. By default, in the milk tea function, the stove runs at 800 Watts and doesn't reduce the wattage sufficiently in between. As a result, 500ml milk gets boiled within just 3-4 minutes and it will spill over if not switched off. To overcome this, you will have to set the wattage to a lower level.
Talking about durability, one of our team members used Bajaj's induction cooktop in her kitchen. She was indeed impressed as she used it for around a decade without any trouble. However, after that, it conked off.
Prestige PIC 20 1600 Watts Induction Cooktop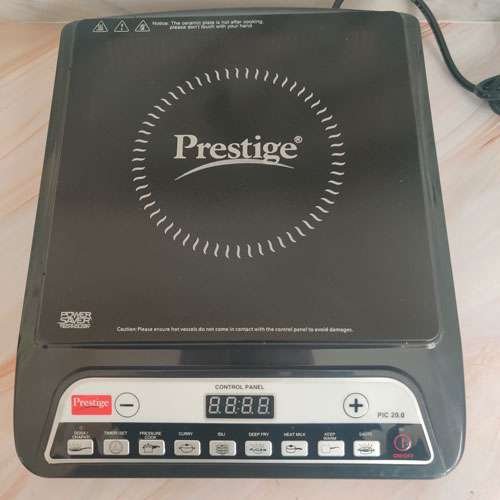 Check the latest price on Amazon
Pros
Budget-friendly pricing
Heat milk function boils milk without spilling it.
Cons
Doesn't have a maximum 1600 Watts as claimed
Though priced similarly to the Amazon Basics Induction cooktop, Prestige PIC 20 has a lower wattage of 1600 watts only. As a result, it takes longer to heat and cook food compared to Amazon Basics, Bajaj and Philips. It took almost 6.45 minutes to boil 1 litre of water, while AmazonBasics took just 5.2 minutes.
The Prestige PIC 20 comes with 8 functions. They are- dosa/chapati, pressure cook, curry, idili, deep fry, heat milk, saute and keep warm. The buttons are not as responsive as what you find on Amazon Basics, Philips and Bajaj.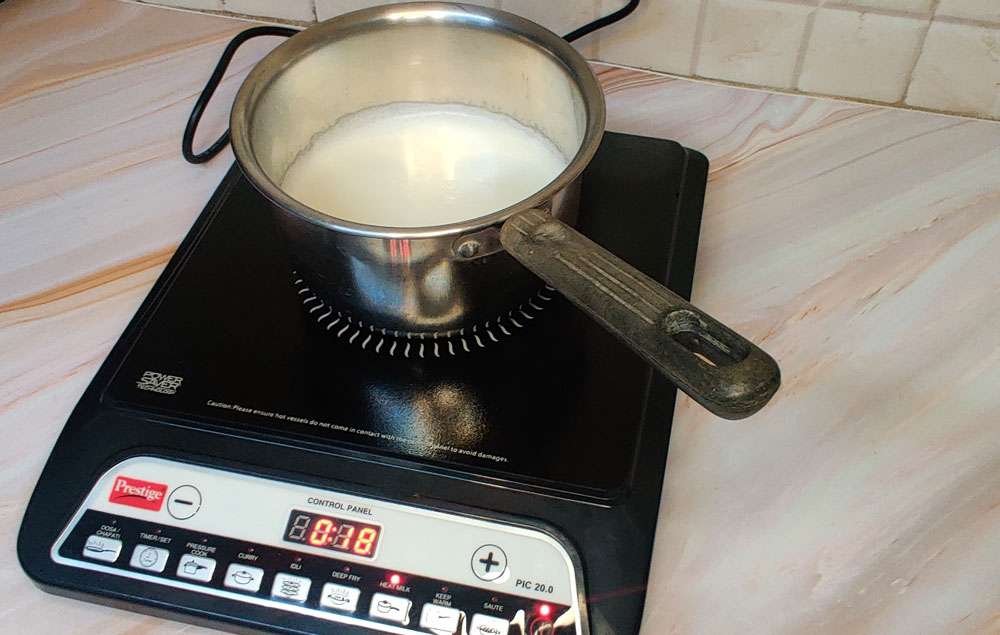 Comparatively, the induction base of the Prestige PIC 20 is smaller measuring 15cm in diameter. Ideally, the cookware's induction base should be less than 20cm in diameter. The manual says, cookware up to 26cm can be used on it. But, if you fry or make dosa/roti in such a large pan, the food at the edge won't get cooked evenly and the ones at the centre could get burnt if not careful.
Just like Amazon Basics, the heat milk function is helpful in boiling milk without spillage and the keep warm function heats up the food without drying it out for hours.
The induction cooktop comes with all basic safety features and alerts. It shows error when utensil is missing and protects against overheating, overheating against high voltage, dry heating and sensor failures.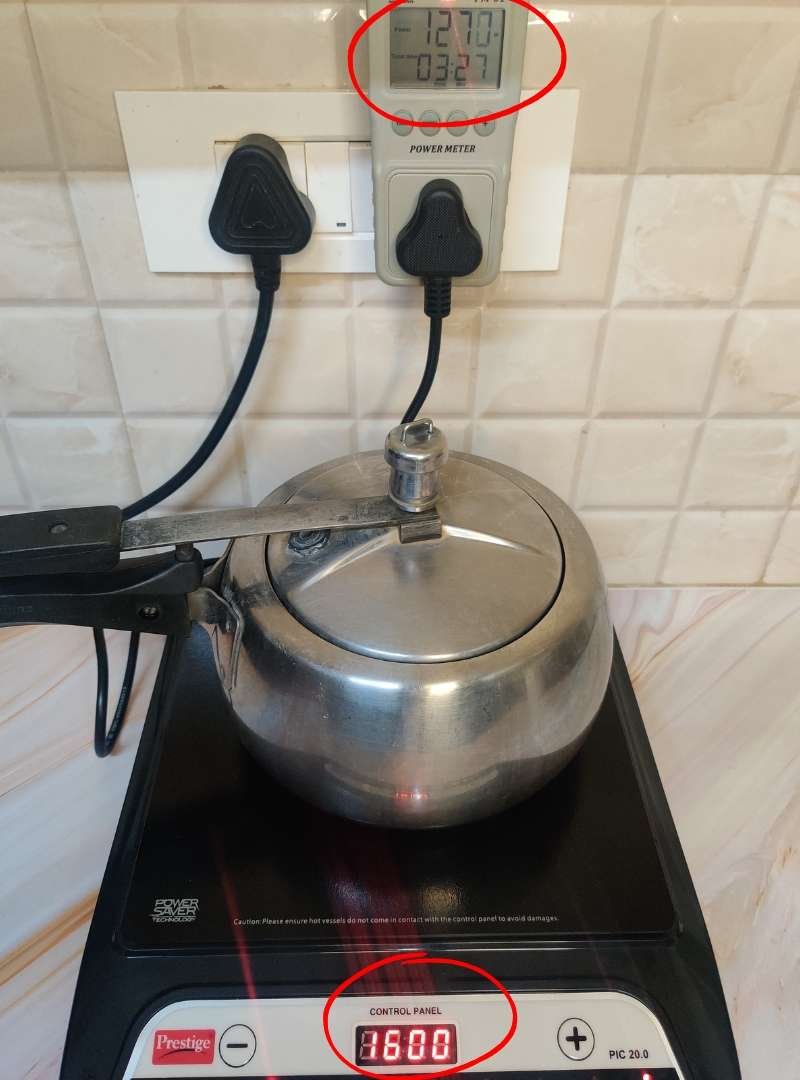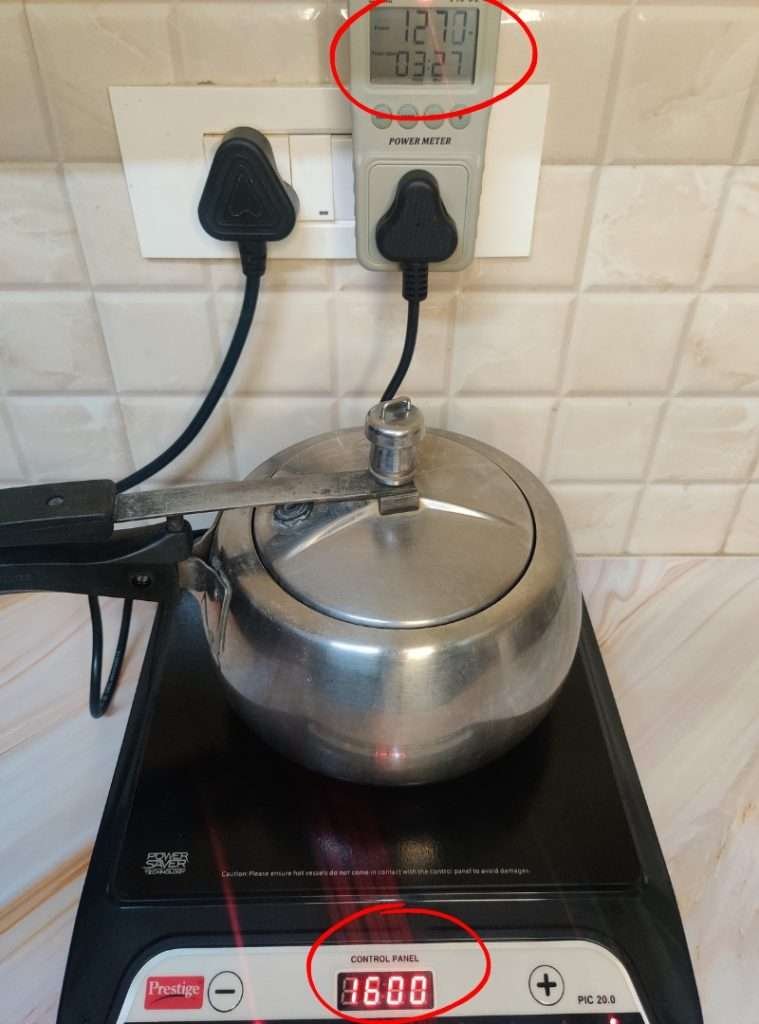 A drawback however is that though the rated wattage is 1600 watts, we measured the wattage to be less than 1300 watts using a watt meter even when heating at the highest setting.
Given the same price, we would overall recommend Amazon Basics over Prestige PIC 20, provided you have easy access to a 16 A plug point.
Pigeon By Stovekraft Cruise 1800 Watts Induction Cooktop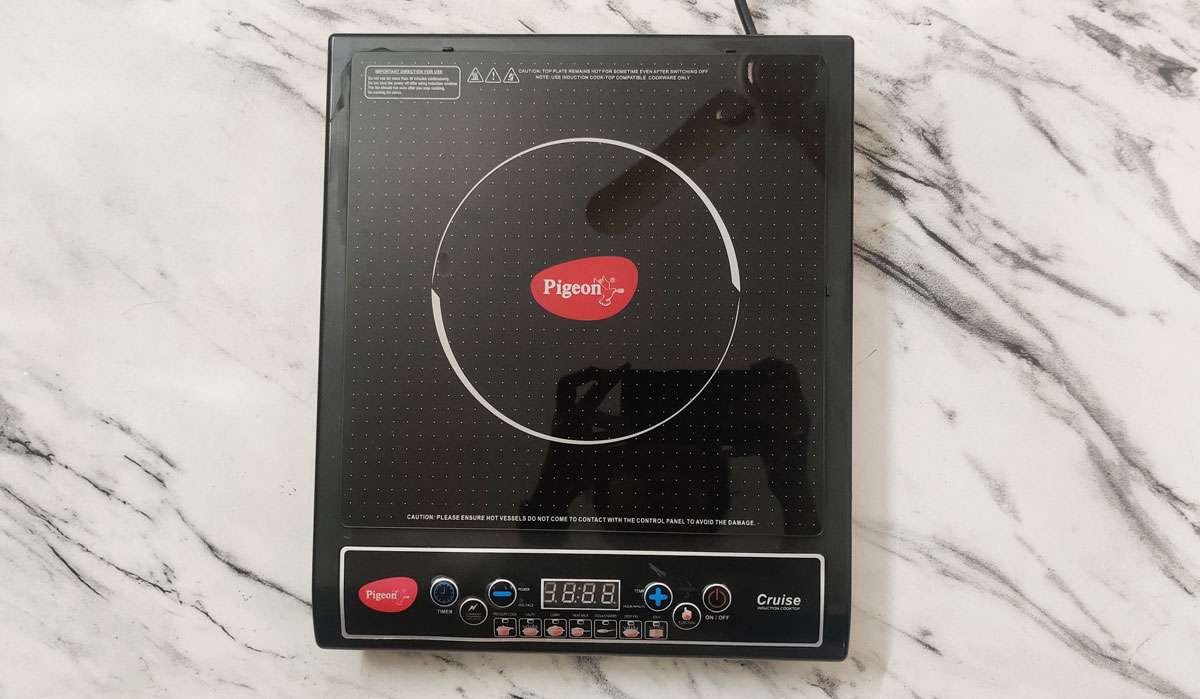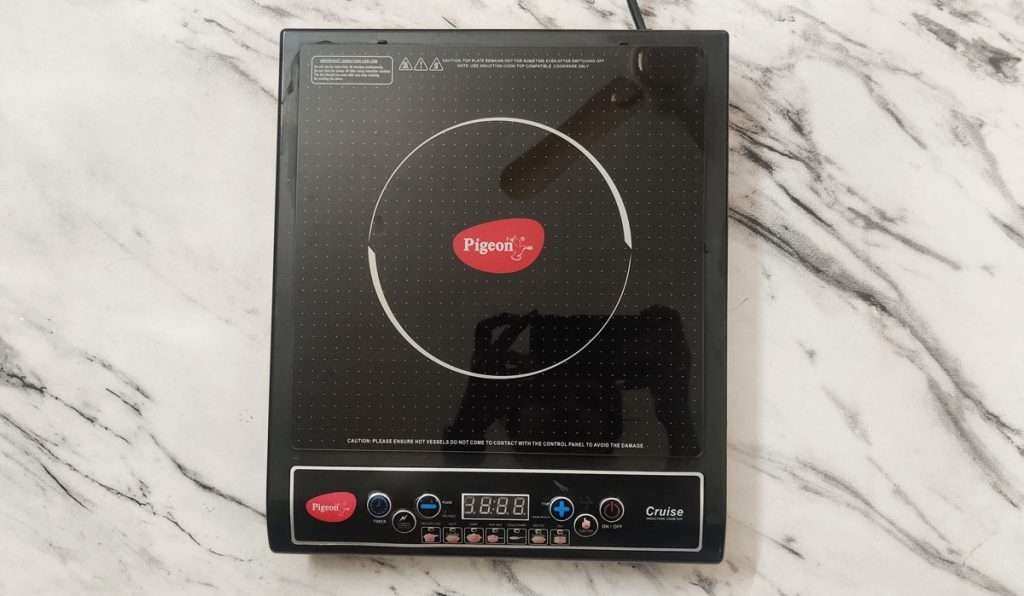 Check the latest price on Amazon
Pros
Most inexpensive among the options we tried.
Fairly easy to use.
Cons
Takes a much longer time to cook as it doesn't have 1800 watts induction coil as claimed.
Pigeon Cruise is the most budget-friendly option among the ones we tested. It is supposed to have an 1800 watts heating element. Also, the unit has 7 cooking functions, namely pressure cook, saute, curry, heat milk, dosa, chapati, deep fry and idli.
Though the rated wattage is 1800 watts, we measured just less than 1300 watts using a watt meter at its highest setting. Corroborating the readings, it took close to 7 minutes to boil a litre of water which was the longest compared to all the options we tested. Even cooking chapati took about 3-3.5 minutes, while all others were done in 2-2.5 minutes. So, yes, it is comparatively slower than others.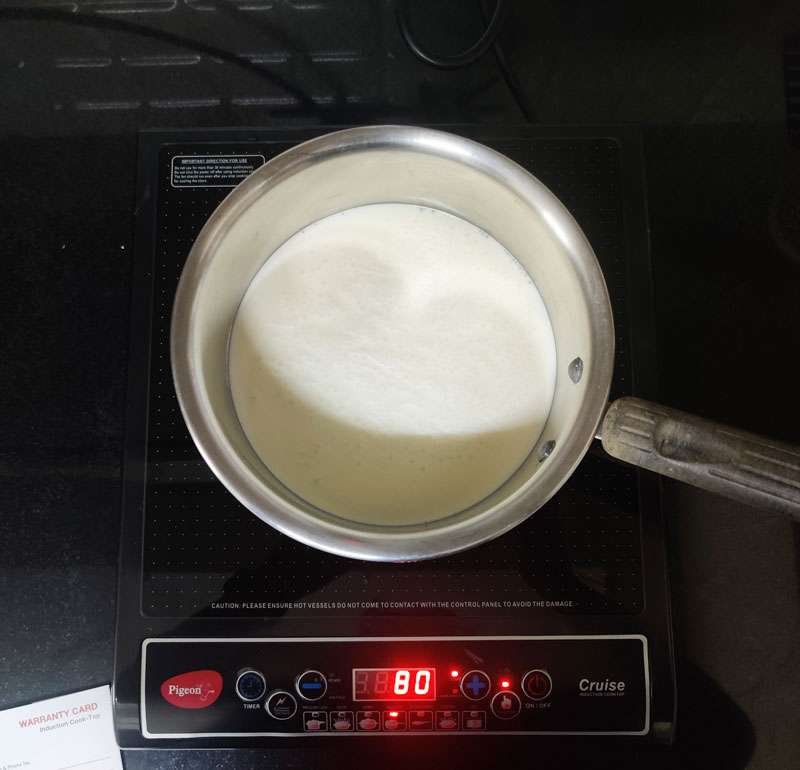 The cooking functions work optimally. For example, the heat milk function, as the name suggests does just that- heats the milk, but doesn't let it boil within the 20-minute timer. It does so by alternating between keeping warm and heating to around 900 watts in constant intervals so that the milk doesn't get overheated.
The induction plate measures 17cm. As per the manual, cookware with a base ranging from 12 to 24cm can be used on the Pigeon Cruise cooktop.
The cooktop has a tendency to slightly wobble. Also, its buttons are not as easy to use as other options.
Given the budget-friendly price, it is an option suitable for those who do not mind the slightly longer cooking time.
How To Choose An Induction Cooktop?
An induction cooktop is a fairly simple appliance. Hence, there are just a few important aspects that you need to consider while choosing one for your needs. They are-
Power
Power is perhaps one of the most important aspects to consider when buying an induction cooktop. The higher the power, the quicker it boils and cooks food. On the other hand, it consumes higher electricity too. Ideally, opt for an induction cooktop with at least 1900 Watts of power. Else, it will take as long or sometimes much longer than cooking on the gas stove.
Size of Induction Base
The size of the induction base gives a good indication of whether you can use large pans and pots on the stove. Ideally, they should have at least 17cm diameter. That being said, the heating coil of most induction cooktops has just 6-inch diameter. Hence, you will find heat doesn't radiate evenly on the cookware. This becomes noticeable when you fry food on the induction cooktop. The food at the centre will be brown, while the ones at the edges will be uncooked. Hence, you have to move around food frequently when frying in an induction cooktop.
Functions
Some induction cooktops have functions merely for the sake of it. It just sets the wattage at a certain level and runs indefinitely. However, in options like AmazonBasics, you find that the induction stove runs at variable wattages to optimally cook the particular food. For example, the heat milk function ensures that it boils milk without spilling outside the pot. Similarly, in Philips, gravy function runs at different wattages for tadka, saueting and simmering the curry.
Durability
You get what you pay for. This is especially true in cases of kitchen appliances. Ideally, be prepared to shell out Rs.2000 or above if you want an induction cooktop that will last at least 5 years or more. Cheaper ones conk out much quicker. Options like Prestige, Bajaj, Philips etc are much more durable than cheaper options available in the market.
Safety Features
Being a heating appliance, it is important that induction stoves have sufficient safety features. Ideally, they should alert you when the pot is removed from the cooktop, when the device overheats or when any of the sensors fail. Fortunately, most induction cooktops come with these basic safety features. This also brings us to another point, avoid buying induction cooktops without BIS marking.
FAQs
Which is the best induction cooktop to buy in India?
Considering aspects like power, energy efficiency, user-friendliness, auto functions and price, Philips HD4928/01 is one of the best induction cooktops to buy in India.
Which induction cooktop is better 1200 watts or 1800 watts?
The higher the power, the quicker the cooking. It is better to opt for an 1800 watts induction cooktop because if you are in a hurry, you can blast it at the highest power and quickly cook. And if you are not in a hurry, you can set it at lower power and save electricity.
Does induction use a lot of electricity?
An induction cooktop uses around 1.5-2 units of electricity per hour. Typically, cooking for a household with 4 members can be done in 1-2 hours. Hence, it will consume 1.5-4 units per day, which comes to 45-120 units per month, depending on your usage.
What are the disadvantages of induction cooktops?
The main disadvantages of induction cooktops are uneven heat distribution and lack of affordable 2-3 place induction cooktops in India.
Which is the most reliable induction cooktop in India?
Philips, Prestige and Bajaj are some of the brands that sell reliable induction cooktops in India. They are durable, safe and easy to use.
Was this post helpful?
Let us know if you liked the post. That's the only way we can improve.